On May 16, 2022, we were finally able to achieve something we'd planned for almost three years: conducting the Daiquiri Dossier to Boston's famed Shore Leave, the only tropical bar excavated as part of the Big Dig. As is our well-honed strategy, we brought together local bar experts whose conversation was as zippy as the Daiquiri variations they presented.
The Bostonian brain trust was:
Kyisha Davenport, founder of the BarNoirBoston hospitality collective.
Ryan Lotz, beverage director for Traveler Street Hospitality's four bars and restaurants, including Shore Leave itself.
Nika Orlovsky of the beloved Baldwin Bar in Woburn, Massachusetts.
Daren Swisher, co-owner of the brand new Daiquiris & Daisies in the High Street Place Food Hall.
Ben Schaffer was the moderator.
The kaleidoscopic palettes of these artists were furnished by our sponsors Appleton Estate, Bacardí, Denizen, Don Q, Luxardo, Mount Gay, Plantation, and Santa Teresa. As always, it was an honor to have their support for our community.
The Shore Leave team of River Leonard, Hannah Moore, Kyle Warzybok, and Abigail Winn expertly directed a steady stream of Daiquiris to all assembled.
This transcript has been edited for length and clarity. — Ed.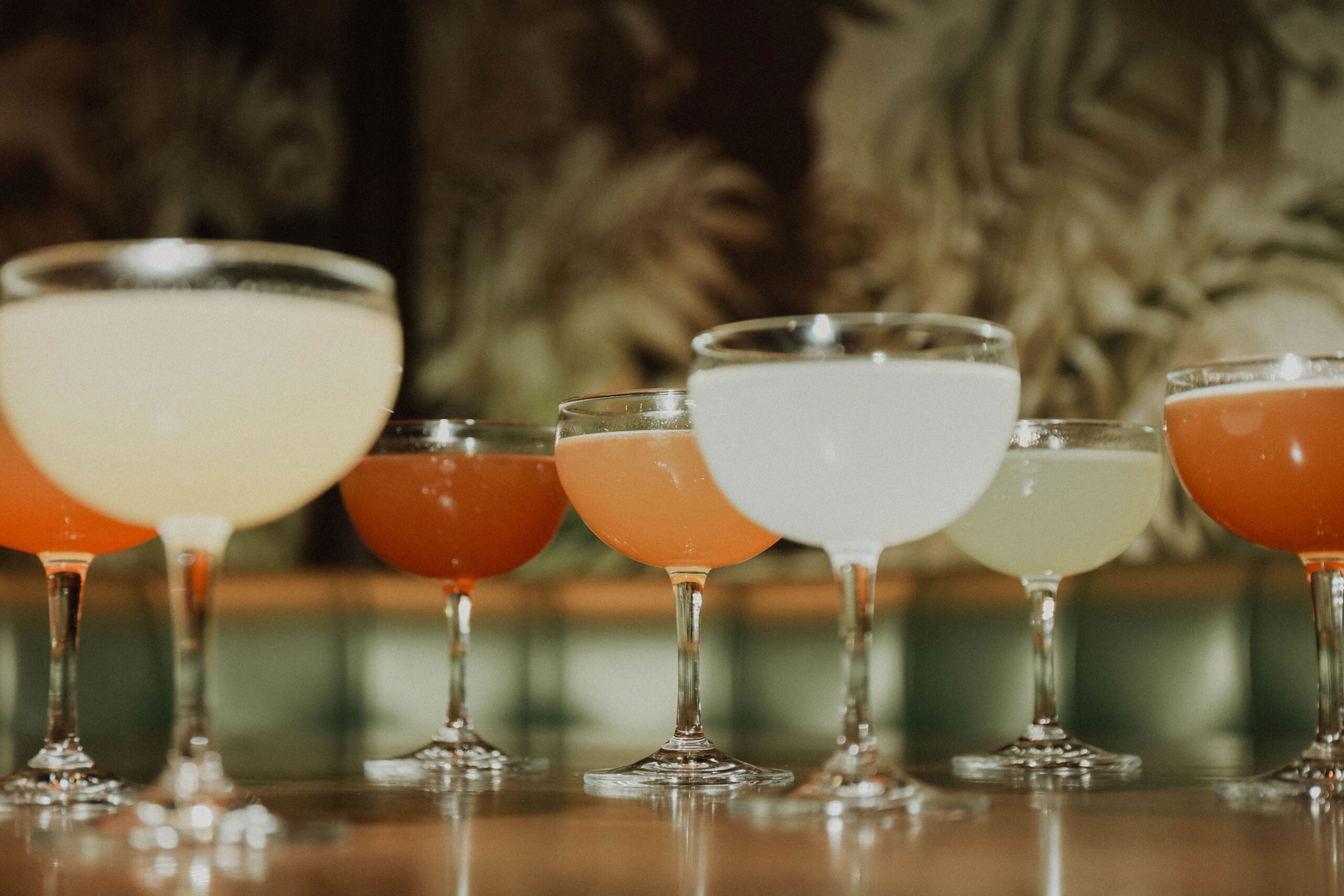 Non-DTO
Ben: Let's get right to it—if you walk into a bar and you order a Daiquiri, what are you hoping to receive? I know you all have vehement feelings.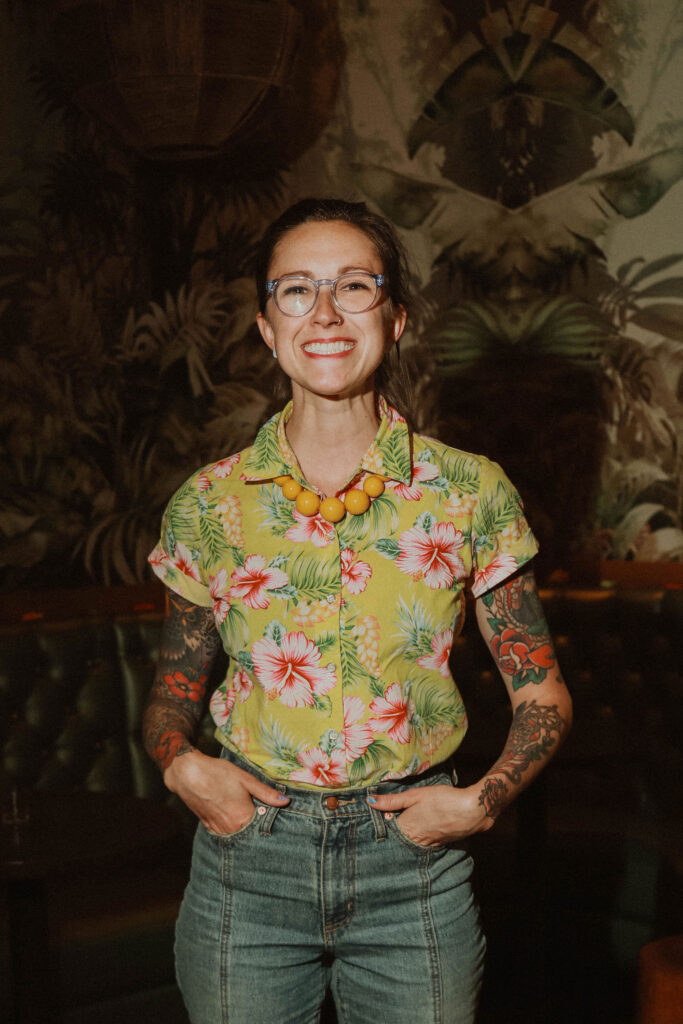 Nika: What I'm not hoping to get is to be automatically served, for some reason, a Hemingway with, "It's called a Hemingway Daiquiri and I decided to put it on crushed ice for you." I'll be like, "Oh, that is not a DTO, my dude." [More on the fabled DTO shortly! — Ed.]
Daren: All that I'm looking for is more rum than anything else and hopefully more lime than sugar.
Ryan: I'm going to expect a cocktail that has rum, lime, and sugar at a bare minimum. I'm hoping that if I walk in and I say, "Can I please have a Daiquiri?" that it is just those three things. I'm not looking for a variation thereof if I'm asking for a Daiquiri. I'm hoping for white rum. If they ask and I specify, I do like a blend of white rums.
Kyisha: I went to a bar that will not be named the other day and I asked for a Daiquiri. The bartender was like, "We don't have a blender." "Okay. Let's just talk this through." And then we talked through the classic spec—and I still got a Strawberry Daiquiri, shaken over crushed ice. All the things. I just want a Daiquiri from someone who feels reasonably knowledgeable about why they love Daiquiris and loves to make them.
Daren: More than anything, I don't want more sugar than lime. That's when it starts going really wrong. Frequently you end up with too much sugar because of dosed rum, not necessarily the bartender adding too much sugar, although it can also be a combination of the two. Let's say you're doing two ounces of rum, one of simple, and three quarter lime. If the rum also has added sugar, you're in a place where I don't want to be with this drink.
Ryan: I think old lime juice is the biggest offender to me.
Nika: I was about to say the same thing.
Ben: How old is too old?
Ryan: More than twenty-four hours.
Ben: That's pretty old.
Ryan: If the bottle is cloudy, milky looking, that's too old.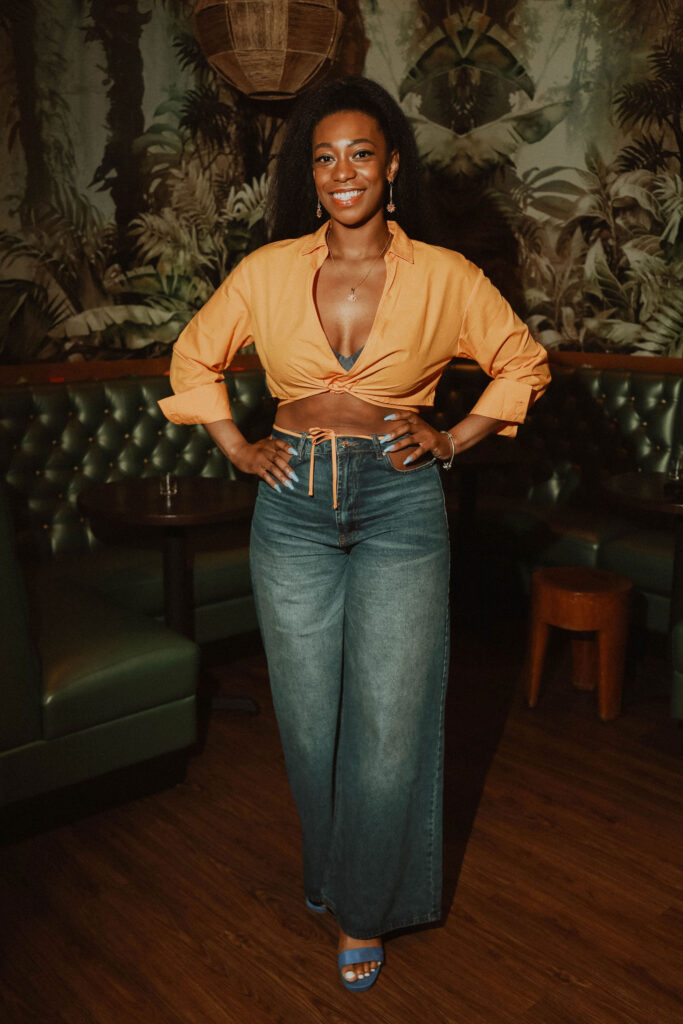 Kyisha: I used to co-own a small bar in Somerville called Tanám where we had just a corner of the space to run a bar program. I think in the age of sustainability and being more mindful, there are ways that you can transmute your classic specs so that they still retain their spark without always using fresh juice. You can't beat fresh juice, but there are other options. What I did in our bar program was make lime cordial—it's a different ingredient but it's a delicious one.
Daren: I think there's a big difference between thoughtfully making lime cordial and just using old juice. Those are two completely distinct concepts. Creating a sustainable ingredient and adjusting for that is hugely different from pulling two-day-old lime juice out of your fridge.
Kyisha: So is no one at a bar using lime juice that's older than a day? We're in a pandemic and limes are expensive. You don't really know what your volume's going to be day to day. Surely it happens.
Daren: We're a small bar and we'll also juice more on shift as we need it. Our juice is right there, our fridge with limes is just around the corner. We have hand presses and fruit bowls at each station. We're set up with that in mind. Since limes were $130 a case, though they've thankfully gone under $100 a case recently, we would juice less to start the day and then juice as needed on shift. We're prepared to do that, though I know that that's not a thing that everybody can do.
Ryan: At Shore Leave, we're not using day-old lime juice for cocktails. But we save juice and put it in batched shots that are on the menu. I'm not offended if lime goes into a batch that has a ton of sugar in it, and alcohol, and it stays refrigerated. That can be poured as a shot, but it's not a Daiquiri. But I guess some of those shots are Daiquiris, now that I think about it.
Everything is a thousand times harder these days than it was two years ago. Not having to juice limes every day and finding a way to reuse them makes sense for a lot of places, especially small programs. At Black Lamb we use lime juice from the day before for lunch service because I'm not asking people to come in at nine o'clock in the morning to juice limes before their lunch shift when no one's drinking. Then the nighttime people come in and they have fresh juice for nighttime service.
Nika: Sometimes you want a blend of citruses in a drink. But sometimes you think, is lime the element that we need, or is it just a little pop of acid to balance? That is a really cool thing to think about. Achieving the same thing with less waste. Though I would still want my Daiquiri with fresh lime, for sure.
Don Q Cristal Daiquiri by Ryan Lotz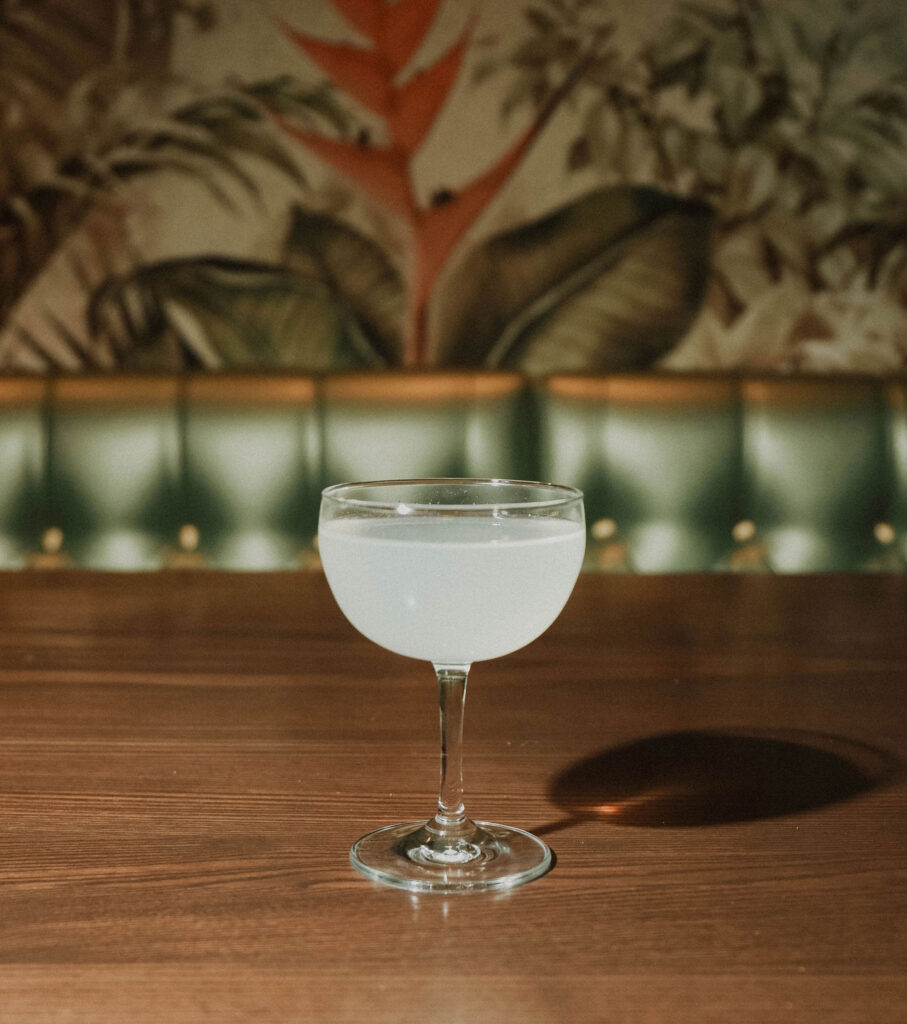 ¾ oz simple syrup (1:1)
¾ oz lime juice
2 oz Don Q Cristal Rum
Shake with ice cubes. Fine strain into a coupe.
DTO
Ryan: This is the standard Shore Leave Daiquiri spec. It's two ounces of white rum, three quarter ounces of lime juice, and three quarter ounces of a one-to-one simple syrup. I have high hopes for a Daiquiri if I go places where I feel familiar with the bartenders—but I don't hate a crushed ice Daiquiri. If it's a balanced, good cocktail still, I am happy to be served that kind of Daiquiri rather than the situation of someone who doesn't know that it could not be a frozen drink.
This version uses Don Q for a crisp, really clean, very easy drinking Daiquiri. You'll see I have another Daiquiri later on that is also a very easy drinking, very minimal, spare Daiquiri. The difference between them mostly is the treatment of the sugar. With the Don Q being that lighter, cleaner profile, I really just want to use a one-to-one white sugar.
Ben: That's why we wanted to start with this one. It feels like a kind of baseline from which we can calibrate our Daiquiri experience.
Daren: Talking about crispness, above all else I just want a Daiquiri to be really fucking cold. Cold glass. Making it at home in a cobbler shaker, do the classic shake until my fingers start to stick to the shaker, then now I know it's ready.
Ryan: Yes. Generally speaking, I want to drink it while it is as cold as possible. It's not like I'm sipping on a Daiquiri for half an hour. It's gone in ten minutes tops.
Daren: Yeah. Every time I make somebody a Daiquiri and it lasts longer than fifteen minutes, I just think, "Oh no, I screwed that up."
Ben: Maybe it's like Weight Watchers points. That's their only Daiquiri for the week, they're going to make it last. As opposed to the folks who knock it back.
Nika: Is that where the Snaquiri comes from? [The practice of drinking many small Daiquiris. — Ed.]
Ryan: Boston has its own term for that. It's the Daiquiri Time Out, DTO. [Okay, it wasn't that much more. For the real story, check with Frederic Yarm. — Ed.]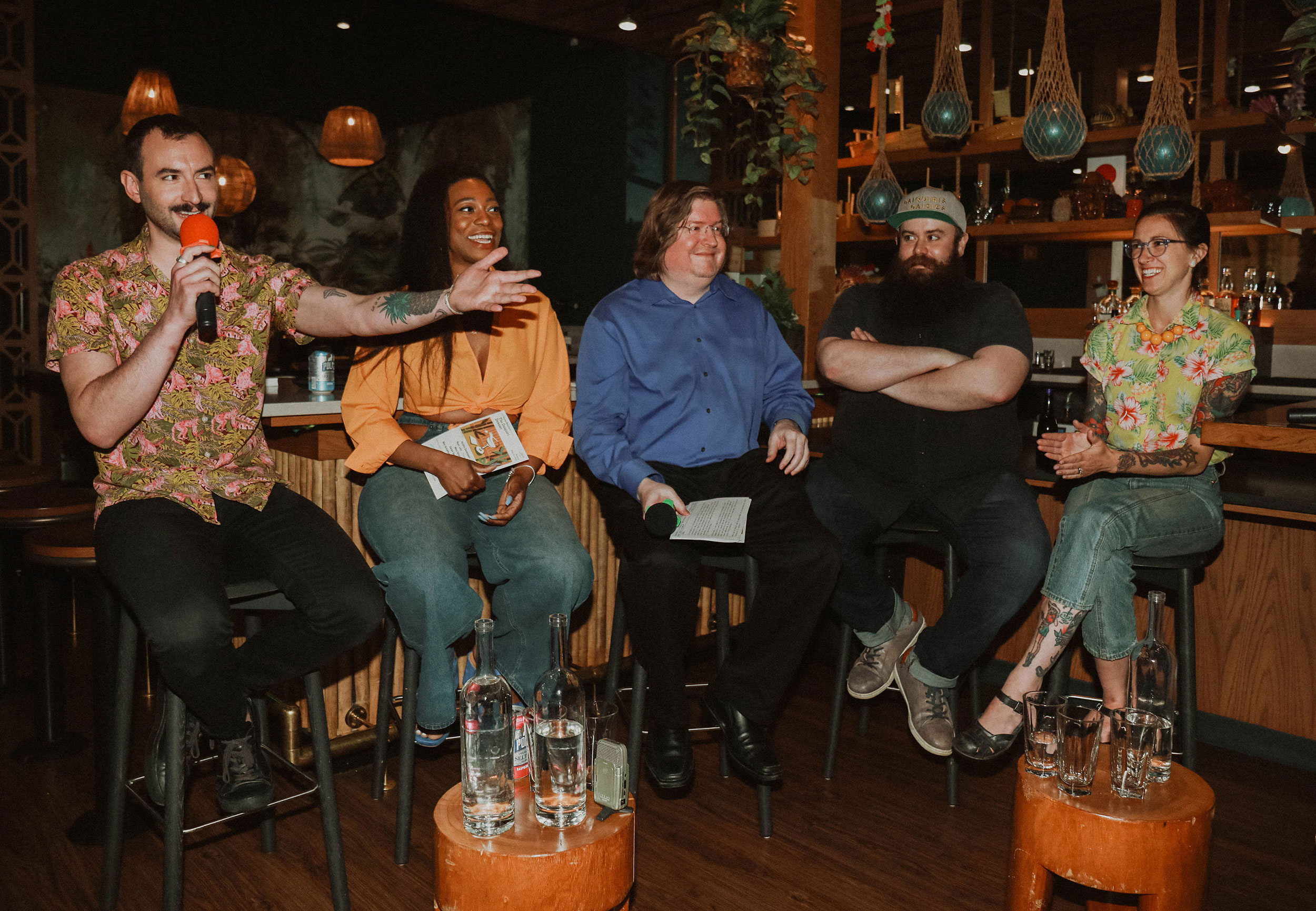 Ben: We've already touched on the Daiquiri as a kind of test of an unknown bar or bartender. Are we comfortable calling it a "bartender's drink"?
Kyisha: What we want to drink is straight to the point. It's delicious, no frills. We leave that for our guests. I know when I'm getting off shift, I'm not really trying to do much else. So I would consider the Daiquiri a bartender's drink. It's a great way to introduce yourself to another bartender. It's a good way to share something with a bartender who may or may not be super familiar with Daiquiris. I mean, I lived off of Gin and Tonics for a while. I think I let them go for good in 2013. So I like to keep it simple. A Daiquiri feels like an adult version, a mixology version if you will, of something that's really standard.
Nika: I think that's fair. It's clean and refreshing if you want to knock one back. It's super easy to do that. In terms of simple and bright, like a Gimlet or Daiquiri, that burst of citrus is everything. It doesn't have to be complicated. Then pick your poison with the rum that you like the most. But you don't need anything else.
Daren: Just reckless simplicity. When you do it right, you really don't need more, just those three things.
Ryan: When you asked if the Daiquiri is a bartender's drink, my mind didn't immediately go to whether it's what bartenders drink as much as is it a test of the bartender. I feel like that's the comparison I often see with omelets. People saying the Daiquiri is the omelet of bartending because of its spare set of ingredients, it's a test of the bartender.
Daren: Bobby Heugel wrote about this. He says the Martini's the test drink, because the ingredients never change. The biggest problem with the Daiquiri as a test drink is you're dealing with one of the core ingredients being subject to seasonal availability. So many factors are out of control of the bar: where we are in the season, how thick was the skin on this lime, how much oil, all that little stuff. There are so many variables just with that one ingredient that having it as a test is difficult.
More Than Three Things
Ben: Ryan, I know I'm already pushing the bounds of being allowed in your bar by making you serve seven variations on a Daiquiri when you believe, with some justification, that there's only one. But Jeff Berry came to the realization a couple of years ago in one of our Daiquiri Dossier discussions that the Daiquiri was now a category of drinks. I don't know if people are going to go with that today. Do you feel that Daiquiri variations are legit?
Ryan: I think there's a differentiation between a classic Daiquiri which has three ingredients and a variation thereof. When someone asks for my recipe for a Daiquiri, I'm going to give my most classic spec. That's also what I want to drink. That's what I would expect if I walked into a bar and said, "Can I please have a Daiquiri?" I definitely think that some can be a variation thereof. But if you went into a diner and you ordered an omelet and a Denver omelet came out, you would be upset because you didn't ask for a Denver omelet.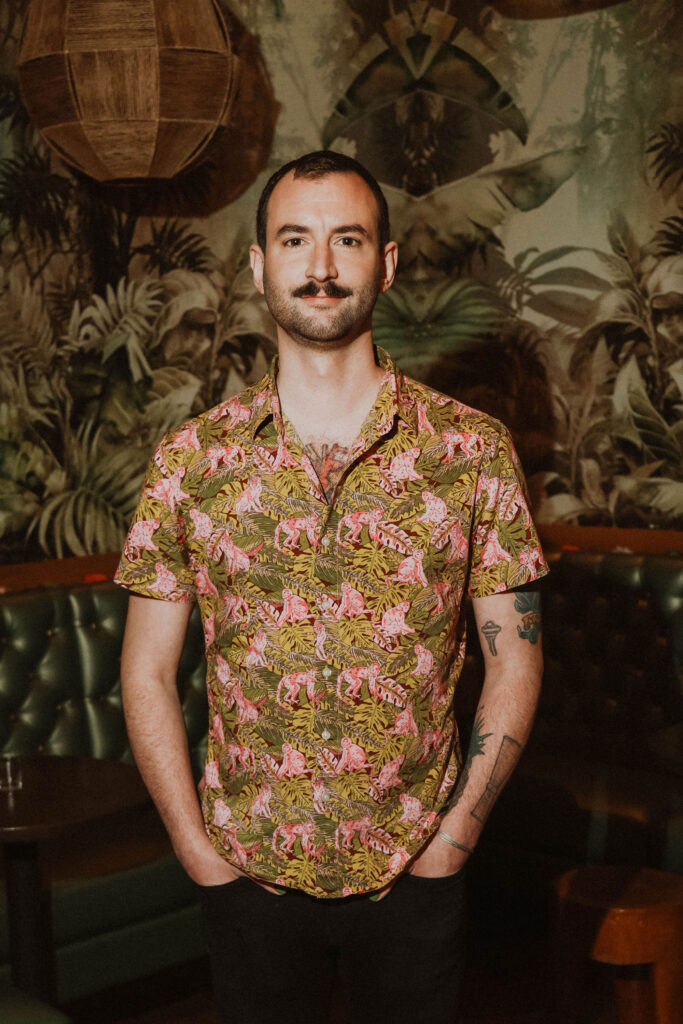 Daren: But when you think about all the variations, there's always at least another word. Hemingway, Strawberry, Pineapple, Don's Special.
Ryan: Yes. If you're attaching another word to it, then I'm fine with that.
Daren: I think the omelet analogy is really great. If I say "omelet," I want classic French, maybe some fines herbes. I don't want to add anything else. But cheese omelet, Denver omelet, they're all about adding other things. The history of cocktails is there was the first one, and then they started adding and changing things and those are all different drinks now. And that's how we got it from a drink to where we're at, hundreds of thousands.
Ryan: You're also at point then where you're like, "Is a Mai Tai a Daiquiri?"
Ben: I was going to say that next. It basically started that way, right? It's a big Daiquiri with some other stuff in it.
Ryan: Yeah, I don't know.
Ben: If there had been no Daiquiri, there would be no Mai Tai. The Zombie is a kind of Planter's Punch and the Mai Tai is a kind of Daiquiri.
Daren: Is a hotdog a sandwich? That's where we're headed right now.
Ben: Yes. I got answers for all of these.
Nika: Yeah, I'm just so uncomfortable right now.
Ryan: Where is this next Daiquiri?
Appleton Estate 12 Daiquiri by Nika Orlovsky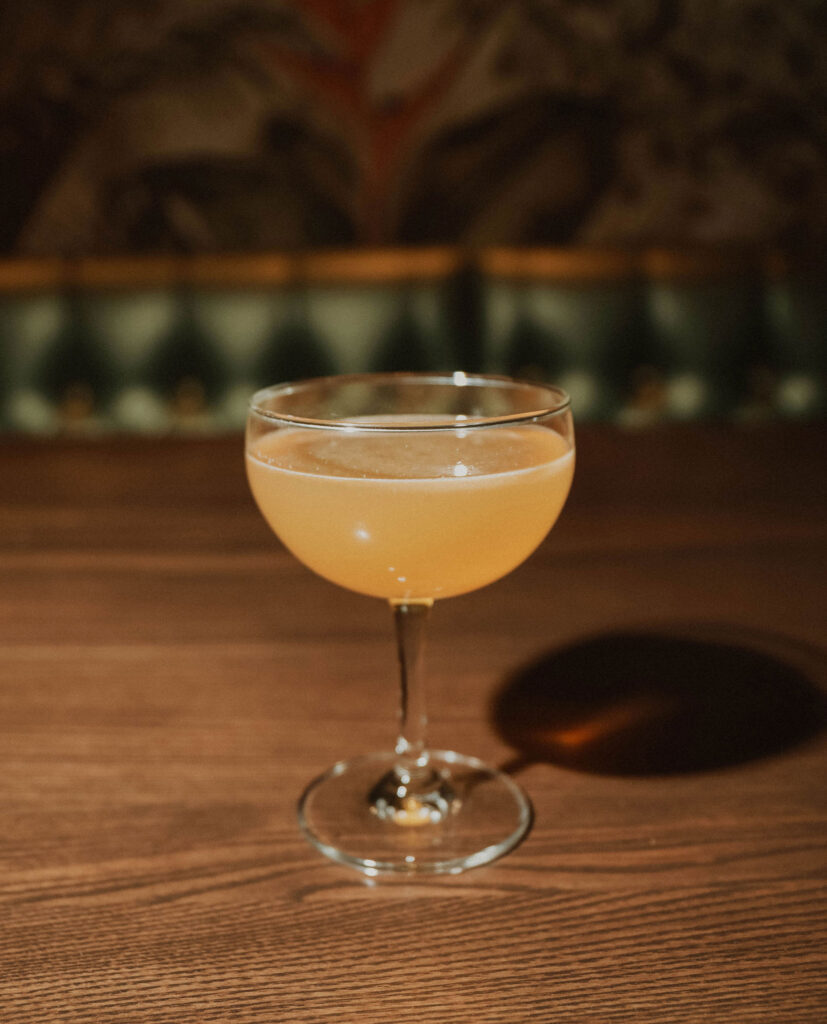 ¾ oz simple syrup (1:1)
¾ oz lime juice
1½ oz Appleton Estate 12 Rum
Shake with ice cubes. Fine strain into a coupe.
Spec Nostalgia
Ben: Nika, your drink also takes a classic approach but includes an aged Jamaican rum, the Appleton 12. Do you want to speak about the extra factors involved in creating this?
Nika: The extra years.
Ben: Yeah. It took you twelve years to make this.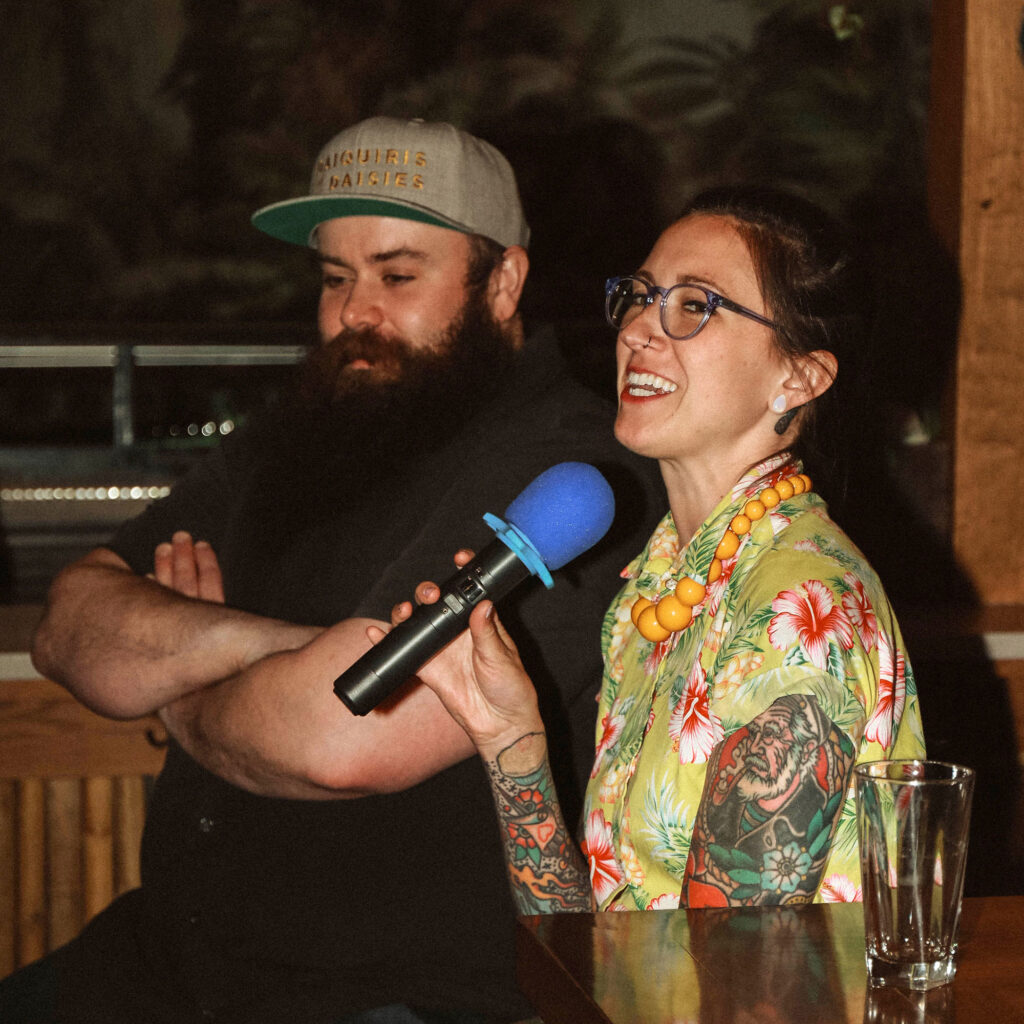 Nika: I am so much older than I look. Just changing the variable of the rum makes such a difference. The Appleton is less grassy—the rum sings in a different way on your palate. It feels kind of creamy to me, like fruity vanilla. Whereas the Don Q reads as "lights on—poof!" And only one thing changed. There are so many options of how you could change the recipe depending on the specific flavor you want out of it. But this rum doesn't need too much help.
Daren: Appleton 12 is one of my favorite rums—rich but not sweet. When I'm looking for a richer Daiquiri that still has the same balance of acid and sugar but more layers and heft to it, this is a rum that I reach for.
Ryan: I agree. All of Appleton's aged expressions are incredibly consistent and super delicious and really don't need much done to them. I was happy to see a spec that was one and a half, three quarter, three quarter because that was the spec in Boston that we saw for years. It was the predominant spec, unless you were trained by John Gertsen at Drink. That only changed after the Hawthorne opened due to the import of Katie Emmerson, who had worked at Death and Co. and a bunch of places with Meaghan Dorman. That changed the approach for a lot of Boston bartenders who came through the Hawthorne. But this one and a half, three quarter, three quarter spec is nostalgic for me. It's the classic Boston spec.
Mount Gay Malta India Daiquiri by Kyisha Davenport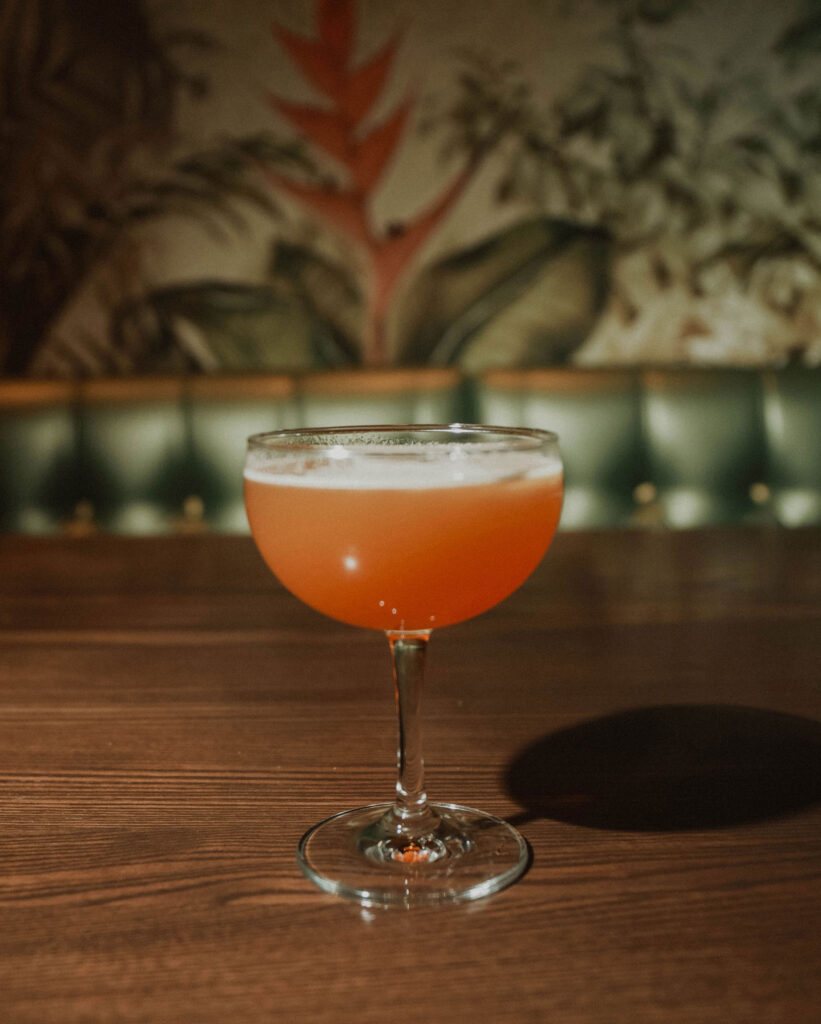 ¾ oz Malta India syrup (see below)
1 oz lime juice
2 oz Mount Gay Black Barrel Rum
Shake with ice cubes. Fine strain into a coupe.
Malta India Syrup
Dissolve 1 part cane or Demerara sugar to 2 parts Malta India soft drink. Bottle and refrigerate.
Cultural Artifacts
Kyisha: This Daiquiri uses Malta, which is a fermented, non-alcoholic, mildly-carbonated malt beverage that you can get at any grocery store. You can get it at Tropical Foods here in Roxbury, but I grew up with it coming from the bodega. That's what you get up the block if you want something that is kind of sweet, refreshing.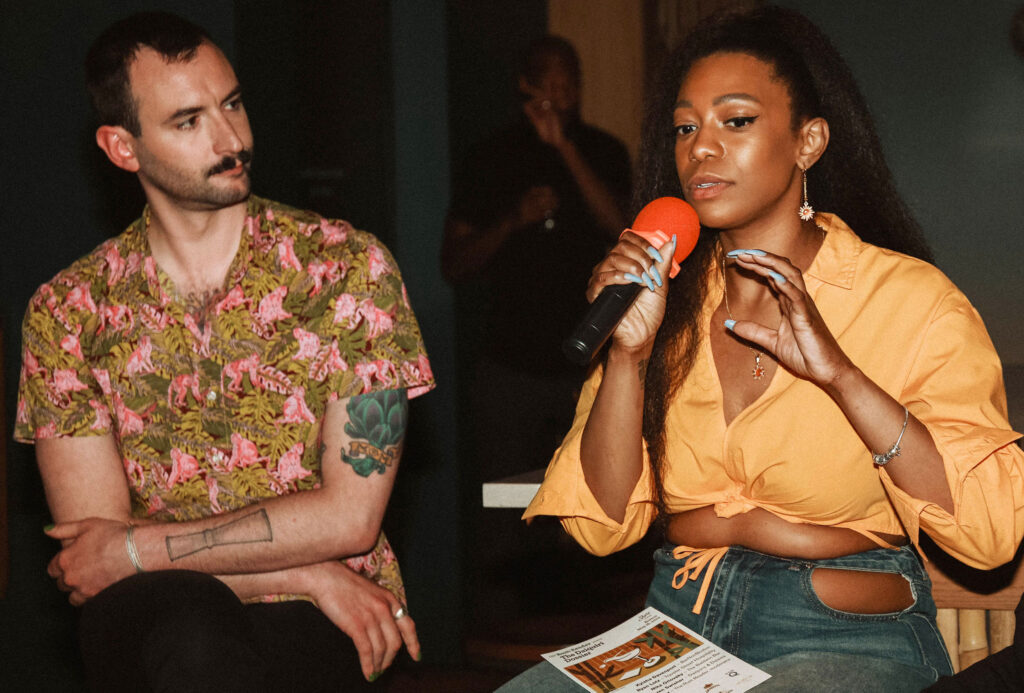 I used Malta India, the original. We keep it classic. But there is also Goya, there are other brands. We just use Malta India. I think that makes a difference in the flavor you're going to tap into with this Daiquiri. I added cane sugar to it. Again, I wanted to keep it simple like the Daiquiri, but also simple in a way that does not feel "mixology" simple. It just feels human simple.
What I love about cocktails is that they are cultural artifacts. Not dragging it—every drink does not have to have history, but what I try to do, especially with BarNoir, is to see myself and my community in what I drink. So I started with Malta. At first, I reduced it but then thought that was dumb. It is full of sugar. There is no need. So we balanced it out to make a Malta simple. It worked great with Mount Gay Black Barrel, which was pretty new to me, actually. I think that played into it. Malta is so rich, it's really well rounded, and Black Barrel also has a roundedness. Then the lime cuts through everything.
I grew up on Mount Gay Eclipse. That's what you find in most bars where I am from. Black Barrel is a newer expression to me. When I came into the bartending game, I avoided anything craft. Anything with too many words. It felt divorced from the bars that I grew up in, the kind of bartending that I grew up doing. Over time, and I mean over thirteen years of time, I got acquainted with different spirits and their expressions, and it feels a lot more comfortable to approach now. In this drink, I had the Black Barrel first but adding Malta felt like finding that sweet spot of what is true to culture, what is something that is learned and incorporated into culture.
If I were just hanging out at home, and I wanted to make a drink, with this drink I would not feel the pressure of needing all the tools, all the resources, all the products, all the specs. I could have a delicious cocktail and something that I identify with.
Plantation 3 Stars Daiquiri by Ryan Lotz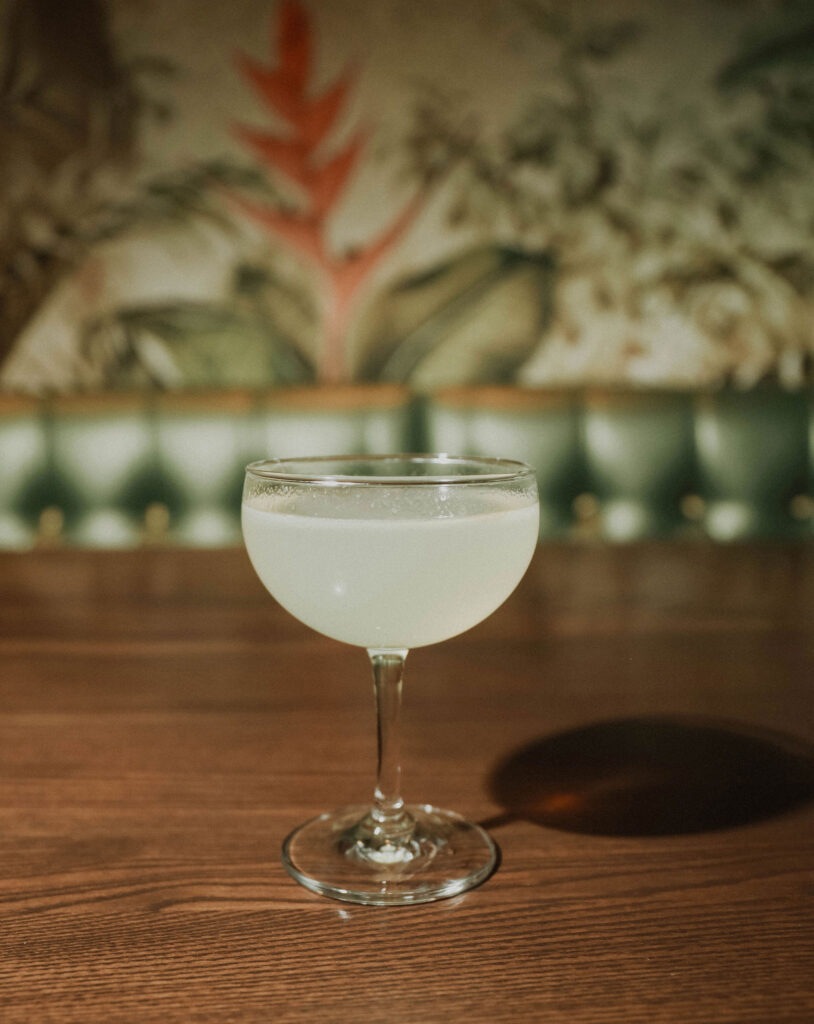 ½ oz evaporated cane sugar syrup (2:1)
¾ oz lime juice
2 oz Plantation 3 Stars Rum
Shake with ice cubes. Fine strain into a coupe.
Sugar and Texture
Ben: Ryan, talk to us about creating two distinct Daiquiris tonight.
Ryan: I got dealt the hand of two white rums, so I had to solve the problem of how to differentiate two white rums in Daiquiris. As a bit of a traditionalist, I really just wanted to play with the three simple ingredients. Like I said with the Don Q, we use our regular Daiquiri spec, one to one sugar, which I think is a really clean Daiquiri. But I think the Plantation 3 Stars has more texture and flavor than a typical white rum. I wanted to use sugar that had a bit more going on than plain white sugar, so this is evaporated cane sugar. We are using less volume of the syrup, but it's two to one.
Ben: All our drinks tonight have syrup, whereas some people are pretty adamant that granulated sugar is better in a Daiquiri.
Ryan: If I had my druthers I would always use granulated, but the reality is that I'm not going to ask bartenders to make twenty-five Daiquiris and to dissolve granulated sugar in lime juice every time.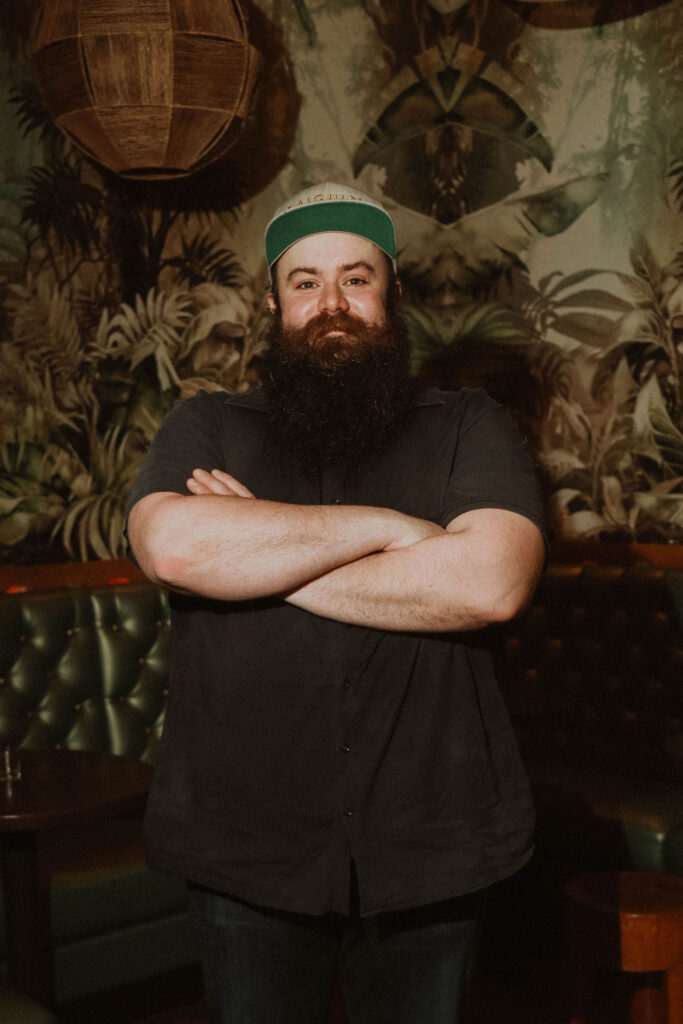 Daren: At Daiquiris & Daisies, we basically have a hybrid. We mill evaporated cane crystals to superfine and then dissolve those.
Ben: What do you mean you mill them?
Daren: We have a mill.
Nika: Like a spice mill.
Ben: I thought you meant you had a grindstone with a donkey going around.
Daren: Yeah, we go down to the river….
Nika: Sometimes there's gold!
Daren: Basically, we grind the sugar superfine. When you use superfine sugar from the store there are anti-caking agents and other things we don't want in a drink. Then we dissolve the sugar directly into lime juice. That's how we make our classic house Daiquiri: two ounces of our house rum blend and one ounce of what we call "sweet lime," sugar mixed with lime juice. We were trying to move towards that ultra-classic, original drink but to be able to do it at volume.
I have no doubt that the bartenders at El Floridita can consistently make that Daiquiri with the granulated sugar. But the practices are different from what we're used to. That's where our version came from. We were thinking granulated sugar is superfine, and it sticks and it clumps and it absorbs moisture. We're using the small spoon; what if the small spoon gets wet? Then a bunch of sugar sticks to it, so not as much makes it in the drink. We were thinking about all those variables, and how we want to do this thing but we want to do it, more than anything else, consistently. Cuban bartenders ask why you're adding extra water to your Daiquiri, with syrup. It doesn't really make sense. But does a quarter ounce or half of three-quarters of an ounce of water in simple really make that much of a difference? From our investigation of it, the ultimate answer is—yes.
Ryan: One of the biggest offenders of a Daiquiri is if the sugar is not dissolved. That is one of the reasons why so many bars will use syrup. But Daren is famous for the tremendous effort that he puts into every cocktail that goes onto all of his menus.
Daren: Another thing is that sugar does not dissolve easily in alcohol. So it makes a difference to have your sugar dissolved into the lime first.
Bacardí Reserva Ocho Daiquiri by Daren Swisher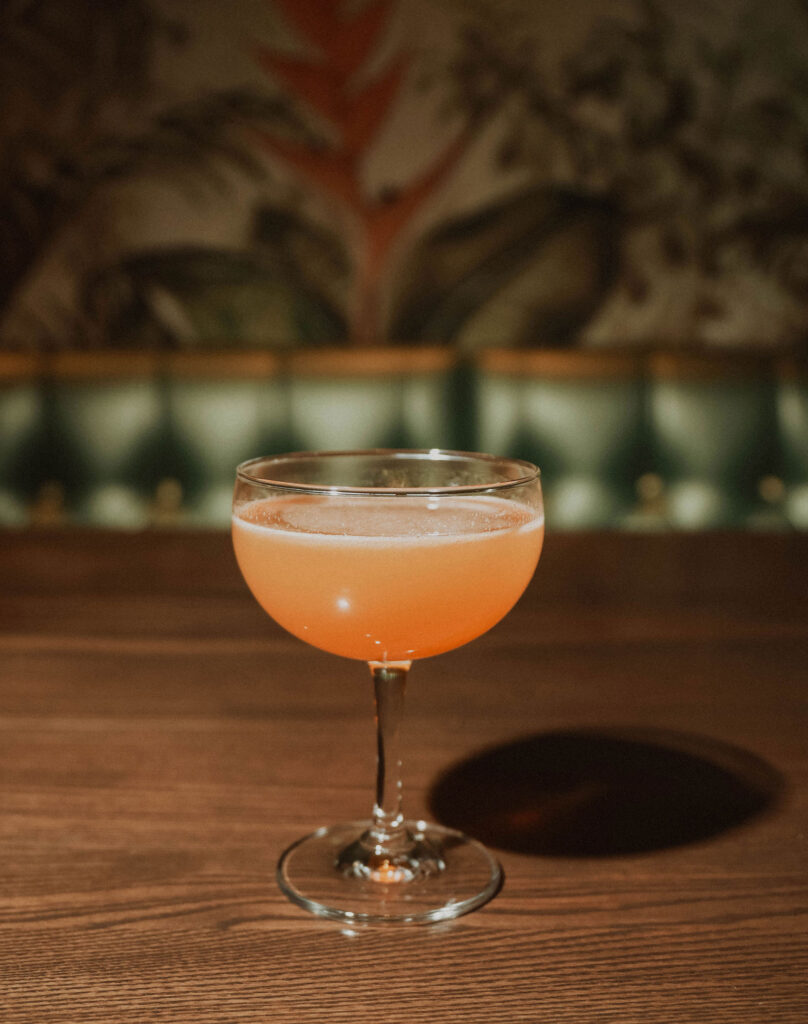 10 drops Angostura aromatic bitters
3 dashes coffee cordial
½ oz panela syrup (see below)
¾ oz lime juice
2 oz Bacardí Reserva Ocho Rum
Shake with ice cubes. Fine strain into a coupe.
Panela Syrup
454 g panela
346 g water
Grind the panela in a spice mill. Add ground panela and water to a variable speed blender. Blend on its lowest setting until the sugar is dissolved. Bottle and refrigerate.
Ben: Speaking of sugar, tell us about the panela in this next drink.
Daren: Panela is a less processed style of sugarcane.
Ben: Less milled.
Daren: Yes. Probably not milled at all. Really delicious, less refined, dark color. Higher moisture content. If anybody is not familiar with it, it comes in balls or disks or triangles. This recipe took the average moisture content of panela by weight—about twelve percent water—and made it a syrup at 50 Brix. It's not equal parts water and panela, in order to adjust for that water content of the panela itself. Then the composition took some liberties with the Daiquiri and added a few extra things. Upwards of two additional things that are not traditional.
Ben: You need to take a Daiquiri Time Out!
Daren: What I love about panela is that it's redolent of so many other natural sugars. You've got to break it up and taste it, and you get a little honey, you get a little maple, agave. You get these light notes, all of these other natural sugars. I loved playing off that.
I've always loved the richness of Bacardí Ocho. In my mind the recipe became like that Cuban-style coffee where the sugar is right in with the coffee.
Santa Teresa Naranja Agria Daiquiri by Kyisha Davenport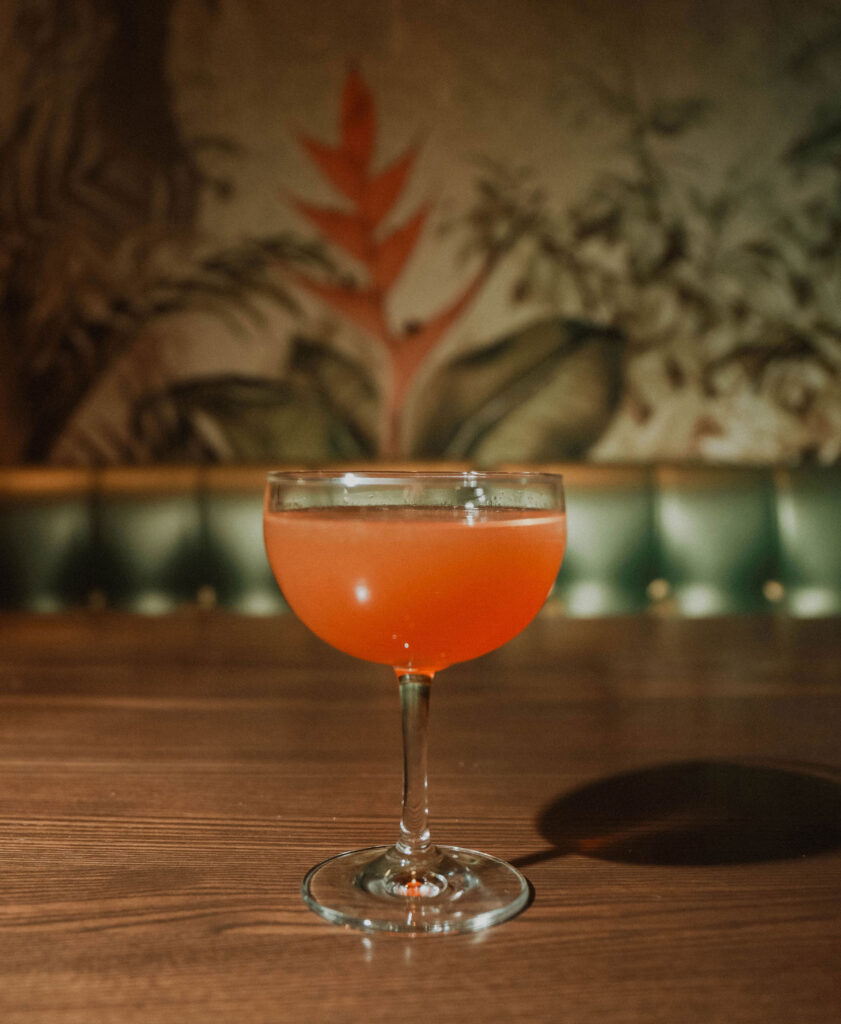 1–2 dashes 20% saline solution
¾ oz naranja agria syrup (see below)
¼ oz Cara Cara orange juice
½ oz lime juice
2 oz Santa Teresa 1796 Rum
Shake with ice cubes. Fine strain into a coupe.
Naranja Agria Syrup
Angostura aromatic bitters
Regan's Orange Bitters No. 6
6 Cara Cara oranges
1 cup sugar
Wash and peel the oranges, avoiding the white pith. Combine sugar with the peel in a bowl. Toss to coat the peels and distribute them evenly through the sugar. Let the mixture sit until the sugar is dissolved by the citrus oil (the longer the better, up to 24 hours). Strain the liquid into a container and discard the peels.
For every 4 oz of liquid, add ¼ oz Angostura bitters and ¼ oz orange bitters. Bottle and refrigerate.
Walking Around the Grocery
Kyisha: When I am thinking I want to try to make a new drink, I go to the grocery store. I walk around for a long time. I look weird. I get up to the register and I've got a hundred dollars' worth of random things. Some of it gets tossed and it just sits for a while but in the end it turns out fine.
With this drink, I attempted to create a sour, bitter orange that you typically use in marinades for meats and fish: naranja agria, a bitter orange vibe that we love to taste in Aperol, we love to taste in cocktails, but nine times out of ten, you would not pull this off the shelf and try to apply it to a Daiquiri. So I made a house version of it with Cara Cara oranges. I'm not allowed to disclose how I got ahold of them, because they're not in season.
Oleo-saccharum, just simple cane sugar to orange peel, as little pith as possible, let it rock in the ziplock. I balanced it out with orange bitters, and then Angostura to give it a bit more structure.
I'm giving away my trade secret, but I usually go for MSG when I want to add some of that vibe. A little more savory element. But here I used salt. When folks try to create fresh agria, they tend to use some grapefruit, some lime, as well as oranges, because you're not always going to get that seasonal flavor, and the salt brought it back into balance.
Nika: The texture on this is delightful. It really hits.
Denizen & Luxardo Hemingway Daiquiri by Daren Swisher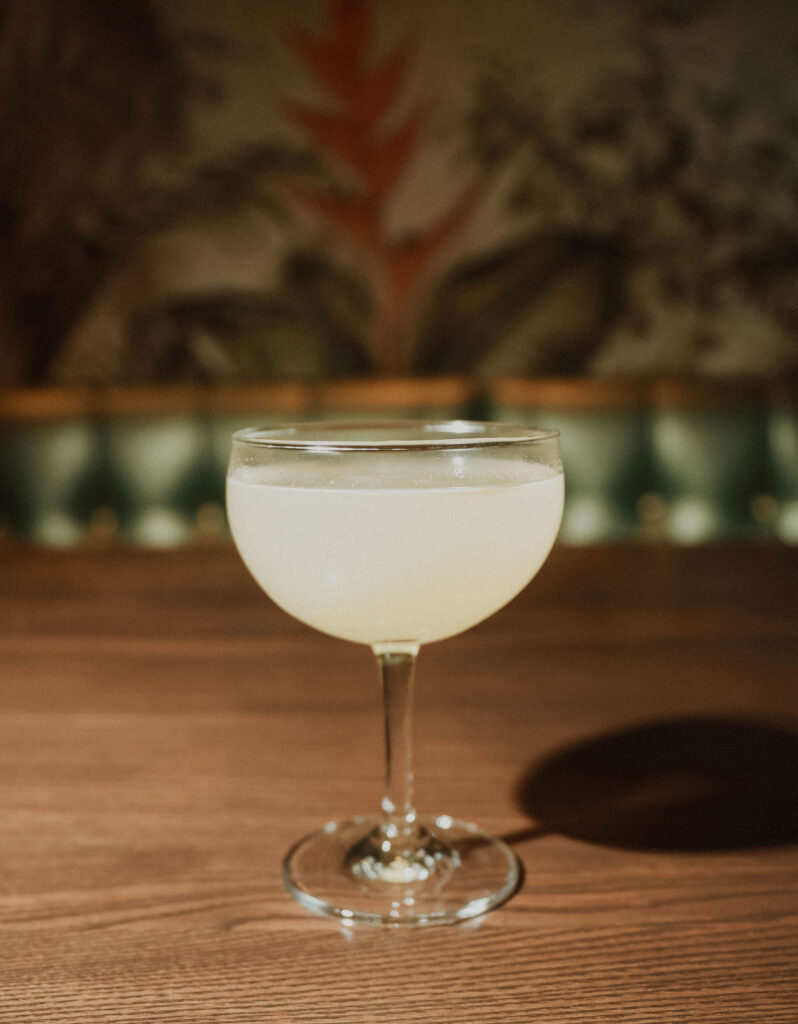 ¼ oz simple syrup (1:1)
½ oz lime juice
1 oz acid-adjusted grapefruit juice (see below)
¼ oz Luxardo Maraschino
1½ oz Denizen Aged White Rum
Shake with ice cubes. Fine strain into a coupe.
Acid-Adjusted Grapefruit Juice
Add 4 packets of True Grapefruit Crystals to each quart of strained grapefruit juice.
A Clean, Well-Lighted Daiquiri
Ben: How to introduce this one….
Nika: Hemingway was so manly he couldn't stand sugar.
Daren: Yeah, the guy who doesn't want sugar, who took down a liter of Cinzano Rosso a day.
Ryan: I mean, alcohol metabolizes in your body as sugar.
Ben: The guy is not a scientist of sugar, he just made his weird request.
Nika: No, he's also not a scientist of humans.
Ben: Okay. He's a terrible person. But the Hemingway Daiquiri has transcended its Hemingway origins, I think. Dale DeGroff rescued it.
Daren: Yeah, you need to bump the acidity of the grapefruit to start with. When this was first made, grapefruits were a different thing, and we've spent almost ninety years pushing them in a sweeter, less acidic, less bitter direction because that's what they say everybody wants. Not really what I want, but then for me, with this drink the maraschino always takes over. I think maraschino is delicious in its proper proportions, but if it's the only sweetener in the drink, it becomes too much. So we split the maraschino with some cane simple.
I think this Daiquiri variation suffers the most from temperature change, particularly when there is a lot of maraschino in it. It goes from great to cloying with that temperature change really fast, for me personally. That's one the reasons that I wanted to pull back on that a little bit but have enough sugar in there for appropriate balance.
It's a drink that does have a place. I understand people who are conflicted with it since it sort of deifies Ernest Hemingway, who was, if you're going to be super generous, a complicated person. I get that. It also shows how many drinks that we love were whipped up by a hospitable bartender at the request of a regular who might have been a little bit of an asshole. And we've all been in that scenario, where somebody has a fairly impossible ask, "I don't want this, I don't want this, I don't want this thing, I don't like that thing," and it's really leaving you without a ton of options.
Ben: He was the original, "I don't like sweet drinks."
Daren: Exactly. "Pretty but not sweet, skinny Daiquiri, please."
Nika: I, for one, do really, really enjoy maraschino. I'm sorry. Give me a Fancy Free all day. But Hemingways, I never order them. We did do a split-base Hemingway that was frozen, and we made an oleo, so I think I just ticked all the boxes. And that was banging, it was what I wanted it to be, but I would never cold call that. I know it has a history and I'm fine with that but I don't need it. But, if you can make it taste better, I'm excited about it.
Kyisha: I hate to be mansplained about a Hemingway Daiquiri.
Ben: There's no greater mansplaining than when Hemingway did it.
Kyisha: I feel like certain drinks lead to certain conversations. So, yes, I'm with you, we don't need that.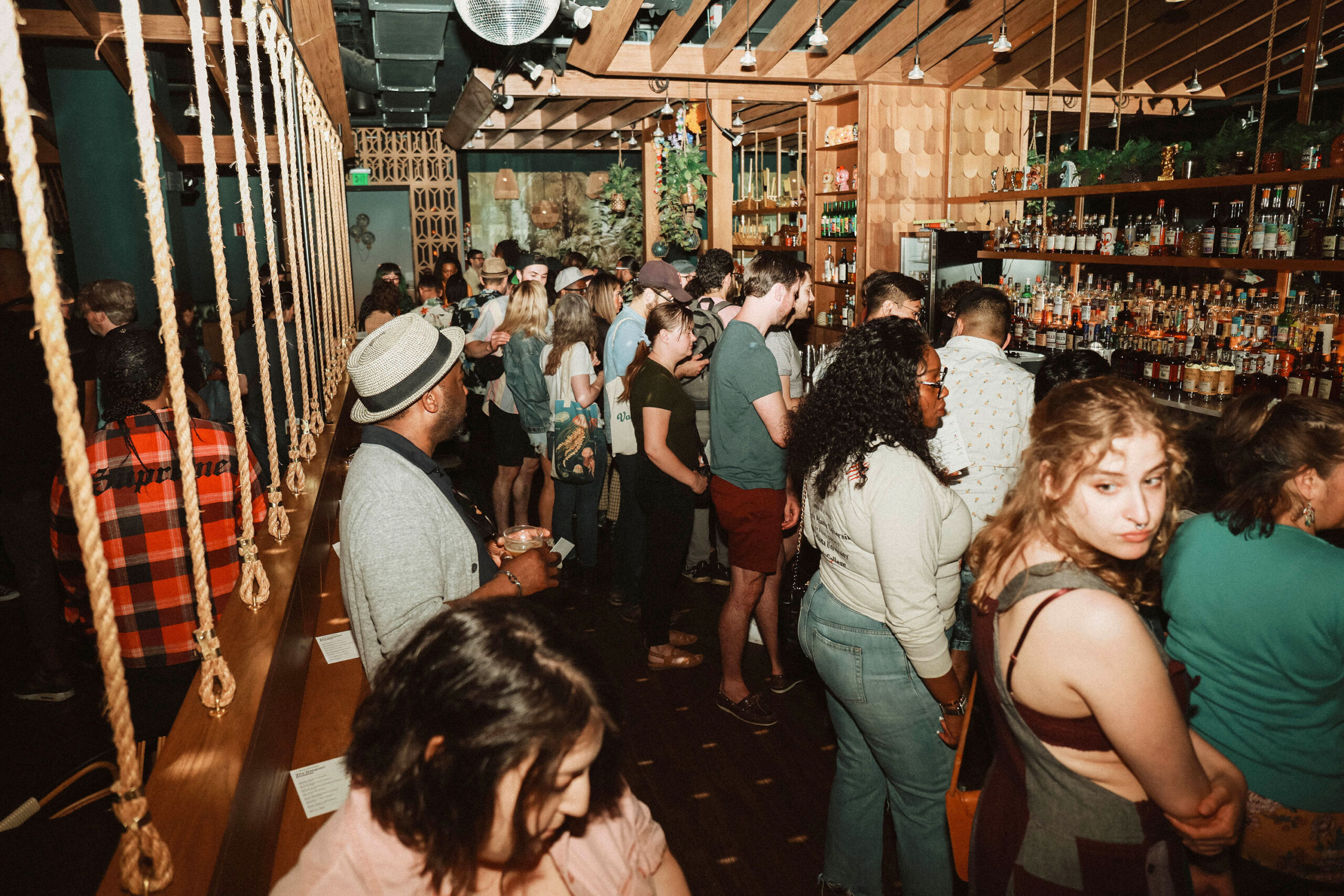 More Than Drinks
Kyisha: We all love Daiquiris. But even more than that, I think it's also important to elevate the folks who are doing the work of bringing these tastes and experiences to our community. Everyone in this room knows that in Boston there's a lot of culture and vibrance, a lot of experimentation happening here. There's a core group of people that are doing the work of putting it together. So, although the overall inspiration for my Daiquiris was what's going on at the bodega, it's really a thank you to the folks who are taking time to stop at your bar, or send you a sample, or throw dope parties, and educate as well. That matters more to me than just celebrating the spirit. Because it just doesn't happen without the people.
Nika: I am so jazzed and honored that our Boston panel is this. We all have really different experiences, backgrounds, work histories, trajectories, orientations, and fucking everything. And I think that's been my favorite part of this.