Even though the Daiquiri is much discussed, it still hasn't been discussed enough. We've sat down with bibulous boffins at Death & Co. in New York, Manolito in New Orleans, and Three Dots and a Dash in Chicago. Each time, the conversation was unique and the topic showed no sign of exhaustion, so we knew we had to keep exploring. On September 18, 2019, another crack team was assembled in New York's subterranean drinks den, Slowly Shirley, for a public, epic conversation with plenty of Daiquiris to taste.
The Titans on our all-star panel are among the best bartenders to stride the Earth:
Dave Arnold, co-owner of Existing Conditions and author of Liquid Intelligence: The Art & Science of the Perfect Cocktail.
Shannon Mustipher, beverage director of Glady's Caribbean and author of Tiki: Modern Tropical Cocktails.
Eryn Reece, bar director of Freemans and Banzarbar.
Jim Kearns, beverage director of Slowly Shirley and Golden Age Hospitality.
St. John Frizell (our esteemed moderator), owner of Fort Defiance, the upcoming Gage & Tollner, and all-around drinks scholar.
In parallel with the topics being addressed on stage, a wide range of Daiquiri variations created by the panelists was served to the audience. Nine half-pour cocktails were offered in six rounds, three of which were "Daiquiri Duos": two different recipes, featuring different rums, highlighting a contrasting characteristic or approach. It's our belief at the Rum Reader that the Daiquiri has evolved into a drink category of its own, and these drinks served as a deep exploration of both the Daiquiri's flavor possibilities and that of the underlying rums, both classic and new to the market. The recipes are enclosed so you can keep pace.
Thank you to the generous sponsors who made this special event possible: Appleton, Bacardí, Banks, Copalli, Don Q, Mount Gay, Real McCoy, Santa Teresa, Wray & Nephew, and Zelda Magazine.
This transcript has been edited for length and clarity. — Ed.
Daiquiris We've Known
St. John: Listen—I think we can agree that rum, lime, and sugar were combined, probably, before the summer of 1898. [As in the oft-told tale of mining engineer Jennings Cox, discussed in our earlier Death & Co. gathering. —Ed.] But the real question to me is how these guys got everyone to believe that they invented it. It's incredible to me. It's really something.
What is the perfect Daiquiri? What does it taste like? What does it look like? What does it smell like? I'm going to hand this to you, Dave.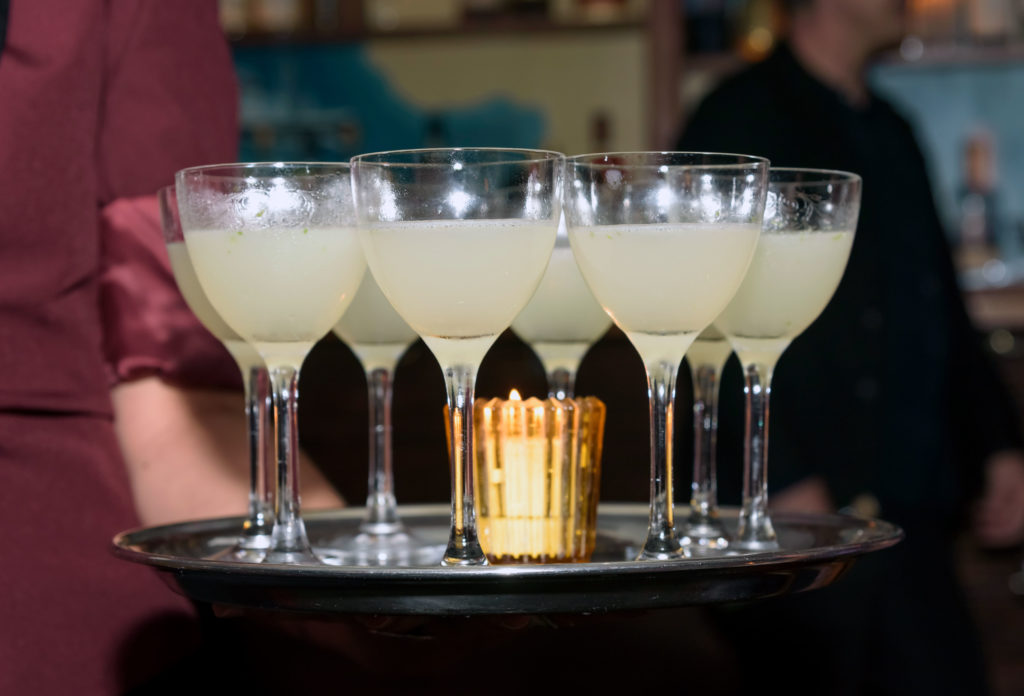 Dave: You should be able to drink it real fast. You should drink it real fast. If it sits around, it's ruined. That's why I prefer short-style Daiquiris. Giant Daiquiris are an abomination.
I am not a purist, obviously—what I do for a living is messing with things. Jack [Schramm], my head bartender, is going to hogo the fuck out of any goddamn cocktail he makes for me. And I like those Daiquiris made with rums that have strong hogo, but mostly I like a light, clean rum—shaken.
In preparation for tonight, I had Garret Richard, another Existing Conditions bartender and very knowledgeable about tiki, make a boatload of different specs including the traditional with sugar—which we can talk about. And I calculated how much simple syrup that would be. And I reshook it with the exact amount of simple syrup that was represented by the twelve grams of sugar in a standard tablespoon of sugar in the recipe, and then various lime levels. I used to be more of an equal parts person. But now, thanks to my head bartender Jack, who beats on me regularly, I've shifted to a higher lime basis. But it should just be: you shake the hell out of it and have it be delicious, and, as they said, drink while it's smiling.
Shannon: I have to agree with you in terms of "too cold to hold." That is true for cocktails in general, but it's especially vital when enjoying a Daiquiri. My inspiration is Bar El Floridita in Havana. My favorite way to do the Daiquiri is à la minute, for each guest in front of you. So we're not using a syrup. We're using fresh lime juice pressed to order, so you get the oils in the tin. Meanwhile, according to the original El Floridita recipe, we're using castor sugar as opposed to syrup, so that we get this bright, fresh, effervescence that shines through and invites us to drink. But more than anything, it should just be really fun and served with style, verve, and a big smile.
Eryn: This is one of my favorite drinks. I think it's also a good one to use to judge someone's skillset as a bartender. I use it as one of my training practices during an interview. It's a very simple drink, but it's also one you can easily mess up if you don't balance it properly. Balance is the biggest part of the Daiquiri, depending on what sugar you use. I tend to use syrups because they're more consistent. You're not going to have granules. Someone really needs to understand what syrups they're using, what type of rum they're using, and then be able to figure out which ones complement each other.
I like something bright, refreshing, a little on the tart side, and very clean as well. And, yes, green—I won't say murky, but an opaque Daiquiri for sure. In a coupe. And I like the addition of a lime wedge. Even though I tend to make mine a little bit on the tart side, it gives the guest a chance to tart it up a little bit more if they choose to.
Jim: Yes. I'm kind of three-quarter lime, cane syrup. I feel like Eryn does, that if you use a dry sugar you're not going to quite get the same consistency with dilution. Two ounces of rum—the type depends on the time of night. I can go just about anywhere on the combination of rums used for a Daiquiri. We have one on the menu down here [at Slowly Shirley] that actually has five different rums in it, and they all bring something to the table. So it's a classic example of a sour, a great measure of a bartender, a fun recipe to play around with—and always a delicious cocktail.
St. John: So we talked about what makes a good Daiquiri. Can we talk about what makes it bad? Often, when I go to a cocktail bar that I'm not familiar with, I will make the Daiquiri my first order. Or even at a restaurant with a cocktail program, I'll often order a Daiquiri off the menu. Just to see what happens. You can tell a lot about a bar and a bartender from having a Daiquiri. Anyone ever have a bad Daiquiri?
Shannon: It's a terrible crime. Here's an inexplicable example. I was in Johannesburg maybe four years ago, a really exciting place, the wine country is delicious. I love those three to four dollar glasses, of course. The bar I was at seemed super on fire. I have never seen people more excited to make a drink, be it off the menu or bartender's choice. So that was heartening. But! I sat in the bar, ordered the Daiquiri, and the bartender picked up a lemon and started squeezing into the tin. I was like, "Sir, I would love it with lime." And he gave me this crazy look. And he's like, "Woman, don't tell me what to do." And I was like, "Okay. Well, do your thing." I realized, "Oh, hey, I'm asking you for this, and you're not inquiring as to why, just doing your thing." The drink was okay, but didn't quite make it.
Dave: As all of us know, there have been some arguments about lemon in some of these historical recipes. But there's also confusion in many countries as to what a lemon is, because a lot of places, they don't give a crap, they're going to use the green one, right?
And the truth of the matter is, a Daiquiri without that malic acid that you get from lime sucks, because the citric acid from the lemon is going to drop off too quick, and you're not going to have the carry-through on the back end of the taste that you need from the lime juice. So I'm surprised that you did not strike that person.
Shannon: It was my first time in the country and I didn't know the customs.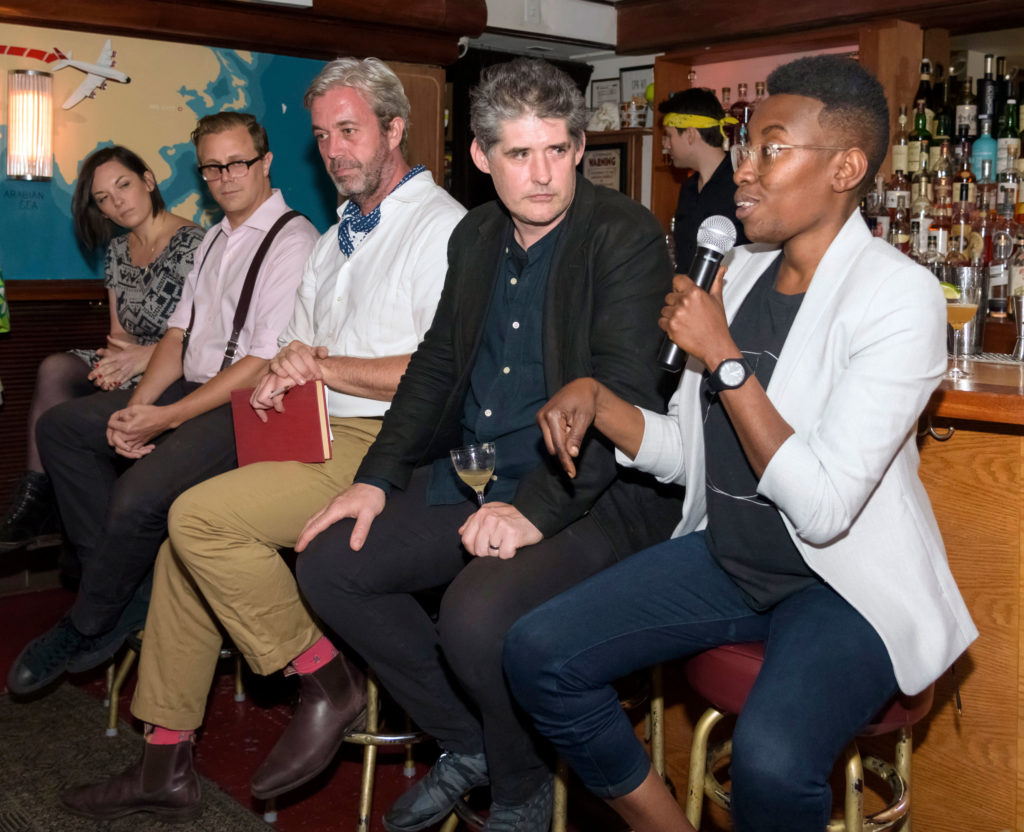 Dave: We're ignoring Daiquiri-oids and things out of machines. Ignoring for that now, just talking about standard-style Daiquiris, for me, the older I get, the less I appreciate under-diluted drinks. So if you're going to short everything down, if your syrup equivalent is down five eighths or a half, which some people do, then you don't need as long on the shake. But if you're going to have three quarters of an ounce of syrup in that thing, you better shake the piss out of it. That's the only way you're going to get the right texture. That's why I think using a good-sized cube to shake to get that texture is important. I don't like a sad, under-diluted Daiquiri.
St. John: A hot Daiquiri. Don't try that with a hot poker.
Dave: No. No. No.
St. John: The key to me is if the lime juice is yesterday's, that is a strong signal. Charles Baker said that a Daiquiri that's too sweet is like a woman with too much perfume.
Jim: The old lime juice thing is definitely number one. Again, a Daiquiri is a measure of a bartender and the bar you're drinking in. Say you're dealing with lime juice that's days old and it's off and doesn't taste right, some simple syrup on top of that made by eyeballing, adding a little sugar, a little water, and swirling to sort of dissolve. Shake that up with some bad rum from a rail. You're definitely getting a bad Daiquiri from that. It's probably an experience that a lot of people have had.
Eryn: I definitely agree. I definitely can appreciate the problem of bad lime juice. Or when someone doesn't have the balance with sugar and the drink's extremely sweet. It's not palatable at that point, it's not refreshing anymore. I definitely don't want to drink that quickly.
Daiquiris by Jim Kearns
Banks Daiquiri
This is made with lemon oleo-saccharum as the sweetener, playing off the citrus with the lime, adding another citrus dimension to it. A dry, welcoming Daiquiri for everyone.
¾ oz lime juice
½ oz lemon oleo-saccharum
2 oz Banks 5 Island Rum
Shake with ice, strain, and serve in coupe. Garnish with lime zest.
Jamaican Daiquiri
An example of a split base with two Jamaican rums of different characters.
¾ oz lime juice
½ oz cane syrup
1 ½ oz Appleton 12 Year Rum
½ oz Wray & Nephew Overproof Rum
Shake with lime disc in tin, strain, and serve in coupe.
Plato and Aristotle
St. John: Let's go back to sugar for a second. In a recent Daily Beast story, a writer named David Wondrich—
Audience: [As one.] Who?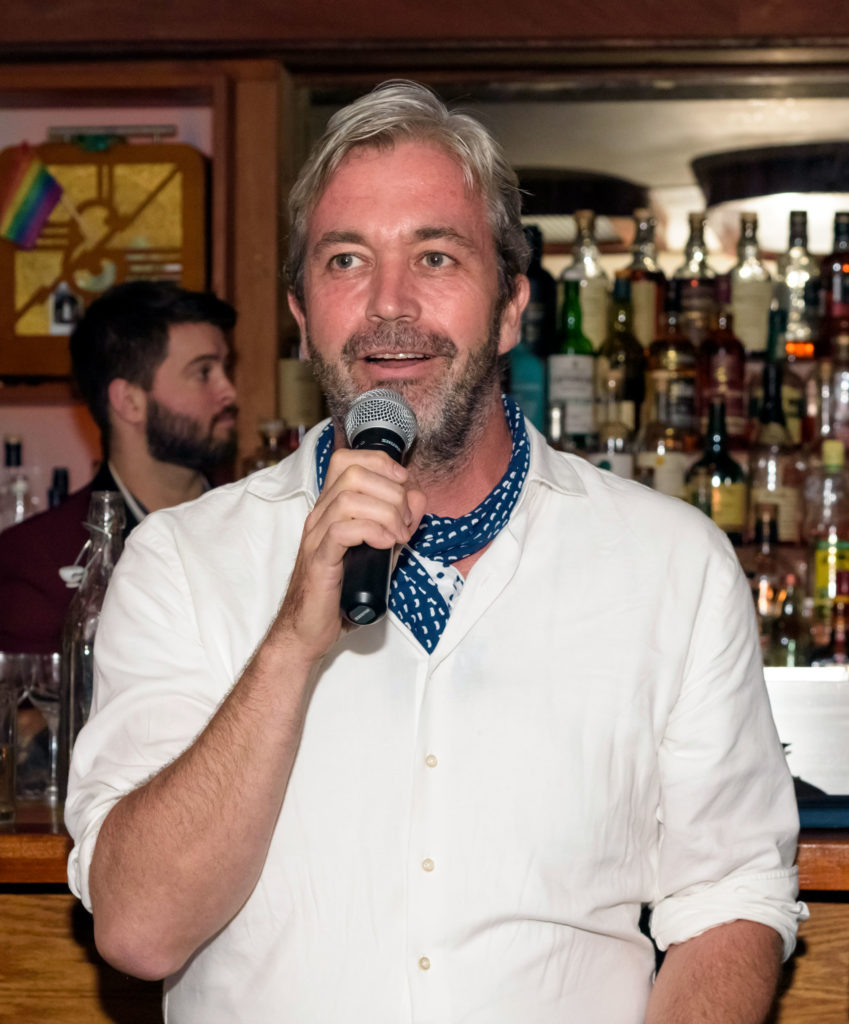 St. John: —discussed the difference between the Aristotelian concept of Daiquiri and the Platonic concept of the Daiquiri, which I don't care to summarize for you at all. But I will say that he disses the use of simple syrup in Daiquiris. And says that dissolving sugar in a tin results in a "brighter, cleaner, crisper drink." Who has done a side-by-side comparison? 'Cause I have not, and I want you to tell me about it.
Dave: I know. [Indicating guilty members of the panel and audience.] You're a proponent, you're a proponent. I did it two days ago. I'm going to say the same thing about à la minute lime juice. Everybody hates old lime juice. Let's just get that out of the way. Forget it!
But there is a very difference in perspective between if you grew up using lime juice that was juiced before service versus if you've grown up using à la minute lime juice. People who grew up using per-service lime juice prefer it, and people who grew up using à la minute lime juice prefer it. So I'm going to say the same thing with this.
Regarding sugar or syrup, Garret Richard at my bar was like, "You must make it with a teaspoon of—" I was like, "All right. Just make it." And I calculated the exact amount of simple syrup that it would take to do it and correct it. But they were, I'm going to say, only slightly different. It's not a spec that most people do, because if you actually calculate the simple syrup, the spec is not a normal one that you would use.
I also tested two-to-one simple syrup versus one-to-one simple syrup. Short answer, not a giant difference. I didn't tell anyone what I had done. I just made two drinks, two tins, same number of shakes, pour. Very hard to tell the difference. I will say that I think Garret loved the one he made with sugar more, so maybe it tasted slightly better. But I think a lot has to do with preference and what you grew up with.
Shannon: I'm the first to admit that there might be a placebo effect in terms of doing it à la minute and dissolving sugar in a tin. The reason why I adopted this approach when I opened Glady's is that, five years ago, the availability of quality rums was really limited compared to what we have now. And I knew that I'd have a lot of resistance and questions on the part of my guests as to the quality of the cocktails, because it's a rum-focused bar. Imagine, if you will, this is pre-Polynesian [Brian Miller's large-scale, elegant rum and tiki bar in Midtown. —Ed.] and this is after PKNY [The much-missed Lower East Side grunge tiki den. —Ed.]. So there's a dearth of options. And rum was not held in high regard. So my approach, using this traditional El Floridita recipe, was not only about tradition but demonstrating, physically and visually, that we weren't using a pre-mixed sour, and that it was about quality and freshness. I have to say, though, when I shake these side-by-side, my preference, and maybe it is psychological, is for à la minute and for the sugar because of the value I attach to that approach.
Dave: I wouldn't say psychological. I think the differences are real, but I still think it's a matter of what you like. You know what I mean?
Shannon: We agree on that point. But when it comes to the menus and presentation, I believe psychology is important in how you shape perception and the expectation. If the bartender is rude, that drink does not taste good, right? I do everything I can prior to the drink landing in front of you to help you feel good about what you're going to get.
St. John: The gentleman in the corner, did you want to say something?
David Wondrich, celebrated author: [Revealing himself among the audience.] I completely agree with Shannon on the brightness. I think it's also a texture thing, the simple syrup texture. Dave, I've also done a lot of side-by-side tests and triangle tests, can you pick the different one out, et cetera. And I think the texture with the syrup ones has a little plasticky sheen that kind of coats the inside of your mouth, which is absent from the other ones. And normally, it's not a problem. But once you become sensitive to it, it's like, "Oh, shit. There's that plasticky sheen." And it spoils the drink for me a little bit. I want it to have a little more bite. I think the sugar versions have a little more bite—maybe with the syrup, their sugars are already bonded with the water, and so it's working as a syrup rather than bonding with the lime juice. I don't know. But there's something going on there.
Dave: What's your standard shake time?
David: Until I can't hold the shaker.
Dave: So you're shaking a long time?
David: Not long. I use old copper shakers, so it gets cold very quickly. But it's a good—
Dave: Are you fully dissolving beforehand or not?
David: Oh, fuck yeah. You stir it in quickly. I'm not just dumping it in. You stir the sugar into the lime juice first. And then—
Dave: By the way, you guys know not to add the alcohol—'cause that retards—
David: Yeah.
Dave: You know that, right? I don't need to tell you that?
Audience: No. Tell us that.
Dave: Do not add the liquor until you have the sugar dissolved. You will actually make it slower to dissolve the sugar.
David: Well, anyway, it's an appropriate shake. It's a good length, not too much. I've made thousands of them.
St. John: So maybe simple syrup has a "plasticky sheen," and once you identify it, you don't want to drink those drinks anymore.
David: I'm not saying you don't want to drink those drinks. Just the other ones are better.
St. John: So what about cane syrup? Anybody using that?
Jim: Yes.
St. John: Superfine sugar?
Shannon: All of it. Depends on the rum.
Dave: I measured our cane syrup and it rocked in at sixty-three brix. So just a little less sweet than two-to-one.
St. John: I see a lot of money changing hands, there was a lot of money riding on that. All right, talk to me about different sugar types.
Jim: Well, I'm partial to cane, personally. Rum is obviously made out of cane. There's an affinity there that you can't get away from. I like cane syrup, because you already are dealing with a pre-diluted, very consistently measurable thing which is great when you are in a bar setting and you might need to get a lot of drinks out quickly. You're already dealing with liquid measurement implements like jiggers. So cane is my preference. One of my drinks tonight is with lemon oleo-saccharum, so you can play around with it a bit, and different things do work. But, definitely, I'm a cane person and a syrup person overall.
Eryn: I'm a huge fan of cane syrup as well. I go back and forth between Demerara and cane depending on which rum I'm going with. A darker, aged rum I tend to put towards Demerara. But cane has a nice, buttery roundness that I really enjoy as part of a Daiquiri. That being said, I usually like syrup because it's going to be consistent every time. We're able to measure it out really easily, with a quicker turn-around for service.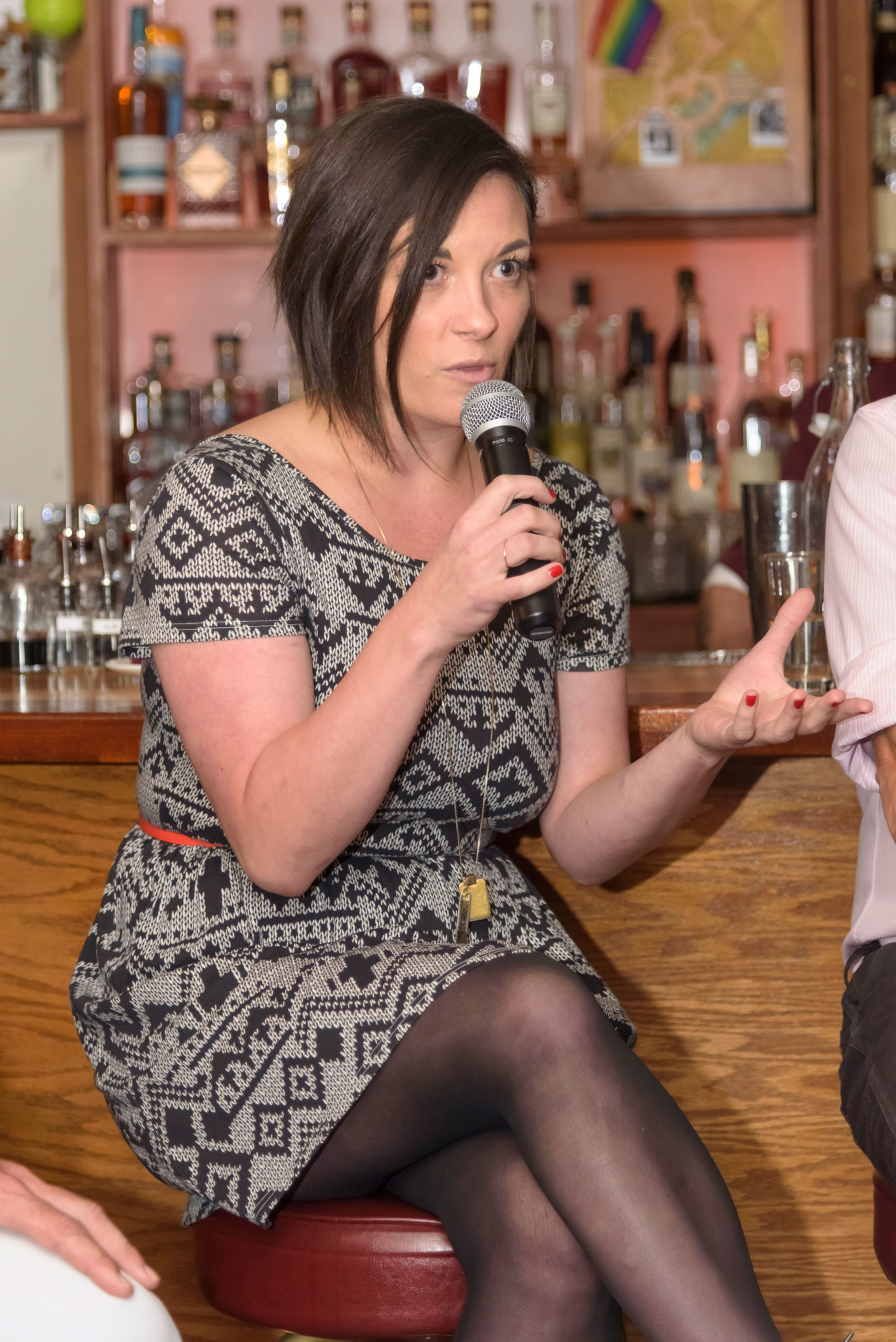 Dave: The Demerara has a longer draw on the finish. So it's going to help with the wood [from an aged rum] in the back, with the lime. Because malic acid in the lime's got a long drawdown on its flavor profile. So if you're going to use regular sugar and you're not going to use a white rum, use a sugar with a little more of a taste backbone, a little bit longer draw on the finish.
St. John: We only have three ingredients in this thing. At what point does modifying the ingredients change this thing from Daiquiri to not-Daiquiri? For instance, if I was to use cachaça instead of rum, is that still a Daiquiri?
Shannon: I would say "Daiquiri-inspired." Using a cane-based spirit as your base and imagining how that flavor profile would work with history. The Daiquiri was born in the late nineteenth century when rum production was markedly different from what it is right now. When you take a brand that isn't a Cuban style rum, that was not what they were working with back then. And we have new producers, SKUs, and labels now that are harking back to other times, and sometimes they don't necessarily correlate to Cuba. But they have similar texture, weight, aroma, that lend themselves to the Daiquiri application.
Dave: I get real bent about names. My partner, Don Lee, wants to call everything after something that someone has heard of, because that's going to sell more. And I'm like, "God. God. You're right. But I hate it so much." I'm like, "Listen. When you're coming up with a drink, did you start with the Daiquiri and then swap the spirit? Then, in your mind, it's inspired by the Daiquiri." There's only but so many ingredients behind our bar that we use on the regular, right? Otherwise everything is either an Old Fashioned, a Martini, or Daiquiri. All of it. So at a certain point it becomes useless and gets me all angry.
Same thing with attribution. Okay, we can talk about who made something popular, but, really, do we own any of these combinations? Does anyone own any of these combinations? Rarely. The naming thing, I get all hot and bothered and I let Don take care of it and then I walk away from it because I just get offensive.
Daiquiris by Eryn Reece
Belize Daiquiri
This is actually the first time I've gotten the chance to try this rum, that's quite new out of Belize. I found it similar to cachaça, it's got a lot of funk to it, which I really enjoyed. It's also quite savory, hence, the cucumber on top. I'm very much a purist, so I think the classic rum, lime, and sugar is the way to go, but with this one, it wanted to be a little bit more out there. So I wouldn't technically call this a Daiquiri, but it still has a sugar and citrus element. I added a touch of acid to give it a little bit more brightness and for that savory funk that's coming out of this particular rum. Then just a hint of salt to round it out a bit.
2 oz Copalli White Rum
4 muddled lime wedges
¼ oz lime juice
¾ oz simple syrup (white sugar 1:1)
2 drops 20% saline solution
½ dash absinthe
Muddle limes in tin. Add other ingredients and shake with ice, strain, and serve in coupe. Garnish with cucumber slice.
Barrel & Barrel Daiquiri
This rum has a lot of spice in it. Again, I wanted to make it a little bit different than just adding lime and sugar. So we added a little bit of the whiskey barrel bitters to give off lots of cinnamon notes. Lime juice and then Demerara syrup to add some rich darkness to complement the rum.
2 oz Mount Gay Black Barrel Rum
1 oz lime juice
¾ oz Demerara syrup (2:1)
1 dash Fee Brothers Whiskey Barrel Bitters
Shake with ice, strain, and serve in coupe. Garnish with lime wedge.
The Fourth Ingredient
St. John: Strain or double strain?
Eryn: I double strain all of my up drinks because I do not want to chew on ice. I know there are a lot of schools of thought on that, but I want Daiquiris to be about quickly drinking, I don't want to choke on an ice cube.
Jim: If you know how to use a Hawthorne strainer right, you use the clutch on it, that's the little thing that sticks up out of the top of it. If you move that forward, you compress the spring, and you can get most of your crystals of ice except the smallest, finest ones. Those are very pleasant to drink, so I don't use a double strainer for almost anything. I do not agree with it, personally. Dave, looks like you have something to say?
Dave: Yeah. There is a middle ground. If you use an old-school Hawthorne strainer with very wide springs, it lets quite a few chips through.
We do a whole category of drinks at the bar that double straining destroys. We did this thing with milk washing. When you shake those drinks the foam's completely obliterated by a double strain. I'm assuming that some of the liveliness of a regular drink is hurt by that, so we used a fine Hawthorne. But if you use it improperly, you still get chips. I personally don't mind chips, I just don't like drink-to-drink differences if the guest is getting one and then another.
Shannon: I tend to use à la minute juice, so I use the fine and double strainers to get a bit of the pulp out. That's my general policy with sours of any sort, because I don't know the preference of the guest and I want to eliminate any distraction. Also, I have bar staff of various skill levels. The fine strainer equalizes that when you use the Hawthorne.
St. John: When you shake a Daiquiri correctly, when you pour it out, it has an almost creamy texture to it. It seems almost white when you're pouring it into the glass, and then it settles out and reveals its kind of green color. I like the tops of my Daiquiris to look like a photo of the Arctic Ocean from a helicopter. Little ice floes. That's my thing. I like a little bit more ice on top of the drink. Very, very fine ice covering the whole surface.
Dave: Isn't that the truth though, the way it looks right as it's being poured. That's why when someone comes to the bar and you're like, "Would you like to sit at the bar or a table?" And they say "Table," and you're like, "Really?"
St. John: Yeah, I think about this more and more as I'm opening a new place. I think so much more now about presentation, because there's a perceived value with a customer. You can make the drinks at home. When you go out—there are a lot of reasons—but one of the reasons I go out is to watch people make drinks. I really enjoy it. Unless they're making that bad Daiquiri I told you about.
So let's take ice to an extreme. We have the frozen Daiquiri. I spent my formative years in New Orleans. I think the first Daiquiri I drank was probably out of a machine on Bourbon Street. They call all frozen drinks Daiquiris no matter what's in them. It could be a Hurricane but it's still a Daiquiri in the French Quarter. The blender came along in the '30s, which is when the tropical Daiquiri started to take off, and now frozen drinks are definitely having a resurgence. I wanted to talk to Dave about this. I was leafing through his book, Liquid Intelligence, the other day and was reminded of this crazy thing he does where he makes a Daiquiri in a Ziploc bag that he puts in the freezer.
Dave: Yeah. By the way, the way that I do blender stuff, I don't use syrup, I put sugar in the liquor because anytime you have a blender drink or a frozen drink in a Ziploc bag, you're getting maximum dilution. The trick with any sort of frozen drink is to get the alcohol level further down than you would in a shaken drink. Down to like 14, 14.2—no more than 14 and a half percent.
The nice thing about freezing things in a Ziploc bag is that a frozen drink machine makes an extremely fine texture of ice. When you freeze an alcoholic beverage with the proper amount of sugar in it over a long period, it develops plate ice. There's something about the texture of that plate ice in a frozen drink that I find enchanting. So the non-mechanized, quiescent freezing provides a texture that you don't really see very often in a bar anymore.
Shannon: Slushies have been a mainstay of our program since we opened up five years ago. We're closed for renovation right now, but when we reopen we'll have a drink called the Nuclear Daiquiri, that's based on a high proof, unaged Jamaican rum—that's what I like to sip in my off-hours.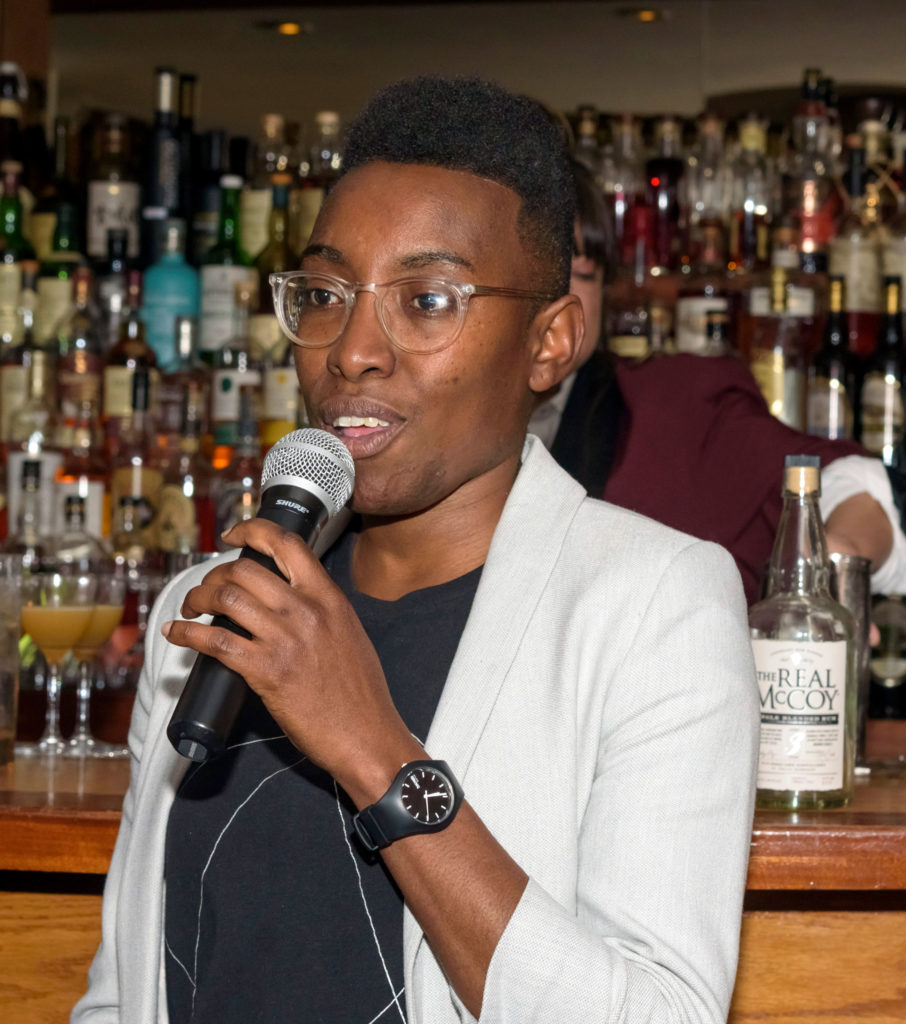 Daiquiri by Dave Arnold
Thai Basil Daiquiri
It's a straight up two, one, three quarter—and the other ingredient, salt (we add salt to all of our Daiquiris). We use my technique called nitro-muddling to freeze the Thai basil. I first came up with this idea because chefs freeze herbs and then pulverize them. What if I did that and put it in a drink? Turns out I love that.
The very first thing I did with that technique was a standard Daiquiri with Thai basil. I loved the aniseed notes on the Thai basil and the green and the fresh and the punch. We do this à la minute at the bar, order per order. We don't make lime juice à la minute but we do make herbs à la minute.
7-8 large Thai basil leaves
2 oz Real McCoy 3 Year Old Rum
1 oz strained lime juice
¾ oz simple syrup (1:1)
2 drops saline solution
Nitro-muddle the Thai basil in a shaking tin. Add rum and stir. Add lime juice, simple syrup, and saline solution. Check to make sure the mix isn't freezing cold. Shake with ice and strain through a tea strainer into a chilled coupe.
[Or go to Existing Conditions and order one. For full discussion of the uniquely Arnoldian nitro-muddling technique, see pp. 165–172 of Liquid Intelligence. —Ed.]
The Blend
St. John: Eryn, have you ever had a Daiquiri on one of your menus?
Eryn: Yeah, plenty of variations on the Daiquiri—at a certain point it isn't a Daiquiri anymore. But our house Daiquiri right now is a blend of white rums including Martinique, little bit of lime, sugarcane, and salt. I love adding that little bit of funk, I think that's more interesting than just a pretty good, clean Daiquiri. But, over the years, there's plenty of variations. It's always a crowd favorite, for sure.
St. John: When we're blending rums for a Daiquiri, what are we looking for?
Eryn: Traditionally, a very nice, clean white. I use El Dorado 3 Year or Caña Brava or things like that. But I like to mix things up just a little bit. Currently we're using Paranubes. It's got funk to it, but it's not taking over the drink. I like putting a little bit into a cocktail, because it is a little bit more aggressive for normal drinkers. It's a way of getting them to try something they normally wouldn't. It's how I thought about mezcal back in the day, introducing it through tequila cocktails.
Jim: The possibilities are almost endless for it. I like to try to hit all of the main styles. I like to get a Spanish rum, an agricole, and a Jamaican in there somewhere. Our Daiquiri that's on the menu upstairs at Happiest Hour is a Spanish white rum base with a little bit of agricole, a little bit of Jamaican rum in it as well. Down here at Slowly Shirley, we have the F.A.F. Daiquiri, which has five different rums, so it definitely expands to all the styles and then some. The pot still, the column still, et cetera. It's really fun to layer different styles and flavors on top of each other that way.
St. John: I like the idea of using the Daiquiri to introduce people to more aggressively flavored rum. That's a cool thing. The way I used to put a quarter ounce of mezcal in a Margarita and people were like, "Oh, what is this? I like this."
What's on Top?
St. John: If someone orders a Daiquiri in your bars, is there a garnish that goes with it, yes or no?
Dave: [Growling.] No.
Shannon: Not into it. But lime wheels are allowed.
Dave: I'm not opposed to garnishes—just, in our bar, because we do a lot of new techniques, we get labelled as being presentationally gimmicky. So with the exception of functional twists, we are garnish-free. Cucumber is functional, by the way. Not a garnish: functional.
Jim: I'm kind of a purist with it. Garnishes need to tie with what's going on with the drink and not just be social media fodder. A lime wedge or a lime wheel doesn't really have much function other than to be pretty. But a lime wedge can be a nice touch; they can squeeze it in if they want more tartness. Lime zest can be nice. A little bit of lime grated over the top of the drink gives that quality of lime oils. But very minimal. I'm not a big garnish fan when it comes to Daiquiris.
Eryn: I do like a lime wedge on my Daiquiri. I like the option of adding a little more acid if they prefer something a bit more tart. But I definitely agree with Dave that I like a functional garnish. Not about the whole idea that it's an Instagram-worthy cocktail because it has an elaborate, ridiculous, unnecessary garnish.
St. John: I don't serve them with a garnish ever. There's something really appealing about the look of a thinly sliced lime wheel in the drink, but it's not doing anything. It just gets in the way when you're drinking. If you don't want it there, how do you get it out? Fish it out with your fingers? It's weird. So I leave it off. I like pictures of them but I don't like them in real life.
You all answered that question correctly.
Daiquiris by Shannon Mustipher
Antilles Jewel
This is inspired by a weird play on Between the Sheets. Generally speaking, that's a rum and brandy sour that's a mash-up between the Daiquiri and the Sidecar. But I wanted to go a little more botanical.
1 oz Santa Teresa 1796 Rum
1 oz botanical-forward gin
¼ oz pimento dram
¼ oz simple syrup (white sugar 1:1)
¾ oz lime juice
Shake with ice, strain, and serve in coupe. Garnish with lime wheel.
Periodista de Baja
I indulged in the thing I just can't get my hands off, which is the Banana Daiquiri. It's almost impulsive. This is an iteration with apricot brandy.
1 ½ oz Bacardi Añejo Cuatro
½ oz apricot brandy
½ oz banana liqueur
¾ oz lime juice
Shake with ice, strain, and serve in coupe. Garnish with plantain chip.
Romance of the Daiquiri
St. John: I came up in the Audrey Saunders school of cocktail making, at Pegu Club, as did Jim. I was reminded reading her piece in the Rum Reader about the Daiquiri, she'd have you make one as part of your training, and then the first original cocktail she'd ask people to show her would be a variation of the Daiquiri with two additional ingredients or two changed ingredients.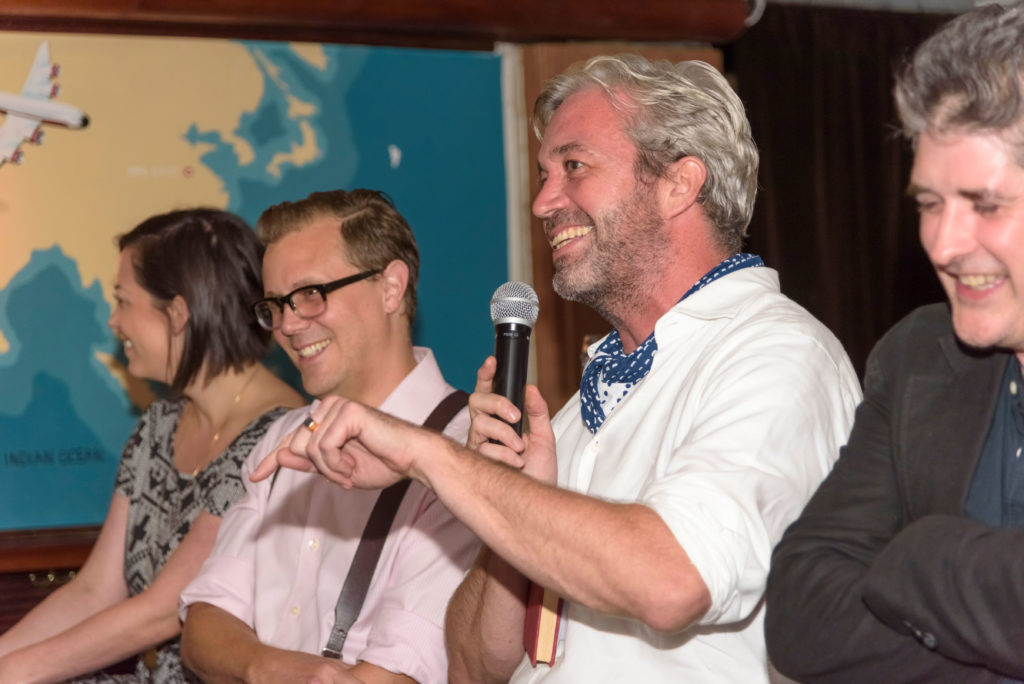 This neighborhood guy used to hang around my bar. He really wanted to work behind the bar. He was persistent but I refused to hire him. One day, though, I let him get behind the bar and I had him make three Daiquiris. A two, three quarter, three quarter with simple syrup; a two, three quarter, one, with the one being the simple syrup; and a two, half, half. I wrote that down in a dupe pad and asked him to make them. He did, and we tried all the drinks, and we talked about what they all tasted like. These are all legit recipes of the Daiquiri that you can find in books that are in print. We settled, as people who work at my bar always do, on two, three quarter, three quarter. It's just a magical combination for me. [This is the influential Audrey spec. —Ed.]
That guy was Zac Overman, who now runs L'Oursin in Seattle. He eventually worked for me for many years, and started the Sunken Harbor Club, our tiki night. When he was moving from New York to Seattle to open his new bar, he presented me with one of the dupes from that pad with the recipes on it. He had taken it home and saved it and then he gave it to me, framed.
It's still the drink that I make people who are training at my bar make first. To me it says so much about the ingredients that you're working with and about the ability to achieve that balance you're always looking for. And to make up your own mind about what tastes best, to trust your palate. Anyway, that's my romantic Daiquiri story.
Do you remember making Daiquiris at Pegu, Jim, and how Audrey would have approached it?
Jim: I always remember her approach to making drinks, in general, was to make as many variations as you can possibly imagine. Then figure out which is the best one. It's a great method of deciding how you're going to do something, and what the best recipe is for whatever you're trying.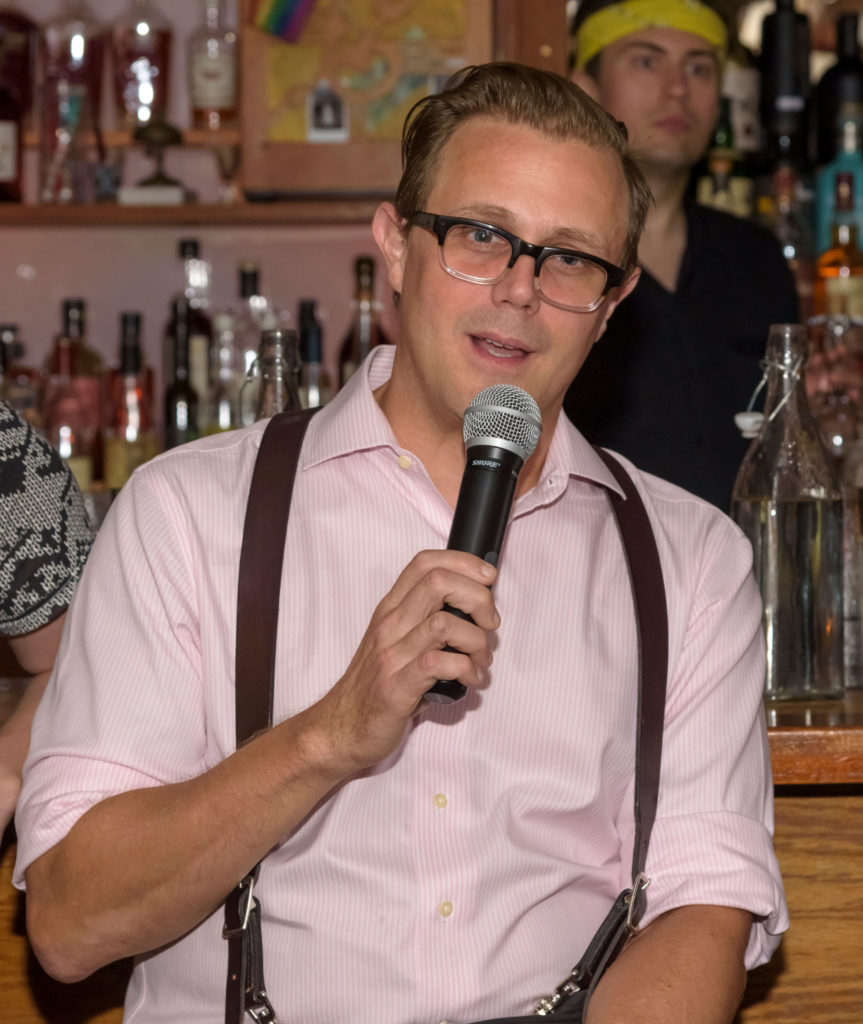 St. John: Eryn, do you want to speak about the use of the Daiquiri as a training tool? I know you mentioned that earlier.
Eryn: It's a great way to see someone's skill level, especially on how they're shaking, how they understand the ingredients. I usually start off by giving them a choice of three different syrups. Either a one-to-one simple syrup, a two-to-one sugarcane, or a two-to-one Demerara. I give them a wall of rum to choose from, and based on what they are gravitating towards, how well they understand the product they're working with, and how well they understand the sugar and how it works in their drink, it gives me an idea of where they are as a bartender. And then, on top of that, how well they're shaking it. If it comes out lukewarm, there's an issue.
St. John: With the five or a ten most popular drinks, there's not a great consensus as to how to make them. Especially the Martini—there's absolutely no consensus on it. Manhattan, you're getting a little bit closer but you don't know if you're using bourbon or rye. Even in the sour family, think about how many variations on the whiskey sour there are. They serve them up in cocktail glasses. You can get them in rocks glasses, you get chimney glasses. You get them with egg white or without. You can get them with a cherry, you can get them with a flag, you can get them with a branch. You can get them with soda or not. I mean, there's a million. There's not a true consensus about what a whisky sour is.
But a Daiquiri, no one even questions it. There's only three ingredients in it. And we all know what they are, that's why it's a good tool. It's just so simple.
Daiquiri and Tiki?
St. John: Let's talk tiki for a second. I'm going to throw this over to you, Shannon. The Daiquiri is a Cuban cocktail, but can you talk to us about how it relates to the tiki resurgence?
Shannon: The Daiquiri is a safe place for bartenders to begin to experiment with and learn about rum and its properties and various applications. When it comes to rum cocktails, we have what we call the Holy Trinity: rum, sugar, and lime. This is universal across all the various categories of rum. Caipirinha: rum, sugar, lime. Canchánchara, basically a cold toddy with rum, honey, and lemon. And later, Daiquiri with its rum, lime, sugar. When you go to the French Antilles, you've got Ti' Punch, which is, again: rum, sugar, and lime. Just a reference point that Donn Beach mined and amplified with various citrus juices, various sweeteners apart from sugar and on top of sugar, and various rums. That's the base and everything's built from that.
Domestic Daiquiris
St. John: Let's give our audience some tips for making Daiquiris at home.
Eryn: Going back to ice, I feel like most ice cube trays make pretty solid ice. You can also get those two by two ones. Having those in your freezer definitely makes your Daiquiris at home a much more elevated experience for your guests. I think that's the big one. Obviously, you're going to be squeezing fresh juice at home as well, which is really nice. Having a hand juicer is an easy way to make that happen.
Jim: Definitely big ice. Don't use the stuff that comes out of the ice cube maker in your fridge. Make nice ice cubes ahead of time. Plenty of fresh lime juice. I guess the sugar portion of it and the rum portion are really a personal preference. That would be open to individual interpretation.
St. John: I love having cocktail glasses in my freezer. That just makes me feel prepared. It's like having a flashlight in a drawer.
Dave: How many people are we talking about?
St. John: Six including you.
Dave: Okay, listen. I'm going to make a big plea: learn how to do the double handed, two tin thing, but don't make too many. I would give half drinks. This way, you can get it fresh, you can go, [Miming hard shaking with ice cubes rattling.] "Brr-rr-rr-raggg." Especially if you're not good at shaking large amounts of stuff, do it small, get half, and just do it again, right? Smaller portions—again. Everything that's been said is obviously important; big ice, important; all important; but don't try to go full-size. They're not going to drink it fast anyway. You're just going to look at your guest and be like— [Doleful gaze.]
Shannon: We have a saying at Glady's. "The family that Snaquiris together, stays together." The Snaquiri ["Snack" + "Daiquiri," generally credited to Karin Stanley ca. 2010. —Ed.] is a bit of an industry handshake and a really fun way to start the night, end the night, show some camaraderie standing behind the bar. I love this smaller portion because it's not busting up your plans. You can still have other things. You can have a little bit and brighten up your night.
In regards to what I recommend for the Daiquiri at home: glassware, absolutely. The drink doesn't have a great reputation with a lot of people, so if you can serve it in a really elevated way, that helps tremendously. In terms of the rum, any good rum that doesn't have a ton of additives will shine through in the Daiquiri. It depends on your crowd, but for people who are less acquainted, I love to use a Panama rum that shows influence from Cuba. A lightly aged Panama rum, five years or younger, will help you get as close as you can to the original El Floridita Daiquiri.
Dave: Let me say one thing about the Snaquiri. For those of you who work in a bar, if you're allowed to have a mid-shift drink, the Snaquiri is the only one, the only drink that you should have mid-shift. I'll also say this: let the barback do it. That's the way you're getting your barback into that bar position.
Shannon: To that I'll say, they're learning their technique. There's nowhere to hide if you don't know how to do a Daiquiri. And this is a little off to the side, so bear with me, but the Navy Grog was the way that rum got onto the global stage via the British Navy as a morale booster. As is a Snaquiri.
Dave: Also, if you do have friends that are a little "eh" about the Daiquiri, what you need is new friends.
Daiquiris by St. John Frizell
Fresh Daiquiri
Per David Wondrich, you'll notice the plasticky sheen from the simple syrup. It's a heck of a drink.
2 oz Don Q Cristal Rum
¾ oz lime juice
¾ oz simple syrup (white sugar 1:1)
Shake with ice, strain, and serve in coupe.
Añejo Daiquiri
For the aged Don Q expression, I just instinctively went for the Demerara syrup, and added bitters.
2 oz Don Q Añejo Rum
¾ oz lime juice
½ oz rich Demerara syrup (2:1 Demerara sugar)
2 dashes Angostura bitters
Shake with ice, strain, and serve in coupe.
Still There Are Questions
First Questioner: I'm reminded that the Persian limes we have today are not the limes we had a hundred and twenty years ago when white men were inventing the Daiquiri. I know that the pour cost would be prohibitive to go in this direction, but do any of the five of you have experiences with other cultivars of limes?
Shannon: I have one example that really jumped out at me. I was having a Daiquiri at Polite Provisions in San Diego two years ago. I watched the bartender make the drink. And the only way I could account for how wonderful it was is that the lime was fresh and local. So maybe more than the type of lime, the freshness has a huge impact. It was like I never had a Daiquiri before, even though I've been running Glady's and making them à la minute for two years now.
Dave: Wherever I go in the world that is relatively warm, I buy whatever citrus they happen to have there and test it. There are differences. I'm going to go ahead and say that what you call Persian, a.k.a. Bearss limes—it tastes good. It tastes good. It's good. Now, are there other fruits that are different that are also excellent? Yes. But I'm a big believer that things are different, not better or worse—although there are things that suck. But the Bearss lime is a good tasting cocktail fruit.
St. John: Whenever you travel in the Caribbean, you see citrus for sale that's halfway between a lemon and a lime. And sometimes they have some Persian limes in a bag that look like little green golf balls and no one uses them for anything. But you can't bring the fruit back, so you can't try them head to head. I've never found a situation where I've had both those fruits at the same time.
Dave: You can't trust peel color, right? So my head bartender, Jack, we were just recently in Taipei and we ordered sudachi. Sudachi here is a tiny weird little thing that costs a billion dollars. In Taipei, sudachis are giant and super juicy, low in malic, so great for a lot of drinks where you don't want that. That's one variety of citrus that isn't going to grow the same here as it's going to grow somewhere else. Even within Bearss, which is what we use, there's varieties of how that particular cultivar's going to taste. Half the year, your Persian limes are like there's no goddamn juice in them, right? It's not the same fruit. I don't want you guys to come down harshly on the Bearss, a.k.a. Persian, lime. Please don't.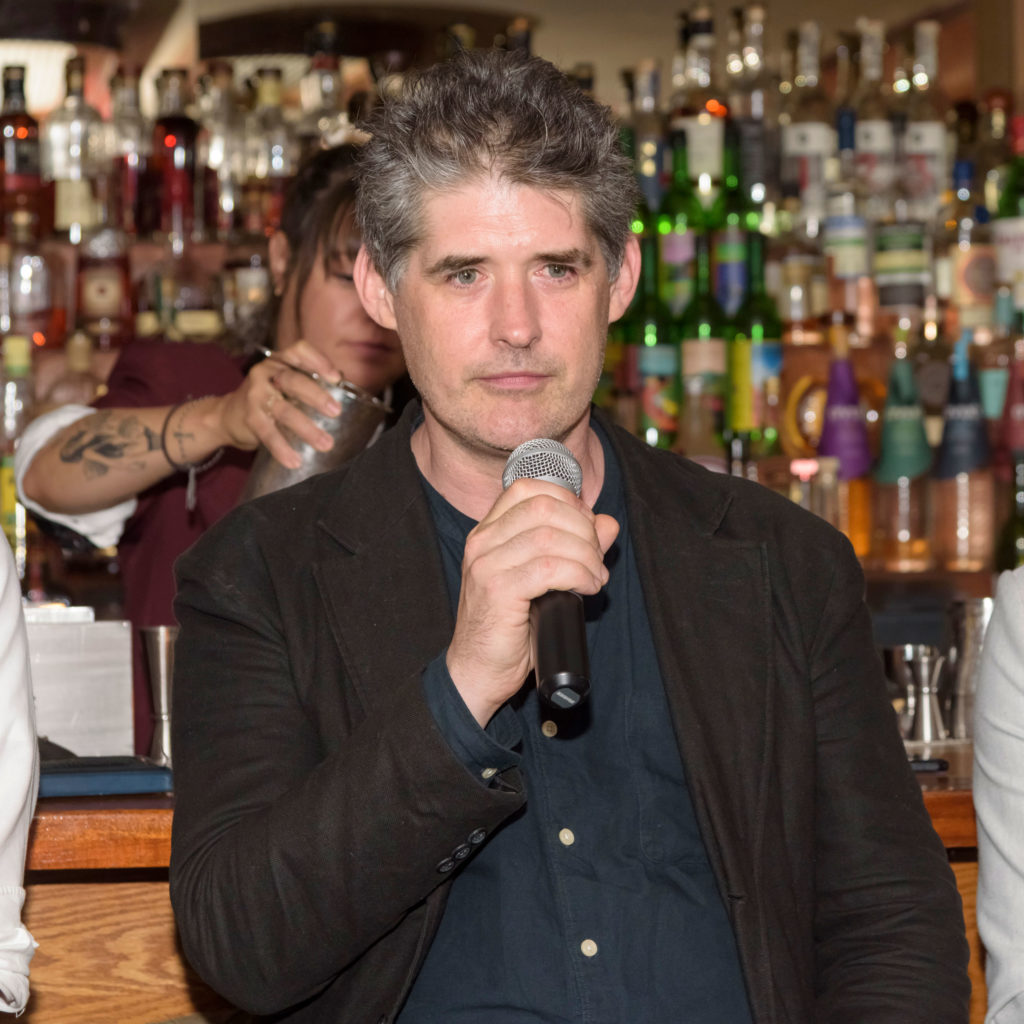 Jim: There's also a lot of variation depending on the size of lime that you buy. Because limes, when they have a chance to grow and mature, tend to get juicier and better. So if you're getting 110 count limes, for instance, they're going to be a whole lot better. Nicer and juicier, more oil in the skin, because they're a more mature fruit than 200 count limes which are the little golf balls that don't have any juice in them and are pulpy most of the time.
Dave: How you juice makes a difference. À la minute versus pre [-service]. We're pre but we're pressed. We're not "Rrrrrrrrrrrrr!" [Electric rotary juicer noise.]. That "Rrrr!" also adds a lot of bitterness. So everything depends on how you do it. I think as long as you care about what you're doing—that meant a rotary machine by the way—as long as you care about what you're doing and are focused on the quality of your ingredients and getting better every time you make a drink, or trying to anyway, I think you're on the path.
Shannon: I can't really say more than that.
Second Questioner: A few of you have alluded to this, but obviously the term "Daiquiri" in the popular imagination is kind of—I don't know—it's really trash. So when you're introducing people to a proper Daiquiri, not this stuff from New Orleans Slurpee machines, how do you describe it? How do you get people to want to try this drink when their minds are tainted by T.G.I. Friday's?
Shannon: Classic rum sour like a Gimlet or a Daisy. I use a fresh pressed juice to emphasize that point.
St. John: The bartender I was telling you about earlier got a phrase tattooed on his forearm. It says "Have a Daiquiri." At my bar we have one on the menu now, the description is, "Just order one of these while you think about what you want to drink." It's so easy. The bartenders love making them, people love drinking them, they come out fast. "You don't know what you want? Just have a Daiquiri." Have a Daiquiri and then we'll talk about what you want to order.
Jim: Yeah, I think they're a great thing to put on the menu. I think that's a fantastic way to get it in people's hands and actually try one, to understand that it's not some syrupy thing that comes out of a frozen machine that runs 24/7 on Bourbon Street somewhere.
Eryn: I agree. Some people are still so hung up on the idea that cocktails are sweet. Especially because they're known for having this terrible quality in New Orleans. But I find it funny that Mojitos don't have that same idea. People drink those with no problem, but the minute you take away the soda water and the mint—disgusting cocktail. Train people to learn how to talk about drinks, let them understand it is a very simple cocktail and, if done right, they can really enjoy it. Putting it on the menu is a really good way of doing that.
Third Questioner: I don't find that Daiquiris are ordered very often from non-industry people. So how can we get people to start drinking Daiquiris again?
Shannon: I would say inch by inch. There are really fun cocktails that involve splits with rum and other spirits, including brandy, sometimes whiskey and gin. They're not necessarily Daiquiris right on the face of it. But think about the Between the Sheets. It's a play on the sour with brandy and rum, shaken and served up. So it's not a far stretch. I think the key is to have bartenders having it as a private handshake, they pass it on the guests they have a connection with. And then it's going to spread in a viral way. As was mentioned earlier, there's a little bit of a stigma about the Daiquiri. A lot of people have had frozen versions that are not really good over or representative. Split bases can be a middle ground to get people comfortable.
Dave: The interesting thing about a guest, even like an a-hole guest, and the nice thing about a Daiquiri, even if it's not on the menu, is that it gives you an opportunity to talk about spirits, to Shannon's point. You could talk about all the different rums that you have, and as a bartender, you love all the rums that you have. So when you're doing split base, you can do this verbal dance about the rum. And because it's such a simple drink, you can really talk about the rum in a way I think that gets people jazzed. I've seen many of my bartenders do it and get people all jazzed up about different rum mixes. I think it's a good way to get people into it.
St. John: I love to see a classic drink on the menu, especially if I'm in a strange town or a new restaurant. Sometimes you look at the cocktail list and you feel all at sea. You're like, "Somebody, throw me a life preserver here. Give me a handle, something to pull myself up. Something I can recognize." And I know a lot of drinks! But seeing something like a Daiquiri on the menu, to me, is not a cop out. It's a sign of confidence in the bar. You're putting something so simple on your menu. You're proud of how you're doing it.
Fourth Questioner: As you taught us, a Daiquiri is a four things: ice, rum, sugar, lime. The first three are pretty controllable in terms of price, they don't really fluctuate. But limes are pretty unpredictable nowadays, geopolitically. How does it affect you all, with lime prices jumping all around?
Shannon: When Glady's was opening five years ago, we were gripped with terror because of the huge price hike, like a dollar upwards per lime, due to the Mexican cartel that was choking supplies to the U.S. This is around the same time that I was demanding that we use fresh limes, that it doesn't matter how much it costs when it's good. But yeah, it can be a little tough. I think we passed the big hump and I haven't seen the prices go up that high in five years.
Dave: That was a really bad time, because not only were the limes expensive, not only did I feel that people were getting murdered for our limes, but they were not good. The stuff we were getting was garbage. There was a huge upswing in cartel violence and they realized that one of the big market commodities was limes, so they would hijack the trucks. People were literally getting killed for our cocktails. I got to be honest, we did not raise the price of our drinks as a result, but when bartenders were coming with ideas, they came with a lot more lemon drinks.
St. John: Yes, that's right. We moved limes off the menu and kind of switched the menu up and went more lemon heavy.
Jim: I mean, they still fluctuate every year. But it's one of those things where if you have a lime drink, you're probably going to keep that on the menu, incurring a high cost on it. Definitely during that time, though, when El Chapo was hitting the lime trucks, people were making a lot fewer lime drinks.
Eryn: Unfortunately, at that time, I was working at Mayahuel. [The legendary mezcal cocktail bar the closing of which marked the end of innocence. —Ed.] We were not ready to get rid of lime juice so we just sucked it up and, yes, lived with it.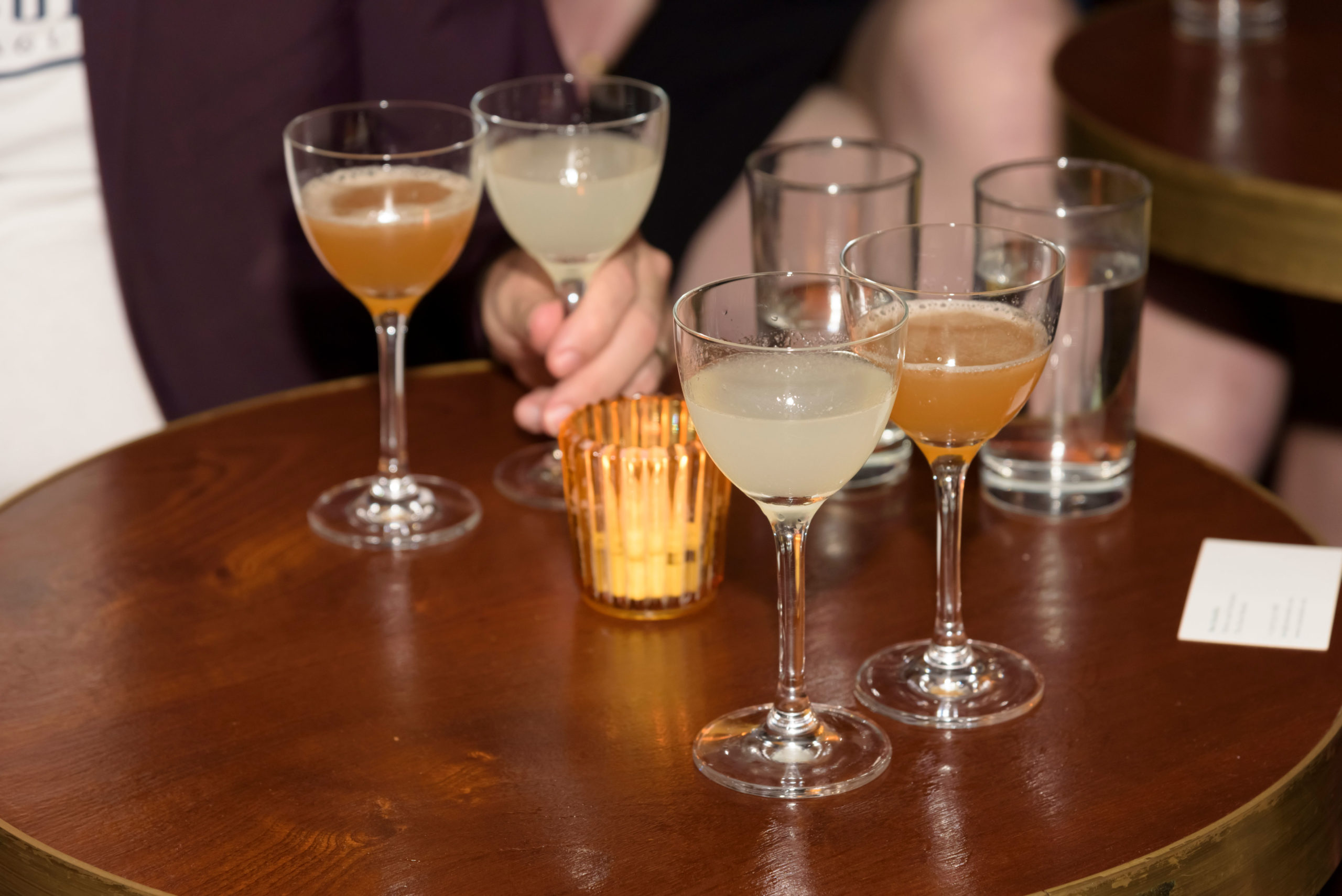 Fifth Questioner: How do you feel about fruit Daiquiris?
Shannon: The thing that really turned me onto fruit Daiquiris in terms of being legitimate is the Knickerbocker, a cocktail which was very popular in the 1850–60 period. It's a raspberry Daiquiri. With pot still Jamaican rum, that shows its range, a fruit aroma on the nose, really light and clean.
Dave: Depending on how you're going to make it, you need some wiggle room in the spec. Right? If you want to get something that's close to the same kind of punch as the standard Daiquiri, you might want to go with a higher proof rum so you have more space in your spec. I don't know if the terms I'm using are making sense. But you need space in a spec to add flavors to it.
Me, personally, I'm anti-pulpiness. You need a certain amount of texture or stuff doesn't shake right, so I put everything through a centrifuge. But I also know that a strawberry Daiquiri is straight delicious. And anyone who says that strawberries, rum, and lime tastes bad, they are just wrong.
I was just in L.A. I went to this place called Harry's Berries in the Santa Monica farmer's market. Oh, snap! They have these berries you would not believe. I blended the fresh berries, I put them through a centrifuge, I got a clear juice out which is very high brix, like twenty. Much higher than the Driscoll crap that we buy. Much higher. I know, I've measured it. I shook that with—I shouldn't say "I." Jack shook that and we were like, "Anyone who hates that is just a dumbass." It tasted good. Is it a traditional thing? Maybe not. But, I mean, it's very good.
Eryn: Anybody who was around me this summer got quite a few strawberry Daiquiris for their shift drinks, because they were in perfect season. I really do enjoy fruit in general in my Daiquiris. I tend to always add a little bit more sugar to make that fruit pop a little more.
St. John: So you would macerate the berries in the drink rather than infuse the rum with the berries?
Eryn: Yes.
Jim: I think fruit Daiquiris speak to just how good a template the Daiquiri is. It's a great starting point for coming up with a cocktail spec. It's a classic sour proportion at its heart. There's nothing wrong with it. There are many ways of getting there. You can use fresh fruit. You can use good liqueurs. I don't think there's anything wrong with it, as long as you're not using some kind of garbage ingredient.
Sixth Questioner: This is for Dave. You talked about malic acid and changing the age of the rum to go with the type of sugar. What if you switched out the citrus instead?
Dave: I am a known liar and cheater and so I switch citrus all the time. By that I mean, on the regular I adjust the acidity of different citrus fruits to match the six percent acidity that lemon and lime juice have. And because I'm doing that, I can choose. The two main acids in citrus are citric acid, which is lemon, which is "I'm in and I'm out." A lot of lemon style gin drinks where it's flashing in and out, it might work with a lighter gin like a Plymouth, right? Versus lime which has a good bit of malic acid. It has a very long draw on it. And so when I'm going aged in general, even with the rum, I've never done this because I'm too much of a believer in "all things must be same." [sic] But I would probably do an inbetweener where I made a citrus that was in between lemon and lime in terms of where its malic acid was.
I love the mental greenness that lime brings even when the spirit is brown. But, yeah, I might consider altering down. F.Y.I., every liter of lime juice has roughly forty grams of citric acid and twenty grams of malic acid. I would definitely consider doing a fifty/ten style citrus.
Sixth Questioner: Why not put lime juice in a whiskey sour, then?
Dave: Because whiskey's so much wood, dude. Like even the aged rums that I'm shaking with, usually you're splitting it down with something white. If you were going to do it, put a goddamn egg white in it so that you're binding some of those freaking polyphenols out of the wood, all that tannin. Maybe you would tone down the wood enough, I don't know. I'd have to test it. Tests are in order.