Dale DeGroff's centrality to the revival of cocktails in the United States is undisputed. His tenure as bar manager at the Rainbow Room, under the authority of hospitality legend Joe Baum, was the first time in generations that certain classic drinks, perfectly prepared, were slid across a bar. His encyclopedia of those drinks, The Craft of the Cocktail, was an early and influential volume, and for the last two decades, he's been a globe-trotting mentor and consultant to multitudes of new bar talent.
But there's a stage in DeGroff's development which isn't as well documented, and it's that stage which may have been his most influential. For an action-packed nine months in 1999, DeGroff was—for the first and only time—a partner and proprietor of a bar of his own, the groundbreaking yet unremembered Blackbird; the bar which heralded the way for American bar culture.
Dawn
Author and Daily Beast editor Noah Rothbaum remembers a time before the revolution. "I don't think any of us realize just how close the cocktail was to really dying for good, to going away forever," he said. Almost alone in the wilderness, Dale DeGroff kept the torch burning for the cocktail in Midtown Manhattan.
DeGroff first moved back from the West Coast to take on the bar at Joe Baum's new Midtown restaurant, Aurora, the only restaurant in Baum's long career that he co-owned rather than developing as a consultant. Opening in grand style in January 1986, Aurora was situated at 60 East Forty-Ninth Street, utilizing a side entrance to an International Style tower facing Park Avenue.
According to Bryan Miller's New York Times review, Baum "set out to make a statement about the return of gracious dining in New York. With Aurora, he has succeeded." Baum's vision for fine dining in the '80s included drinks from antiquity. It would be DeGroff's first introduction to that world.
"He sent me out to buy a book called 'How to Mix Drinks' by Jerry Thomas," DeGroff said. "I go to Doubleday on Fifth Avenue and they haven't heard of it, so I went over to Scribner's, because they know everything. I got to Scribner's, and they had a smart guy, because he went to Old and Rare. He said, 'You're not going to find this book, the last printing ever was 1929 and that was not even a real printing, the last one really was 1887 and it was originally printed in 1862. You're not going to find this book.' And that was the way Joe was. He assigned you a job, you either did it or you didn't." (As you can see from all that transpired, DeGroff found the book.)
Baum wanted to bring fine dining out from the shadow of its Old World attitude, but that didn't mean sacrificing substance. "I was the last piece of the puzzle in Joe's plan," DeGroff said.
At a time when high-end dining and French cuisine were synonymous, Baum began an expedition to discover a New American Cuisine. In 1959, he collaborated on the Four Seasons, whose very name indicates its focus on seasonal produce, now a fixture in fine dining. The following year, Baum opened La Fonda del Sol, a deeply-researched pan-Latin American restaurant that featured Pisco Sours at a time when Baum had to import the pisco himself. Landmarks continued all the way to the World Trade Center project, which incorporated twenty-two restaurants.
"First, it was the chefs," DeGroff said. "Then it was Kevin Zraly and the wine guys. He hires this guy from New Paltz, because Kevin didn't have braids, a tastevin, and a snooty attitude. He walked up to a table and said, 'Let's have some wine. What do you guys like?' 'I like white Zinfandel.' 'Have I got a wine for you!'
"Joe hired me at Aurora and said, 'I want a classic cocktail program.' But he opened this place as a workshop, because he was in a two-year restoration of the Rainbow Room," DeGroff said.
Thirty-two million dollars into a twenty-five million dollar renovation, the team ascended to the top of 30 Rockefeller Center, and the curtain rose on Baum's big show on December 29, 1987. "It's the only place in New York that matched in experience the movie vision of nightclubs," Milton Glaser, graphic designer for Baum projects including the Rainbow Room, Aurora, and Windows on the World, told the New York Times. Dale DeGroff was a fitting master of ceremonies for this style of commodious conviviality.
"Rainbow was where Dale perfected his art. He re-engineered the foundations for cocktails and brought back all of these old cocktails," bar luminary and DeGroff collaborator Audrey Saunders recalled. "Even though most people went up to Rainbow for a special event in their life, there was a fairly large group of regulars that worked in Rock Center."
Pete Wells, restaurant critic for the New York Times, was one of those regulars. "When he was at the Rainbow Room, Dale was always very good to members of the press," he said. "Any of us who were interested in spirits or cocktails, you called Dale for a quote. You almost had to, because he was the one who would always know the answer."
"You see over and over again, when you're interviewing bartenders or drinks writers on how they got started, it almost invariably involves Dale DeGroff," Rothbaum said. "He's like Zelig."
The sixty-fifth floor of 30 Rock was the platform from which DeGroff first disseminated his cocktail teachings. But, in 1998, Baum's company lost the lease to the Rainbow Room, and on October 5 of that year, Joe Baum died at age seventy-eight.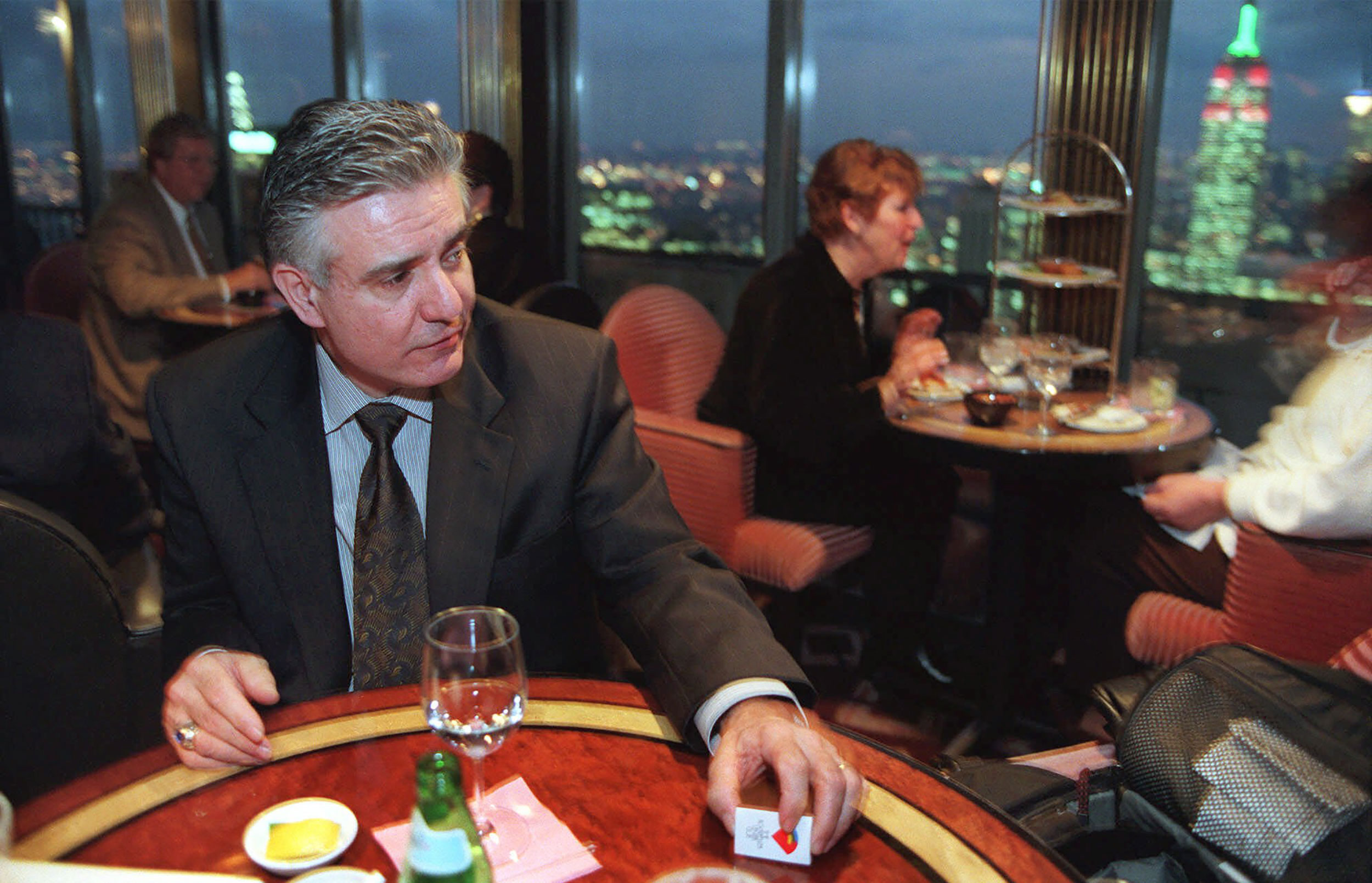 The Sazerac Quest
"They came to me, the partners, after Joe was dead and we lost the Rainbow Room," DeGroff recalled. Baum's partner Arthur Emil and his son David were in control of the business. "It was David who came to me and said, 'You want to do a turn-key, over at the old Aurora?'"
DeGroff saw possibilities. "The W Hotel had just opened on Lexington Avenue, and they were dumping people onto the street at two o'clock in the morning. Big crowds. I wanted to do a downtown lounge uptown," he said. "What I said to David is, 'Look, this is happening now. Let's get a good piano player, we'll get a baby grand piano. Forget the chef. Let's do burgers and omelets. Open at four in the afternoon.'"
As Saunders put it, "Dale now has this incredible opportunity to bring back all of this, this whole program. He brought it down to the street. From up in the sky, from the sixty-fifth floor, he brought it down to street level, on Forty-Ninth Street."
And the new bar could even top the Rainbow Room in one important area. DeGroff would be shaking and stirring alongside his team behind the stick, night after night. "To sit at a bar that Dale is working is a real gift. It's a true joy in life," Rothbaum said.
DeGroff, as a master of the bar arts, saw the new place as a chance to continue the Thomas-Baum vision of the bar. His partners agreed, then changed their minds. "We're moving towards the opening. Then [David Emil] comes through one day, and he says, 'Dad wants a lunch place,'" DeGroff said.
Just as DeGroff believed in his bar, his partners were comfortable with fine dining. They brought in chef Michael Smith, previously sous chef at the Rainbow Room, and placed the focus back on food. David Emil also imposed a name that didn't resonate with DeGroff: Blackbird.
DeGroff's first hire was Audrey Saunders. "We had met at N.Y.U. when I was doing continuing education in the hotel and restaurant school. She picked the Jerry Thomas class. A four-hour class, very intense, making drinks from the Jerry Thomas original book," he said.
"She came up to me afterwards and said, 'I just started bartending for your friend Cory Hill at the Waterfront Ale House, and I want to be the best I can be. I would like you to mentor me, and I'll work for free.' And I said, 'Well, that ain't going to work because I'm in a Local 6 [union] property at the Rainbow Room, and nobody works there unless they're Local 6. But I got a lot of pro bono gigs if you're interested.' She did all of those events with me, and then when the opportunity came along for Blackbird, I hired her instantly."
While she would later enter the pantheon with her own bar, Pegu Club, this was Saunders' first foray with classic cocktails. "Every single day was like Christmas," she said. "Every single day there would be a new, old book he'd bring in, or a piece of equipment. He kept this tiny little shrine on the back bar of old books. He kept Jerry Thomas there. I think he kept David Embury and Charles Baker. Truly, these are rare books, and you'd have to be sure to take care of them and dry your hands before you pulled out the Jerry Thomas. But he gave us access to them, and that's why I did what I did at Pegu with my guys."
Phil Halpern, a routine visitor to Midtown, became a regular at Blackbird almost immediately, as the final stage of a lifelong quest for a second Sazerac. As a young man, he had tried the drink on a trip to New Orleans, but when he moved to New York, no one there seemed to know what he was talking about.
"One day, on the way back from having lunch with a friend at Pfizer, I popped my head into Blackbird," Halpern said. "This guy, in his red jacket and his black tie and the million dollar smile—incredibly charismatic. I ask him, 'Do you know how to make a Sazerac?' He never takes his eyes off of me. He puts the bottle in front of me. Peychaud's bitters. I said, 'I'll see you after work.'
"Every time I walked in there, if he wasn't in the bar, if he was in the basement, they'd pick the phone up and say, 'Dale, the Sazerac guy's here.' He'd come and make my Sazerac.
"Then, one night, he's standing in front of me, and he says, 'Phil, at last I have someone who can make you a Sazerac.' He steps aside, there's a woman standing behind him. 'Phil, I want to introduce you to Audrey. Audrey's going to make you a Sazerac.' And the rest is history."
If I Were a Blackbird I'd Whistle and Sing
Blackbird quickly became a spot for those in the know about drinks. "We got such a mix," Saunders said. "Dale had a large following from Rainbow. Food writers were coming, people who had just read about us were coming. Chase was right around the corner. We had a lot of regulars coming from Midtown financial. It was such a mixed bag, it was almost like a modern day Casablanca. It really was. Down to the piano.
"It was incredibly important for him to have a piano player there. To put a piano next to the bar was a conscious decision. Because that could have been just more real estate for another table. But it was the mood that he was trying to create," Saunders said. "It was also a lot of fun, too, because when Dale would get off work, he would sing a couple songs."
DeGroff recruited two piano players: Chris Gillespie, "from a steakhouse on Fifty-First Street," as DeGroff recalls it, and Loren Korevec, the house pianist at Elaine's. Piano players were, for most of the twentieth century, a staple of well-regarded restaurants and hotels. By the time of Blackbird's emergence, the era of ubiquitous pianism was drawing to a close. "In the union register in 1980, there were seventy-two union piano chairs on the island of Manhattan," Korevec said. "And by 2000, there were six. It was over." Blackbird is still among the most recent New York bars to attempt live music.
Later, when DeGroff and Saunders moved on to revamp the Bemelmans Bar at the Carlyle Hotel, pianist Gillespie came along. "It was so wonderful to be able to work with him at the Carlyle," Saunders said. "He'd indulge me every now and then. I'd say, 'Please play "Rhapsody in Blue."' And every now and then, he would sit there in Bemelmans and play 'Rhapsody in Blue,' and that would be seventeen minutes just for me, and I would always be in tears at the end of it." Gillespie died in 2017 at age fifty-two, fifteen years into his Carlyle residency.
At Blackbird, DeGroff observed a regular ritual. After finishing his shift at nine or ten, and running through Great American Songbook and jazz standard numbers—"You Turned the Tables on Me," "On the Sunny Side of the Street," or "Lulu's Back in Town," say—alongside the pianist, he liked some time to himself. "He loved to have a Valencia Martini and a plate of oysters," Saunders said. "He would sit there quietly in the corner, reading an old book of his. The bar would be three deep, and Dale would go quietly into the corner and decompress there. I was probably the proudest bartender in New York, given the honor of mixing Dale's Martini every night."
"Dale created essentially an emanation of his personality," said John Hodgman, writer, performer, and literary agent for The Craft of the Cocktail. "It was somewhere between the finest hotel bar in the world and a corner saloon. It took both the formality and artfulness of a really fine hotel bar and combined it with the casual, cheery elbow-rubbing of a tavern. He's an incredible ambassador for the lively life."
This, too, is an important part of the DeGroff discipline. Bars, even bars with amazing cocktails, were fun. They were not self-impressed. They respected their traditions without becoming a solemn and remote archive. They were a place to party.
"The whole room is buzzing, rocking. Everybody's laughing. Everybody has a drink in hand," Rothbaum described. "People come up to the bar. 'What do you want? Good to see you.' He's making five drinks at a time. Nobody's waiting. It's one of those unique abilities where Dale can carry on a conversation with a whole room of people, and make drinks for all of them, while seemingly not at all hurried or harried."
"He always used to say, 'I don't care who you are in life or where you're from, as long as you're Irish behind the bar,'" Saunders said.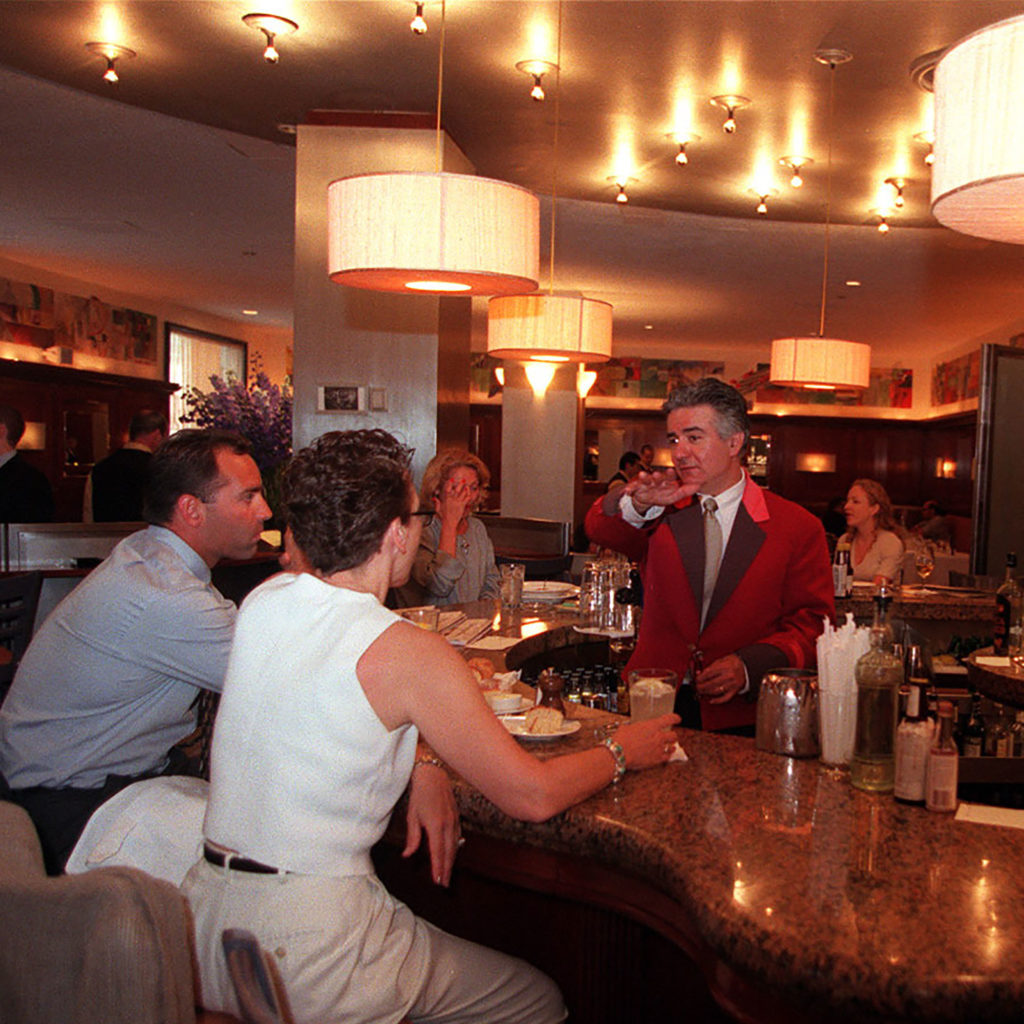 Blood and Sand
As the décor left over from Aurora had not been changed, the bar was still its most prominent feature. "The first thing you saw when you walked in was this gorgeous granite horseshoe bar facing you, and that was Milton Glaser's design," Saunders said. Its curvaceous design allowed guests to see what others were drinking. Since the menu was so unfamiliar, watching the proceedings of an order in progress was an important step in calling for your own.
And what a menu. DeGroff had once again mined Jerry Thomas's vast trove, but it went beyond that. In addition to drinks brought back from the nineteenth century, DeGroff created new signature drinks in the style of the nineteenth century, but appropriate for tastes in 1999, as he perceived them. And he nailed it.
"When you go to a place, and they give you a menu, they're showing what they've thought about, what they're passionate about. I'll read a menu like the Talmud. An ex-girlfriend used to say, 'Don't mind Phil, he's in menu mode.'" Halpern said. "At Blackbird, I present to you, one of the first cocktail menus." Some restaurants of the time might place a few recommended cocktails on their all-encompassing food and drink menu, but Blackbird was unusual to have a menu dedicated to cocktails alone.
Blackbird's cocktail menu was a modest card with fourteen offerings. Some were DeGroff's interpretations of long-lost classics. Some were his restrained imaginings of new drinks that fit effortlessly into that milieu. It had nothing in common with then-current '90s vodka lounge bars and showed where the craft cocktail movement would be going. Fortified wines were featured. Gin was heavily featured. Cobblers got their own section. Nowhere was the word "Martini" misused. Only one drink involved vodka (a Martini that also had sherry).
Kat Kinsman, now senior editor of Food & Wine but, in 1999, art director for Citysearch.com, was a dedicated home bartender working from an abused copy of Paul Harrington's consequential Cocktail. "You had to have a canon in your head," she observed, because most places would not offer a list of cocktails. "And then to have been presented with that menu, where I'm like, 'Oh, that's that thing from the Paul Harrington book.' It can come to life in a way that I can't manifest at home, because I don't have that ice, I don't have those tools. I went out and bought a muddler because of this.
"I was absolutely blown away by having a Cobbler and a Flip and a Blood and Sand. I'd started making these things at home, but people weren't really making them at bars, so I didn't know if what I was doing was right or not. I started bringing people." One colleague was so impressed with DeGroff's Blood and Sand that he tried to order it in other bars around town.
"We were tasting and we were learning, but Dale had a vision," Saunders said. "When you look at something like the Port Cobbler, the Whiskey Cobbler, or the Champagne Cobbler, that's pure inspiration from Jerry Thomas. All the drinks were new, but they were old. Alabazam was a bottled cocktail that was an old drink. Singapore Sling, but done properly and brought to life. The Millennium Cocktail was new, that was delicious too. That was one of his drinks. I guess that's a nod to the East India Cocktail. But the Oyster Shooter, man, that thing was so good. And that flew out the door. Oh God, I mean we were just making everything. I mean everything."
Amy Douthett, as bar editor of Citysearch, wrote one of Blackbird's first reviews, in which she keenly observed, "Dale DeGroff is, quite simply, the god of all bartenders. It was Monday night when a Pegu-obsessed woman named Kat and I arrived at the newly opened Blackbird for our appointment with him, but it was another world when we left."
"My most vivid memory is of him talking about ice. No one had ever talked about ice as being an ingredient," she told me. " I felt like we were having a master class. He went into his charm assault, demo mode. For someone who had been doing that for that long, he was still as excited as if he just learned how to make these things. Then this great moment of him saying, 'What is the most important thing?' And then slamming this ice cube down on the bar, saying: 'Ice.' Which was not what we were expecting. I mean, I learned more in that evening, I think, than I learned in the entire five years I was writing bar reviews."
Rothbaum's first cocktail experiences are, too, wrapped around Blackbird. He was the summer intern for Pete Wells at Food & Wine, and had attended an industry event where he procured an obscure bottle of raspberry liqueur. He brought the bottle to the office to show the more knowledgeable Wells, whose immediate response was: "Great. We'll bring this to my friend Dale."
"I thought, 'Why does his friend Dale get my bottle?'" Rothbaum said. "But being the good intern, I didn't say anything. A couple days later, we go to lunch at Blackbird. We bring the bottle. Dale said, 'Amazing. I already have this, but thank you guys. What can I make you?'"
Even though he attended Blackbird only on this one occasion, after twenty years Rothbaum still remembered what he drank (something I was to find was not so unusual among Blackbird fans).
"He made us a round of Oyster Shooters, and then a Bronx Cocktail, because I had grown up in the Bronx, although I had never even heard of a Bronx Cocktail," Rothbaum said. "When he put the Bronx in front of me, I was blown away. Obviously, you need to have a deft hand to make a Bronx, and balance all the flavors in that drink. So in retrospect, I'm even more blown away. But even at the time, I knew it was something really special. That kind of opened my eyes like, 'Who is this guy? What is this world?'"
"After you went to Blackbird, you were screwed. Anywhere else you went just wasn't doing what they were doing," Halpern said.
Whiskey Smash
Blackbird's menu was the debut of one of DeGroff's greatest contributions, the Whiskey Smash. Born in the twilight realm between time out of mind and the daily hustle, it shows the big genius of small changes.
"The Whiskey Smash was my idea of how to make a Mint Julep interesting. I was kind of fed up of the idea of the Mint Julep with nothing but sugar, bourbon, and mint. Well, how about some acid to offset the sugar a little bit? I found the Whiskey Smash in Jerry Thomas, but it was not the same drink. My Whiskey Smash ended up being a conglomeration of his Whiskey Cobbler and his Whiskey Smash," DeGroff said.
The original Smash à la Thomas was a straightforward Mint Julep, but uncloaked from its silver chalice. "They didn't make a big deal out of it, they just sold it as a New York bar drink. Then he had another drink, called the Whiskey Cobbler, where he actually threw an orange slice into the shaker," DeGroff said. "That rocked my world, when I read that in the original 1862. This motherfucker is putting an orange slice in the shaker and then shaking the drink? So I took that idea and the Whiskey Smash and I put them together. I mashed up the lemon wedges with the sugar and the mint, shook it up, poured it out, and I'm like, 'Whoa, this works.'"
"That was not really a drink that would have gone that well at the Rainbow Room," Wells said. "I mean, it would have been delicious, but it didn't quite fit the aesthetic of the Rainbow Room. It was a Fred and Ginger kind of place. If The Thin Man wouldn't drink it, it probably wouldn't get served."
"He would not allow me signature drinks," DeGroff said of Baum at the Rainbow Room. "Blackbird was the first time the chains were cut. I'm on my own."
The Whiskey Smash was a favorite of Saunders. "I've had that drink on every single one of my menus since Blackbird," she said. "It's been a mainstay of the Pegu menu.
"I wouldn't have been able to come into my own with drinks if I didn't have the foundations that Dale gave us at Blackbird. If I didn't understand the structure of those drinks, none of the riffs would have happened," Saunders said. "Dale's entire program, that was my college."
At Blackbird, "there was this creativity going on behind the bar. That was probably the thing about it that was really new, that we had a conversation with the bartenders, and they could talk to you about history, or they could talk to you about something that they were just working on that day," Wells said. "We take that for granted, but that wasn't really part of bar culture at the time."
Martin Doudoroff, a pioneering customer of bars and tireless researcher into their history, also noted the primacy of those behind the stick at Blackbird. "I still have never walked into a bar where the bartenders were more front and center than at Blackbird," he said. "Between its positioning and shape, that bar created a unique presence: it was a bit like entering a circus tent where everything was focused on the performers in the ring."
Pegu Club
"You might understand where Audrey got the idea for the Pegu Club bar from the menu," DeGroff told me dryly. And there it is in the middle of the page, the "Pegu Cocktail": gin, Curaçao, lime, and Angostura bitters. No further explanation offered.
"I asked him, 'What's a Pegu, Dale?'" Saunders said. "'Pegu was a British officers club.' All of these things come from him. I was just so inspired by his work that I took it with me. I took it with me everywhere I go. I think he had it at Rainbow, but he had the Nick and Nora glass and the dividend at Blackbird. I took that with me." According to legend, among his many proclamations from the mountaintop, Dale DeGroff gave the "Nick and Nora" designation to the now ubiquitous vintage-styled stemware. (The dividend is the practice of serving leftover liquid that doesn't fit in the cocktail glass on the side in a miniature carafe.)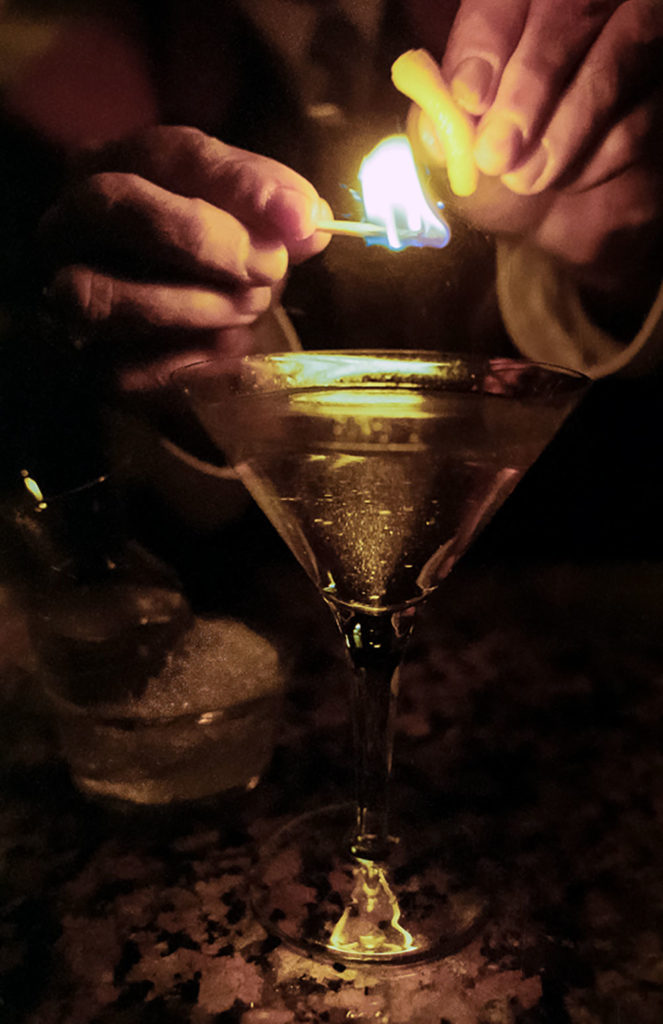 And the lone Martini on the menu, which was also not the only sherry drink on the menu? "The Flame of Love came from Chasen's in Los Angeles," Saunders said. "Pepe Ruiz, the bartender, created it for Dean Martin. It wasn't just one flamed orange peel. You disced an entire orange. It was probably about twelve discs. You would flame all the discs, except for one, onto a Martini glass and then you poured in the vodka and sherry Martini and then the final flame was the one on top. Yes, it was hell. It was quite a pyrotechnic show, and at that point, people had never seen a flamed orange peel much less a fresh orange peel. Certainly not twelve."
These labor-intensive, ceremonious drinks drew the eye. "Caipirinhas and Mojitos, nobody knew what they were. Mojitos were just starting to become trendy in New York. Caipirinhas nobody had ever heard of," Saunders said. "We were cracking these large Kold-Draft cubes with muddlers. One person would see this drink happening, as we're cracking the ice by hand and making them, and another person across the way would be like, 'Oh my God, I have to have one of those.'
"And so all of a sudden the entire bar wants Caipirinhas. But the way we were doing it back then, the ice was so cold and the muddler was so hard, that you could almost walk away with bloody hands because of the shards of ice. You just kept cracking and cracking. I don't know how many of them we would make, but you'd make them over and over. We thought it was a cool thing. We didn't care, because that's what we were there for. We were there for whatever the guest wanted to do. It was like Led Zeppelin, it was like the coolest rock concert you have ever been at. It's like, 'Okay, if we're going to improv, we're going to improv.' We got sour cherries, so we're doing sour cherry Caipirinhas."
DeGroff concurred with his preferred musical metaphor. "It was really jazz, it was a jazz thing. It was happening. It was fucking amazing!"
No One Here Can Love or Understand Me
William Grimes' Diner's Journal in the June 4, 1999 New York Times began, "At most restaurants, diners ask for the wine list. At two-month-old Blackbird, they want the cocktail list." The entire piece was a love letter to Dale DeGroff and his magical drinks menu, with no mention of food—perhaps a first for a dining piece in the Times.
"That in itself was a watershed moment," Rothbaum said. "The fact that this was a destination for craft cocktails was a completely new thing for the twenty-first century."
"We did a big lunch, no dinner, fabulous bar business all the time. Lunch, dinner, and late night. But there wasn't enough to float the joint," DeGroff said. "We should have stayed away from the fine dining concept, and stuck with the original idea of great jazz piano with good bar food from 4 p.m. to 4 a.m."
The Blackbird acolytes I spoke to were unanimous in that assessment: the bar was a success, but the restaurant it was attached to was not, and that brought the whole project crashing down.
"Well, it might be telling that I don't remember that there was food at all," Hodgman said. "I don't know if that tells you something about the food or my habits. But that did not make an impression on me."
"That was always Dale's heartache," Saunders said. "He had always tried to push David Emil into making the entire place a cocktail lounge. I think, if he had done that instead of doing a restaurant, if he had just done this crazy cocktail lounge for the entire space, I think it would have gone on for many more years."
"Here's what the shame is. It was, for all argument's sake, a perfect bar," Halpern said. "The food wasn't actually bad. I had the food. They were on all cylinders with the bar, but they couldn't sustain it because of the restaurant. It was a weird location."
"The people who came in at cocktail hour, the only thing they remembered was the drinks and the music," DeGroff said.
Hodgman said, "You knew that Dale was right and the only reason that he suffered was he was ahead of his time."
According to notices in the New York Times, Blackbird opened around April 4, 1999 and closed December 24, 1999. "Blackbird, the restaurant at 60 East 49th Street where cocktail-meister Dale DeGroff does his stirring and shaking, is to close at the end of this week," Florence Fabricant wrote.
That's a total of about thirty-eight weeks.
You Were Only Waiting for This Moment to Arise
But this was more than another here-and-gone New York restaurant. Blackbird had stirred the pool, and its effects were just beginning.
"I think it was one of the first places that demonstrated that the bar could be a center of attention, and that the bar could draw in enough people to make a place lively," Wells said. "And that's part of what came later, too. The bar moving to the center of attention, at the center of the room. I don't think anyone expected that the bar there was going to run away with the show the way it did."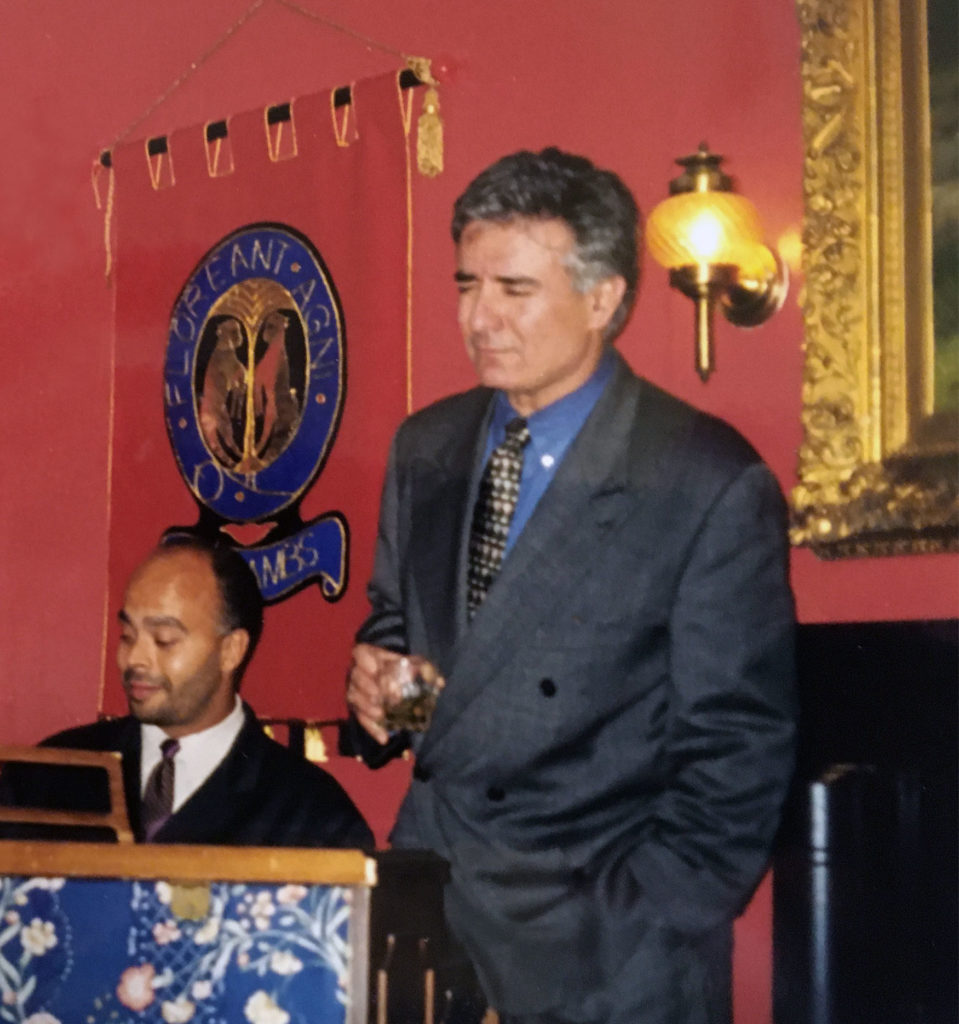 "It was proof of concept that you could take craft cocktails out of the safety net of the Rainbow Room, and they could live in the real world, without all of the pomp and circumstance of the Rainbow Room," Rothbaum said. "It's really the first time in the modern era, in America, that somebody had tried to do a high concept, high quality, craft cocktail bar in a restaurant. It proved that drinks nobody had ever seen, or hadn't been seen in decades, could emerge from the pages of all these crumbling, yellowing, antiquarian cocktail books and be born in the modern world."
DeGroff began his life of consulting, the Johnny Appleseed (but not Appletini) of his day. Saunders, through several projects culminating in Pegu Club, spread the word to brigades of new bartenders. "The industry has grown at the speed of light," she said. "If I look at the lineage, it's Dale, me, my opening team, who now have their own bartenders, who now have their own bartenders. You're talking about five generations of bartenders in twenty years."
"The cognoscenti were a relatively small community at that time, and within just a few years every restaurant would be centered around a cocktail program that was inspired, indirectly or directly, by Dale and the work that he did," Hodgman said. "That idea, that the bar could be an emanation of the personality of the bartender, that you would weave the owner's personality into the hospitality that you're offering, that absolutely is shared D.N.A. All of the people who worked at Pegu went off to plant their own flags in the Blood and Sand, and I think they also share that D.N.A."
While some called Blackbird ahead of its time, Kinsman said, "It was the time. Blackbird needed to happen for all other things to happen."
"What I did to this business, more than anything else, is not about the drinks. I made it okay to be a bartender again," DeGroff said.
Blackbird or Phoenix?
I asked Dale DeGroff if Pegu Club carried the mantle of Blackbird.
"Oh my God, Pegu became much more than that! Pegu was the perfect bar, in my opinion. It was beautiful, loungey, sexy. Music on the weekend. Really friendly and wonderful bartenders behind the bar."
In Saunders' view, DeGroff opened the door for culinary cocktails, and then jammed it in that position through sheer force of charisma. "I try to think of what New York would have been like if Blackbird hadn't opened. There would be Sasha [Petraske of Milk and Honey], but Sasha was super quiet. Shy, conservative, low-key, don't make a splash in the water," she said. "Somebody had to make noise about it. If we weren't making noise about it, nobody would know to come. And so if Blackbird wasn't there, where would the noise come from?
"The word has to get out, but the word can't just be hype. When Pegu opened, every drink had to be perfect. Because if it wasn't perfect, and you come for a visit, you're like, 'Okay, let's see what this is all about.' And if you took a couple of sips and they were ho-hum, you'd turn around and leave, and then it would all be just a phase."
Rothbaum said, "I don't know if Audrey would agree, but I almost see Pegu Club as being in some kind of parallel universe where Dale was able to cleave off his amazing clover-shaped Blackbird bar and turn it into its own entity. If you could cleave off the bar from the restaurant, basically, it's Pegu Club."
(Saunders agreed. "It was what I strived for," she said.)
A month before Blackbird opened, the New York Times published this bullet from Florence Fabricant on March 3, 1999: "Michael Smith, formerly of 27 Standard, is to be the chef at the Local, coming in April to 60 East 49th Street. Dale DeGroff, the former bar manager of the Rainbow Room, will stir and shake."
The Local. An alternate name for the yet-to-open Blackbird which emphasizes its bar focus. Not a great name, perhaps, but an indication of intent. If Blackbird had been the Local, a high-end cocktail bar with satisfying burgers and omelets, would it still be welcoming us?
The ripples go further; the pool is all ripples now. "I think there's a little bit of Blackbird in every cocktail that we drink, whether or not we realize that," Rothbaum said. "And that's the point. You shouldn't know that. It wasn't some secret spice mix that Dale was using, or a certain technique. The fact was that it was a proof of concept of the whole plan."
Joe Baum's Aurora, which later became Blackbird, and didn't become the Local even though it did, was most recently part of the final location for the Four Seasons, Joe Baum's first high-end project back in 1959. The space is now empty again. Audrey Saunders has announced the closure of Pegu Club after fifteen years, its time cut short by the current pandemic. But nothing is over, because everything is still moving outward from Dale DeGroff, Audrey Saunders, and Blackbird. The ripples are a surge.
The river is moving.
The blackbird must be flying.
—Wallace Stevens
Thanks to Martin Doudoroff, Annene Kaye, and Troy Sidle for their advice and assistance.