In the cosmos of tropical bartending, there are few drinks more beloved and easily recognized than the Mai Tai, the Zombie, the Piña Colada, and the Hurricane. These stellar sips appear on countless exotic menus, and in summer seasons and warmer climes, they may also pop up alongside Old Fashioneds and Manhattans on menus oriented toward classic cocktails. But the tiki firmament is vast, full of clever concoctions obscured by the glare of the supergiants. To seek out these often overlooked greats, we spoke to a handful of tiki enthusiasts about underrated drinks that deserve their own place in the heavens.
Garret Richard: The Penang Afrididi
Garret Richard has been bartending for less than a decade but has already made a name for himself, especially with his "Exotica" pop-up series in New York, which puts his own modern twists on classic tiki drinks. The Penang Afrididi, or simply the Penang, is his choice for an underrated tiki star. Found in Jeff Berry's Sippin' Safari and attributed to Don the Beachcomber in 1937, it's a blend of rums, passionfruit, citrus, pineapple, mint, and absinthe. Richard says the Penang "covers a lot of bases—fruit forward without being too sweet, herbaceous with the absinthe and mint, with rum providing the structure. It's a big crowd-pleaser."
Part of the reason for its relative obscurity is the perception that with pineapple and passionfruit it can be too sweet, but Richard thinks that's looking at it wrong. "When I look at these original specs for drinks, there's what I call the Rusty Nail Problem—when you look at the original recipe for the Rusty Nail, it's equal parts scotch and Drambuie. You can write it off as just being a product of the '60s, but if you do some more research you find out that Drambuie was made with single malt Scotch back then and was far less sweet. Looking at the Penang it's impossible to know how sweet the passionfruit syrup was back then. I use passionfruit as an acid, not a sweetener, which folds into the drink well."
The Penang Afrididi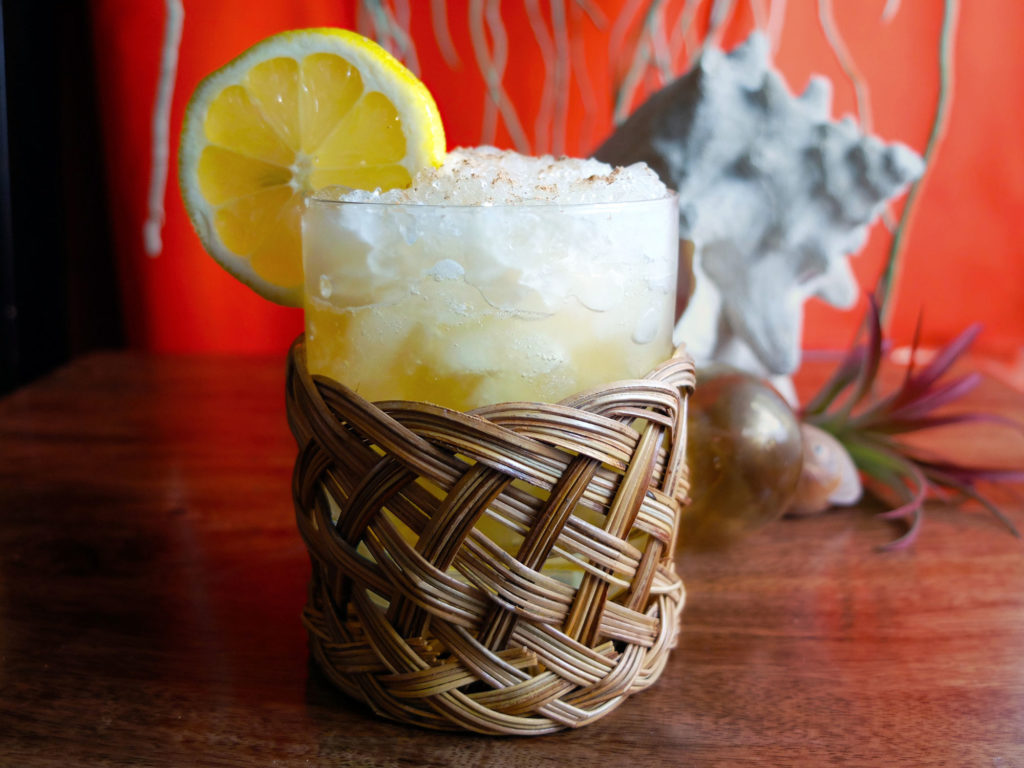 To keep the drink in balance, Richard suggests a split base of rums, using a lighter, floral rum to highlight the fruit and botanicals, and a more assertive rum as the drink's backbone.
6–8 fresh mint leaves
¼ ounce lime juice
½ ounce passionfruit juice
½ ounce pineapple juice
½ ounce orange juice
¾ ounce 2:1 simple syrup
¾ ounce Hamilton 151 Demerara rum
1 ½ ounces Caña Brava rum
1 teaspoon to ¼ ounce of absinthe, depending on proof
Gently muddle mint leaves in the base of a rocks glass to express the oils. Transfer the mint to a Hurricane glass and fill with ½ cup of crushed ice.
Add the cocktail ingredients and 1 cup of ice to a mixer and flash blend. Pour everything over the mint and cracked ice. Garnish with freshly grated nutmeg and a lemon wheel. Alternately, garnish with a mint sprig speared to a pineapple slice and a pineapple leaf, and spritz mint with absinthe.
Tim Glazner: The Jasper's Jamaican
Tim Glazner is the author of Mai-Kai: History and Mystery of the Iconic Tiki Restaurant, as well as the designer for the Swanky Tiki app, which allows users to share and rank recipes of tiki drinks. A longtime tiki aficionado, Glazner feels the Jasper's Jamaican, created by Jasper LeFranc of the Bay Roc Hotel in Montego Bay sometime in the '60s, deserves a better reputation. "I made the Jasper's Jamaican in the '90s when Jeff Berry's Grog Log came out, but didn't really like it," he says. "Years later, at the Hukilau, Berry and [Martin] Cate were presenting together and serving Jasper's Jamaicans. My wife and I drank some and thought it was fantastic, so we got the recipe back out and got it dialed in to what we had tasted. It's a drink we drink all the time now."
The trick, Glazner shared, was to halve the amount of lime going into the cocktail, as the Grog Log recipes were often overly tart to him. Essentially a wintery Daiquiri that sees allspice dram replace some of the simple syrup and a bit of nutmeg for warmth, the only problem with the drink, he says, is that it goes down far too easy.
The Jasper's Jamaican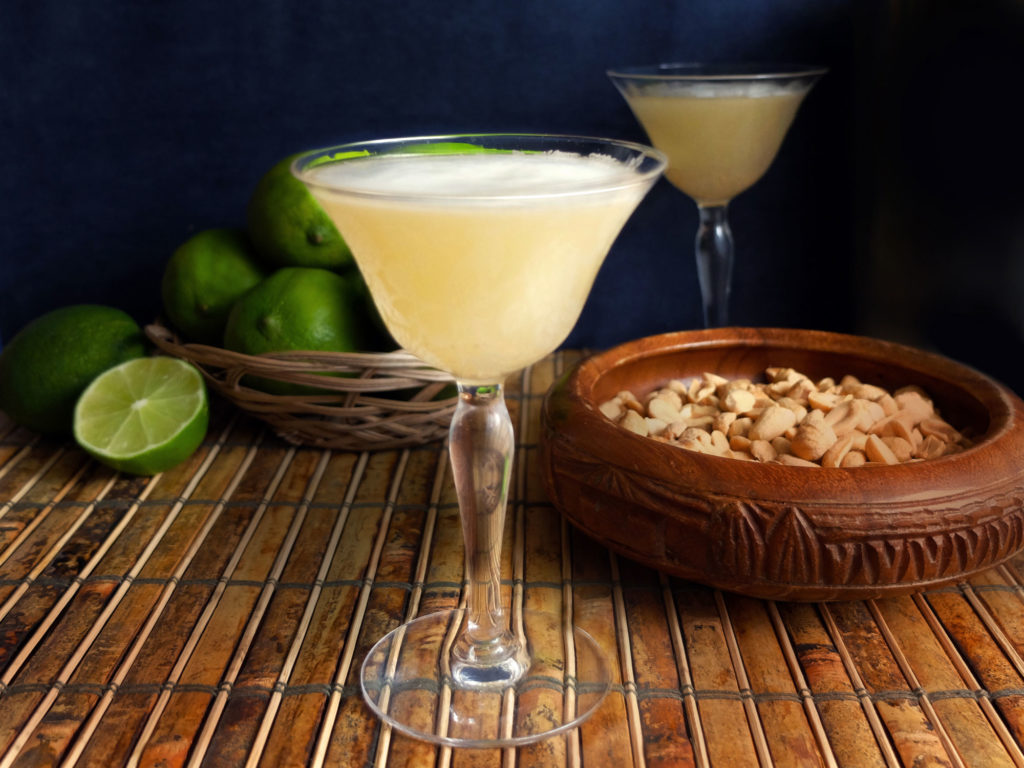 Many mid-century tiki drinks such as this one were probably created as small sippers. Double the recipe and make two to share. Of course, we won't tell if you serve two as one.
1 ¼ ounces aged Jamaican rum
¼ ounce fresh lime juice
½ ounce allspice liqueur, such as Saint Elizabeth
1 teaspoon simple syrup
Shake all ingredients over ice and double strain into a chilled coupe or cocktail glass. Garnish with freshly grated nutmeg.
Jim Hayward: The Demerara Dry Float
Jim Hayward, journalist, concert promoter, and publisher of The Atomic Grog, favors as his shining star a mid-century "lost cocktail" from the Mai-Kai Polynesian Restaurant in Fort Lauderdale, Florida.
A direct descendant of Don the Beachcomber's 1940s drink of the same name, the Mai-Kai's Demerara Dry Float is an enigmatic study of balance and contrast: each sip is all at once dry and sweet, fruity and tart. "It's a showcase of Demerara rum, which is one of my favorite types of rum," Hayward said. "When you think of Demerara rum, the words 'dark, rich, and smoky' usually come to mind. These are perfect attributes for a rum to mix in a tiki cocktail, as Don the Beachcomber and everyone who followed in his footsteps knows well. The hints of smoke, funk, molasses, and other exotic flavors meld perfectly with tropical ingredients, both in complex and simple applications. The Demerara Float is a perfect example of the latter. The rum takes center stage, but it still feels like the classic tiki cocktail that it is."
Demerara is the eponymous hero of this drink, figuring in as the float of high-proof rum that tops it off. According to Hayward, the Lemon Hart rum that served as the float became difficult to stock in the early '90s, causing the drink to be removed from the Mai-Kai's menu for a while. When Lemon Hart disappeared again a few years ago, the long-awaited Hamilton 151 overproof rum took its place in the Mai-Kai's cocktail. With both Lemon Hart 151 and Hamilton 151 now both on the market, vintage cocktail enthusiasts can opt for one when the other becomes scarce, or compare both to pick their own favorite.
Hayward's Atomic Grog is where he shares his extensive research on Mai-Kai drinks past and present. He first faithfully recreates the recipes he finds, and then occasionally tweaks them in loving tribute to the tiki destination. The Demerara Float went through a few variations before Hayward settled on number three in May 2017. It's easy to make, and even easier to drink.
Tribute to the Mai-Kai's Demerara Dry Float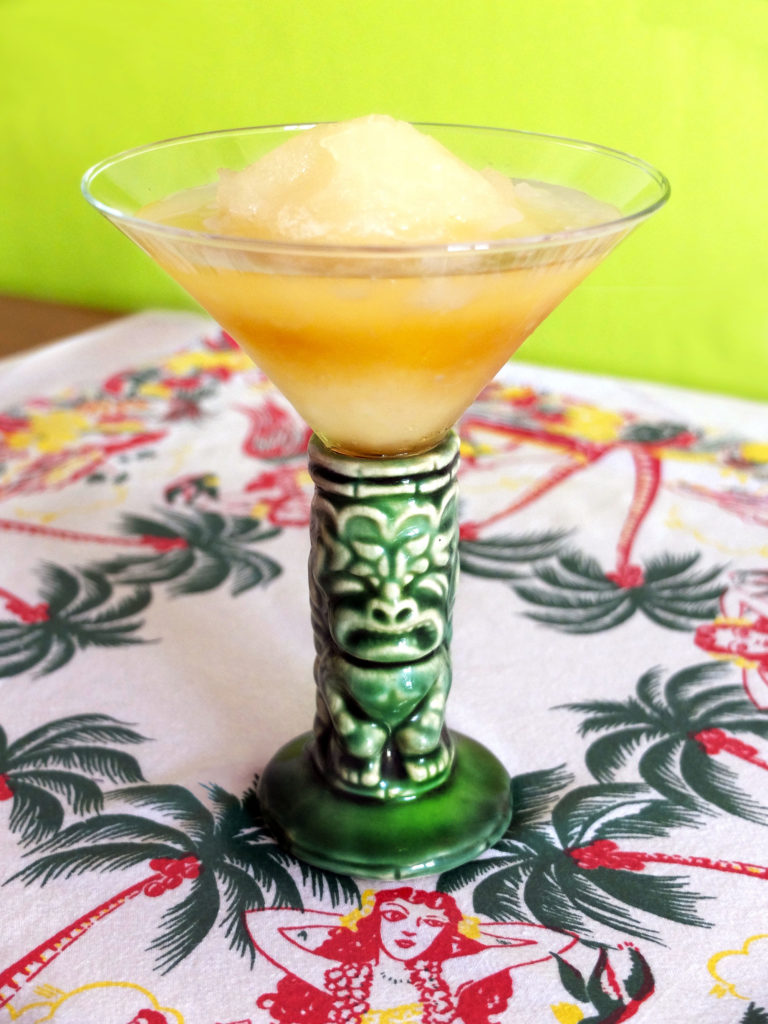 Smooth, dry, and of medium rum strength, the Demerara Dry Float is blended Mai-Kai style (the bar does not use shakers). Passionfruit, the top note of a Hurricane, plays nicely with the Demerara. Be sure to use a quality passionfruit syrup meant for cocktails, not juice.
¾ ounce lime juice
¾ ounce passionfruit syrup, such as Small Hand Foods Passion Fruit Syrup
1 ½ ounces Appleton Estate Reserve Blend Jamaican rum
½ cup ice
1 ounce 151-proof Demerara rum (for float)
Place all ingredients except the Demerara rum into a blender. Pulse blend for 6 to 8 seconds. Pour into a chilled cocktail glass and float the Demerara rum on top.
Tom Morgan and Kelly Reilly: The Cobra's Fang
Co-authors "Trader" Tom Morgan and Kelly "Hiphipahula" Reilly are Southern California tiki enthusiasts on a mission to prove that the best exotic drinks in town can be made at home. Their book, The Home Bar Guide to Tropical Cocktails, chronicles their journey through the rise of craft tiki home bartending over the past two decades.
Morgan, who happens to have a Ph.D. specializing in nineteenth and twentieth century American literature and film adaptation, is an avid tiki mug collector and home bartender. Reilly is a professional bartender who has spent years retooling tropical classics to highlight fresh ingredients and top-shelf spirits. It's only natural that the Cobra Fang—a potent, complex drink served in a specialized mug—is their neglected drink of choice.
The Cobra's Fang first appeared at Don the Beachcomber's menu in 1937, but wound its way through mid-century America's tiki palaces, acquiring assumed names and varied specs, but always served in a signature snake-adorned vessel. The vessel is tantamount to a canonical tiki experience, Morgan explained.
"Tropical cocktails are often complex and take time and patience to create. You want to present them properly so that your efforts are appreciated." Morgan paused. "Sometimes this means selecting elegant stemware or using your knife skills to carve intricate garnishes. But a huge part of the tiki community revolves around tiki mugs—intricately decorated ceramic vessels that once were handed out at bars as a promotional gimmick but that have now been raised to the level of art form—and can sell for hundreds of dollars. These mugs are sometimes the best vessel to serve your cocktails and elevate the entire experience."
The ingredients and variability also makes the Cobra's Fang a fun one to play with. Morgan added, "If it had caught on more, everyone would have their own personalized version. I like to mix it up from time to time."
The Cobra's Fang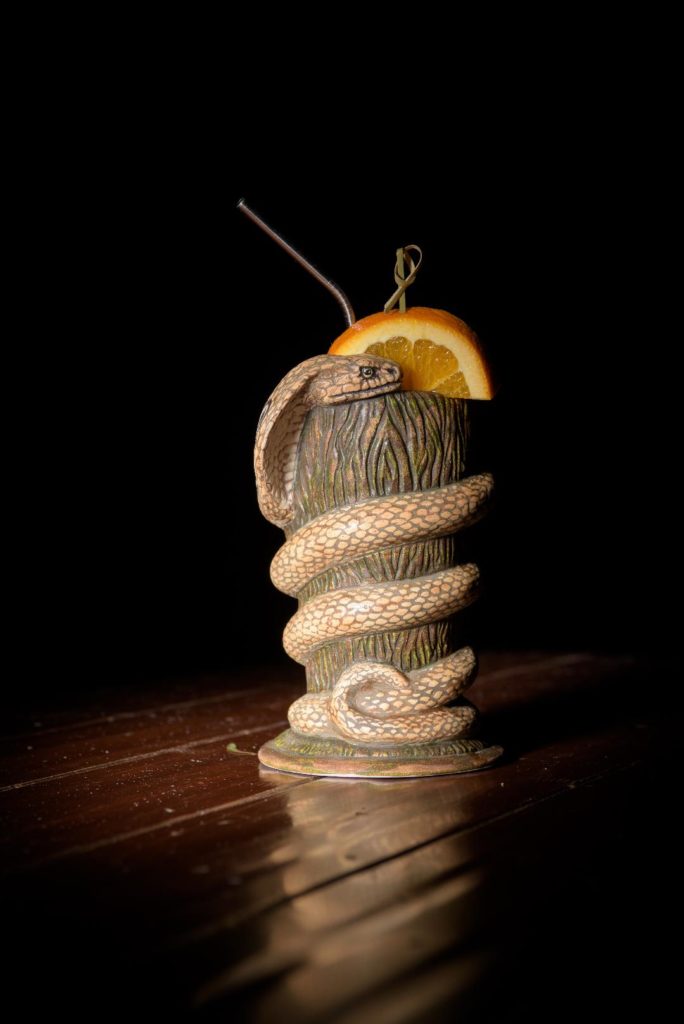 Whether you call it a Sidewinder's Fang, Cobra's Kiss, or simply Cobra, this potent combination of fruit juices, exotic syrups, rum, and absinthe will sneak up on you. Morgan and Reilly's recipe reflects what they feel is most evocative of the Donn Beach original—but feel free to tweak it to suit your taste. If you happen to have a cobra mug, serve this garnished with an orange wheel. Otherwise use your knife skills to create a spiral cut orange peel snake (cloves for eyes a plus), and artfully drape this on your glass for the appropriate sense of danger.
1 ¼ ounces lime juice
1 ½ ounces orange juice
1 ounce Small Hand Foods Passion Fruit Syrup
¾ ounce John D. Taylor's Velvet Falernum
1 ounce Smith & Cross Jamaican Rum
1 ounce El Dorado 12 Year Old Demerara Rum
½ ounce Hamilton Demerara 151 proof rum
1 dash Angostura bitters
4 drops Absente Absinthe
1 ounce club soda
Add all ingredients except club soda into a blender with 4 ounces of ice. Pulse blend for 5 seconds. Pour into a tall glass, stir in club soda, then add ice to fill.
Thanks to Gina Haase for her assistance.