Dinner at Compère Lapin, Nina Compton's heartfelt restaurant that weaves together the cooking of her native Saint Lucia and her adopted New Orleans home, starts out very Southern indeed: with warm, chive-studded biscuits and honey and bacon butters.
Then, biting into a crisp croquette reveals a gooey interior dotted with toothsome conch bits. You learn that the satisfying burn of Calabrian chile butter will linger on your lips long after you've wolfed down every last broiled head-on prawn. You taste a bit of coastal Italy in a ruffly, handmade scialatielli with clams and cauliflower, and unmistakable Jamaica in tart-sweet escovitch draped over whole-fried red snapper. Tingling heat permeates much of the menu, as does a grounding sense of comfort—most overtly so in Compton's signature dish of sweet potato gnocchi nestled in silky goat curry. It's deeply personal, which also makes it wholly original.
"I've always loved anything I cooked with my grandmother, so that always stays in the back of my mind," Compton says. "Some of my favorite childhood dishes are mangoes and oranges—love the sweet and salty—roasted chicken with pigeon peas, ackee with saltfish, and anything curry. There's definitely a lot of those taste memories in my cooking today."
When you think about it, the broad accessibility of Caribbean cooking and its emphasis on bold yet comforting flavors nicely parallels our more casual moment in fine dining in contrast to the formal white-tablecloth experiences of decades past—just as the younger generations spend more of their disposable income in restaurants (49 percent of millennials spend more on eating out than retirement, per a 2018 LendEDU survey of 1,000 Americans).
"I think people find the food interesting and unique, yet also very approachable," Compton says, which in turn makes approachable service of the "utmost importance," she adds. "We want to make people feel welcome and comfortable. We do not do the pretentious or intimidating thing—it's just not us."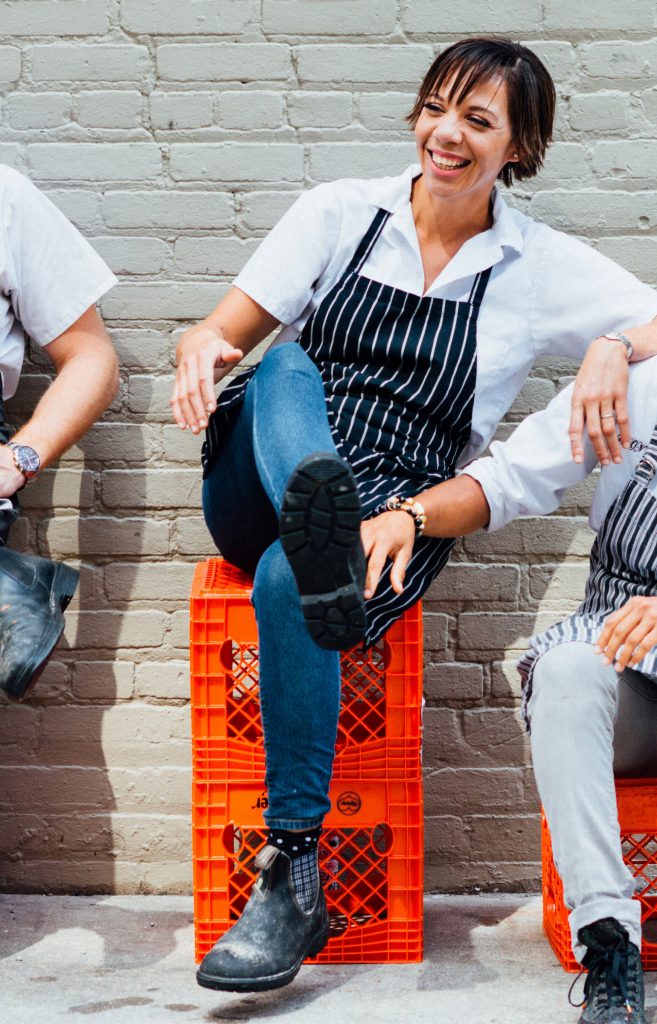 It also makes perfect sense for Compton to marry her Caribbean roots with Creole cuisine and the Western European influences of her fine-dining pedigree. All are housed in some form within the Creole cooking of her chosen city—its mingling cultural influences include Italian, Spanish, African, German, Caribbean, Native American, and Portuguese, among others. Its very existence exposes the persistent tension between identity and assimilation, as we owe much of this rich cultural mosaic to the ugly forces of slavery, war, colonialism, and natural disaster.
The North American subregion of the Caribbean comprises more than 700 islands, islets, reefs, and cays; as well as 30 territories encompassing sovereign states and dependencies. Ethnic groups from Afro-Caribbean, Amerindian, and Indo-Caribbean to European, Mestizo, Latino, Pardo, Chinese-Caribbean, and Arab call the Caribbean home.
The United States and the Caribbean are inextricably linked, in no small part because of their proximity. As of 2014, some 4 million immigrants from the Caribbean were living in the U.S., and almost half of the 30.1 million visits to the Caribbean in 2017 came from the U.S. (14.9 million, per the Caribbean Tourism Organization).
Most Americans equate Caribbean cuisine with spicy, ribs-sticking fare like jerk chicken and rice, stewed oxtails, and conch fritters. We tend to associate eating these dishes off styrofoam plates with our toes in the sand, or as an $8.99 lunch special at a counter-service joint in suburban Cleveland or New Jersey as we desperately try to recapture said beachy feelings.
"Maybe being in such close proximity to the Caribbean can work as a hindrance, because these dishes are so familiar," muses Kwame Onwuachi, executive chef of Kith/Kin at the InterContinental—The Wharf, a fine-dining Afro-Caribbean restaurant in Washington, D.C., which occasionally battles price sensitivity. "For example, at my restaurant, some of my best-selling dishes are the goat roti and the braised oxtails, but you can go to a hole-in-wall where a Caribbean grandma is cooking that. Understand, of course, that here you're not just getting curried goat—we're taking into consideration where we're sourcing our ingredients and attention to detail."
Onwuachi's father is half-Nigerian and half-Jamaican, and his mother, also a chef, is Creole and Trinidadian. Growing up in a part of the Bronx with a significant Jamaican population, "all we ate was Jamaican cuisine," he remembers. "Oxtail, stewed peas with pigs' tails, all different types of roti—chicken, pork, or goat—and my favorite: brown stewed chicken in caramelized tomato broth."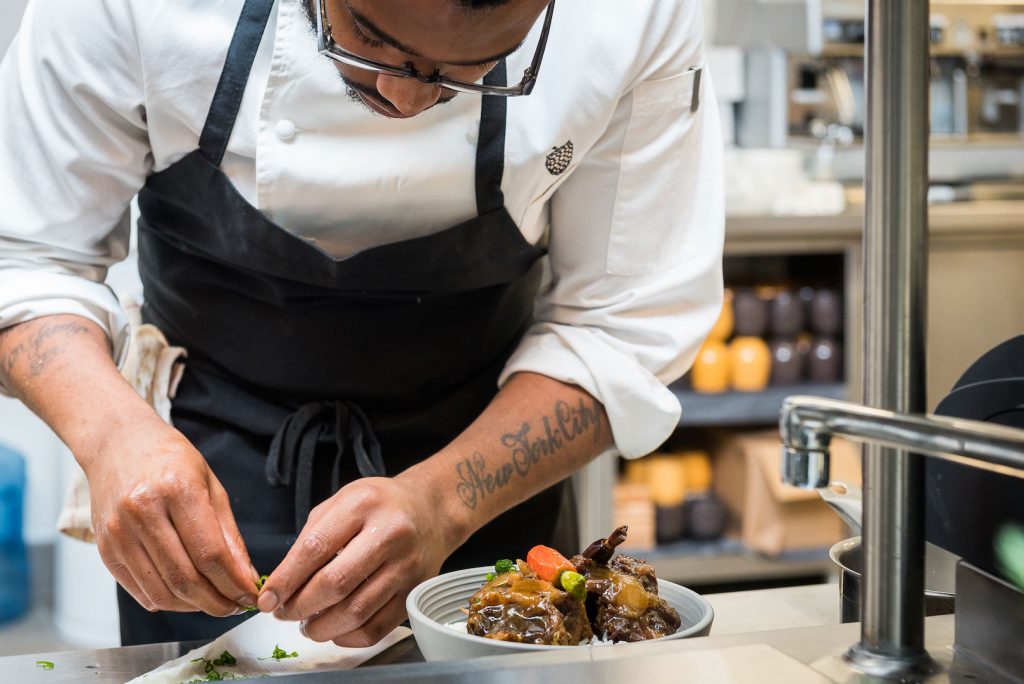 After attending the Culinary Institute of America in Hyde Park, New York, Onwuachi worked in mostly French fine-dining kitchens like Per Se and Eleven Madison Park, and competed on season 13 of Bravo's "Top Chef." But he always cooked the dishes of his roots for friends and family. The choice to open an upscale Afro-Caribbean restaurant was an easy one—a return to his roots after years of honing his skills on other haute cuisines.
At Kith/Kin, Onwuachi reimagines his earliest food memories through a bold, innovative fine-dining lens. He starts curried goat roti much like his grandfather did, by slathering hunks of goat in Trinidadian green seasoning, a marinade of pureed culantro (a cooking and medicinal herb native to the Caribbean and Central America), scallions, thyme, scotch bonnets, ginger, garlic, and onions. The meat sits for 24 hours, then it's seared and slow-braised. Onwuachi then strays from tradition via a curry velouté that he folds into the braised goat, along with fermented habanero sauce and lemon juice. He finishes the dish with crispy potatoes with green seasoning aioli and celery curls.
"Having different influences at different periods of your life influences how you cook," he says. "As I got older, I thought, why don't I try this? It's something very familiar to me, putting my interpretation and things I learned into my own cuisine. It was a natural progression. Plus, I want to expose more people to Afro-Caribbean food. It's delicious, and I think more people should know about it."
Onwuachi's narrative is one diners of this melting-pot nation are benefiting from more and more, as chefs free themselves from the prevailing shackles of "authenticity" to proudly claim their own unique food identities (see such fine-dining examples as: Alon Shaya's full-service modern Israeli restaurant Shaya in New Orleans, Diana Dávila's regional Mexican boîte Mi Tocaya Antojería in Chicago, and Niki Nakayama's modern kaiseki restaurant N/Naka in Los Angeles).
Still, for many immigrants and first-generation Americans, first-time restaurant ownership is often more feasible as a franchisee, or in a small-footprint, limited-service concept with low overhead that relies on higher volumes to achieve profitability—and the potential to sprout future locations. In that regard, it makes financial sense to bet on Americans' preconceived notion that Caribbean food is "meant to be eaten in a casual, beachside environment," as Compton points out.
"I think a lot of restaurateurs or chefs of Caribbean cuisine figure they can be more successful if they go for volume," adds Shorne Benjamin, a Saint Lucia-born chef and caterer based in Brooklyn. "On a commercial front, Caribbean cuisine is rice and jerk chicken, so it translates well. There's nothing wrong with that, but there are deeper flavors we can fuse, and a wider audience we can reach."
Benjamin grew up cooking stewed chicken on the island with his restaurant-owning grandmother, but came to New York in the '90s to study finance. When the market crashed in 2008, he left his career on Wall Street to attend the French Culinary Institute in New York City.
"Being in New York and seeing so many fancy restaurants, there was no upscale sit-down dining atmosphere for Caribbean cuisine, and I always wondered why. I looked at it from the angle of, our food is great, why not?"
For the past six years, Benjamin's focus as a high-end private and special events caterer has been on elevating his native cuisine through fusion-style cooking he has dubbed New Age Caribbean. He reinterprets Caribbean preparations with seasonal ingredients and unconventional pairings at high-profile events, like a Mexican-Jamaican mashup of jerk corn with roasted red pepper coulis and jerk aioli that he served at a kickoff event for the U.S. Open tennis tournament, or the lemongrass-scented goat curry off the bone he served alongside German spaetzle at a James Beard House dinner this summer.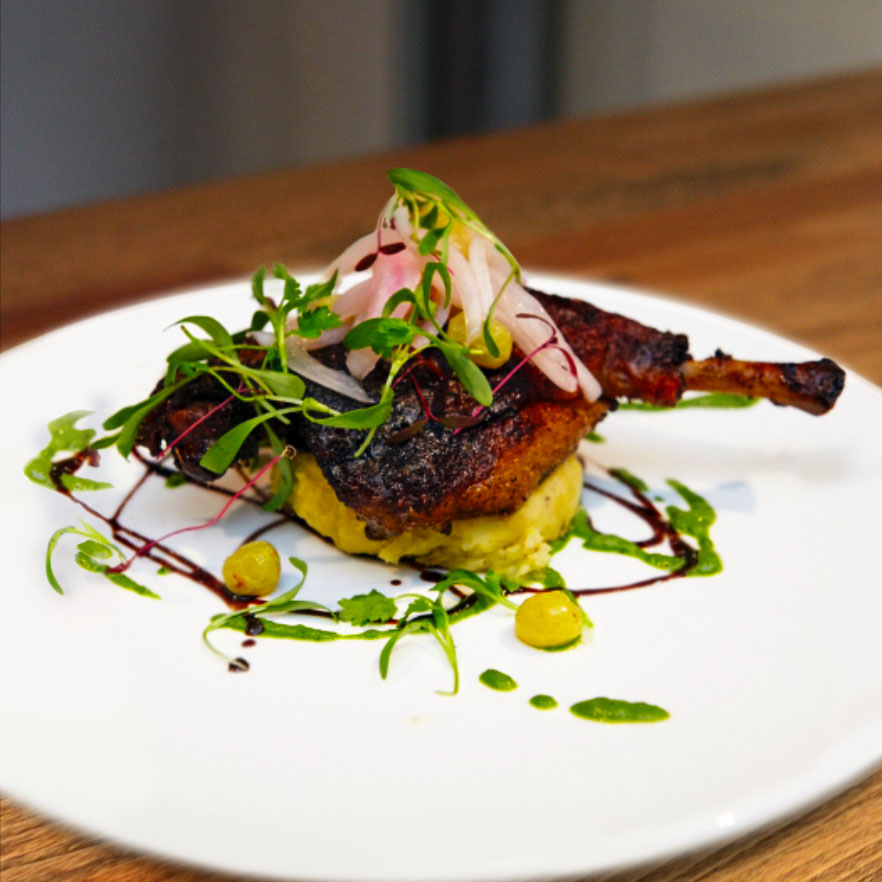 "My pet peeve with a lot of Caribbean restaurants here is, as much as we're in a four-season country, we don't use seasonal ingredients to adapt through the year," he says. "Seasonal fusion allows you to use flavors, different vegetables, different fruits just to have a variety and be vibrant."
He plans to eventually open his own New Age Caribbean restaurant. In the meantime, he's encouraged by the fearlessness of the younger generation of trained chefs proudly embracing their culinary heritage, which empowers future generations when they see chefs like them uplifting their cuisine.
"I'm happy to be a role model for young people in the food industry," he says. "You cannot hold back—this is my secret. If you do, you're stifling your growth and that of others, too. Being a trained chef with a platform and exposure, the whole idea is to share."