Three of the country's foremost craft distillers—the trailblazing Karen Hoskin (Montanya Distillers); the financial theorist Bridget Firtle (Owney's Rum); and the erudite Maggie Campbell (Privateer Rum) couldn't have chosen more disparate paths toward making award-winning rums. Their eventual convergence on the sugarcane spirit—whether through a sharp life course shift or as the savory culmination of years of beverage experience—wasn't necessarily inevitable, though it feeds into the broader, still-unfolding narrative of American craft rum's revival.
In early days such as these, it's the fearless entrepreneurs and tireless students of the craft whose passion and dedication ultimately turn the rest of us onto what we didn't even know we were missing.
Find Your Belizean Hot Sauce
You probably know Montanya Distillers best for the pure, richly flavored rums it's produced during its decade-plus in existence—nutty, honeyed Oro and velvety, three-year-aged Exclusiva, finished in French oak Cabernet Sauvignon and Port barrels from a Colorado vineyard. Maybe you've heard that its Crested Butte, Colorado headquarters are 100 percent wind-powered, that half of its 27 employees are women, or that co-founder Karen Hoskin helped start the Women's Distillery Guild, a national organization supporting gender diversity in craft distilling.

What you might not know is that Hoskin pursued not one but two fulfilling careers before she and husband Brice founded Montanya in 2008. Rum got into her soul long before then, however, when she was a college student living with a Hindu family in Varanasi, India. One evening, a bartender poured her a visceral nip of Old Monk.

"I had my mind blown—it was so delicious, such a powerful sensory experience," she remembers, pausing. "Honestly, it was sweeter than I'd like now, but it had all those notes people associate with aged rum: butterscotch, vanilla, sucrose."

What also distinguished Old Monk was its purity, which for then-undiagnosed celiac Hoskin meant the difference between feeling great and abysmal after even one drink.

She returned to the southwestern U.S., where over the next two decades she collected two master's degrees and pursued two vastly different careers—overseeing a Planned Parenthood clinic in rural Arizona, then starting a Colorado branding and design firm—while she and Brice raised two sons.

She kept chasing the elusive bliss of that first sip of Old Monk inside every high-end bottle of rum she could get her hands on, and at the bottom of each Floridita or Mojito she mixed up when friends dropped by. "I never found a rum that perfectly met my palate," she says.

Meanwhile, the relentless hours spent carrying out other people's visions took a toll, so Hoskin and Brice took a trip to their beloved Belize to reset. As they sat in the sand sipping rum and mulling what should come next, Hoskin's mind wandered to Belizean entrepreneur Marie Sharp, whose namesake lineup of locally made habanero hot sauces grace nearly every restaurant table and home kitchen pantry in the country.

"I was enamored by her story," Hoskin says. "She's this community force of economic development, employing local people, taking care of them, and creating this beautiful product with a lot of local pride. The hot sauce was a consequence—it happened to be what she chose. I looked at my husband and said, 'I want to make rum.'"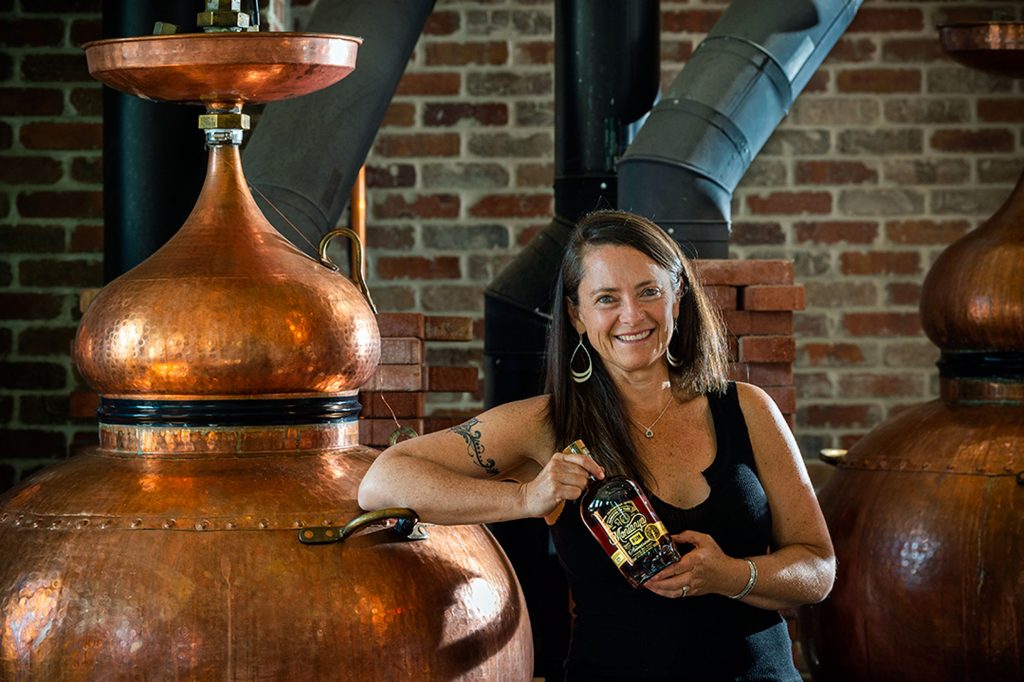 Her proverbial hot sauce would be the very juice she'd spent the past two decades seeking—free from the sweeteners and additives that long wreaked havoc on her body, made using North American-grown ingredients and minimal environmental impact. She'd build an onsite cocktail bar at the distillery to ease people into this underappreciated spirit, as Hoskin had done for her own friends for years.

The couple founded Montanya in Silverton, Colorado, in April 2008, and opened their doors just seven months later. They self-financed the entire operation save for a $25,000 economic development loan. Starting a premium distillery at the onset of the economic downturn—much less producing a spirit in a style for which the market had zero reference points—was no easy feat. To say nothing of the fact that Hoskin didn't know a single woman in a distilling, much less distillery ownership role. An inspiring meeting with Larina Vasquez, master blender of Guatemalan Ron Zacapa, hinted at the exciting reality in other parts of the world where rum had long been gospel, in which women called the shots at lauded distilleries.

But times have changed—sort of. At an event the Women's Distillery Guild co-hosted with the American Distillery Institute last year, Hoskin counted 60 women in attendance who either own, distill, or are deeply involved in operations at a craft distillery.

"There's been so much progress in the past ten years," she says. And yet, many of the women's stories sounded all too familiar: a female craft distillery brand builder being asked to sit on a male customer's lap while he perused her portfolio. Walking into a private-equity fund boardroom full of men to host presentation, only to be mistaken for a secretary taking the lunch order.

"I could go on," Hoskin deadpans.

Don't Invest. Create.
Bridget Firtle, who owns Bushwick, Brooklyn-based The Noble Experiment, and Owney's NYC Rum, is no stranger to being one of few women in the room. After earning her MBA, the fast-talking Queens native with the loose blonde curls began her career on Wall Street as a hedge fund manager in the consumer products sector.

"I weaseled my way into becoming the global beverage analyst for the fund," she remembers. Researching and investing in global wine, spirits, and beer at the outset of the domestic craft beverage renaissance in the early 2000s, Firtle was increasingly drawn to the high-proof stuff. She wondered why small-batch spirits hadn't yet exploded like craft beer—which was chipping away at big beer's market share.

Firtle was successful in the American Dream-ish sense that she had a lucrative, challenging career and a sprawling New York City apartment, but she longed to strike out on her own. She was exploring starting a venture capital firm when a paradisiacal Hemingway Daiquiri at a since-forgotten Manhattan cocktail bar intervened.

"I was like, 'Whoa. This is a Daiquiri? This is rum?'"

Firtle knew the sugarcane-derived spirit was being neglected amid the resurgence of domestic craft distilling, in no small part because of the stranglehold of "two liquids American think of as rum." Nor was the irony lost on her that rum—hell, domestic craft distilling itself—began just a few miles from where she grew up, though locally made rum had all but dried up.

"Rum was the first spirit we distilled in the U.S., on present-day Staten Island," she says. "Embracing rum is embracing American history."

Firtle left Wall Street for good at the end of 2011 to start the state's first exclusive rum distillery in 90 years. She traded the soaring Tribeca apartment for her parents' house in Queens, and broke ground on The Noble Experiment in March 2012. She started distilling in August. Any spare moments were spent on weekend crash courses in distilling, driving around the Northeast visiting other distilleries, and drinking a lot of rum.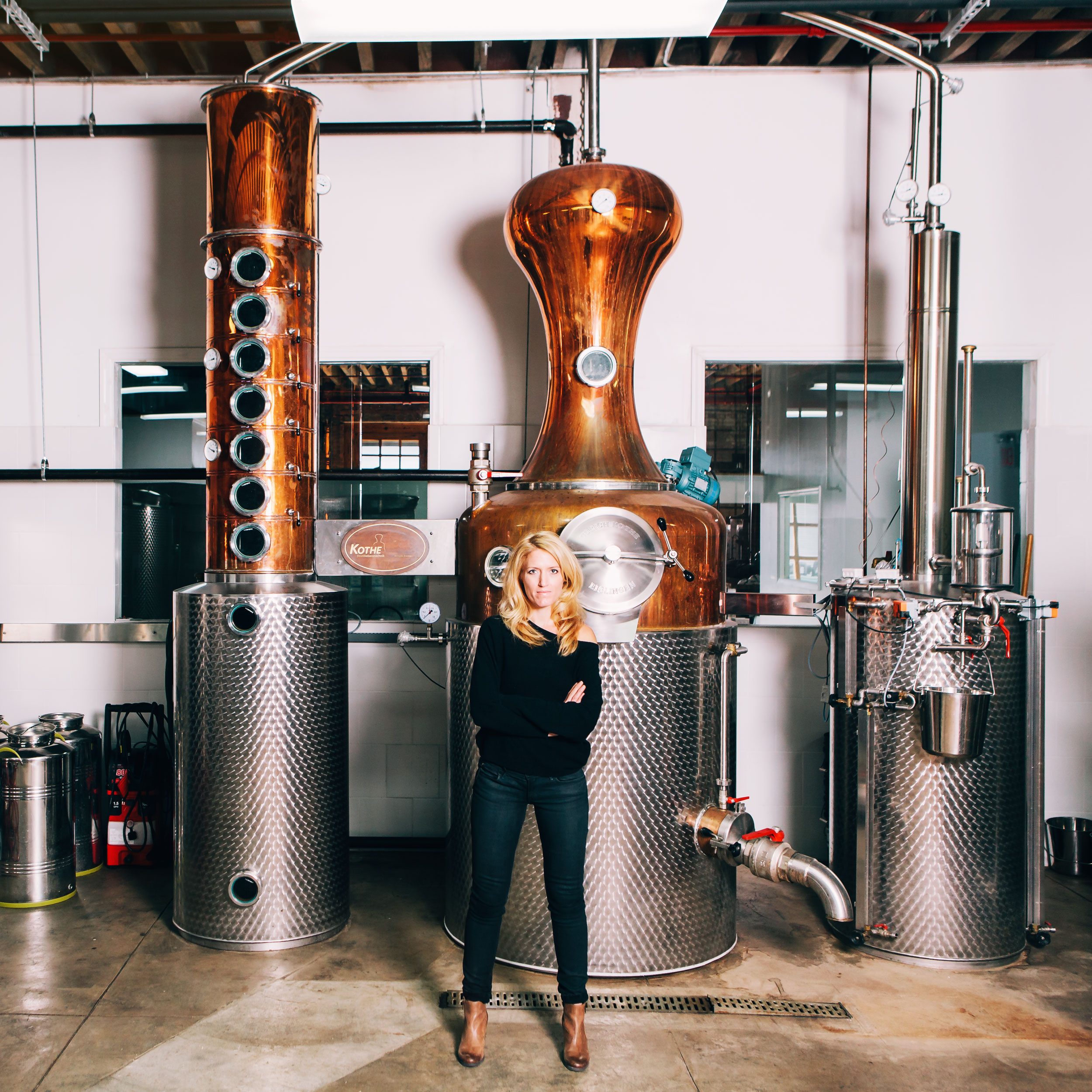 "There's this total naiveté around the whole thing," Firtle says. "You have this vision, this dream, and no one is going to stop you. By the time you get through 15 months of hurdles, there you are going, 'Okay, now I have to make something. Hopefully, someone likes it, because I have to sell it.' Unfortunately, understandably, a lot of people burn out before they even get started. It takes tremendous energy, belief, and money—and just plain sticking it out."

She bottled her first unaged rum in the fall, drawing on techniques from both high-ester Jamaican styles and French Caribbean rhum agricole. She packed a few bottles in her purse and started knocking on cocktail bars' doors—a few of which started carrying the product.

In less than a year, Firtle started attracting national attention, earning a spot on the coveted Forbes "30 under 30" list and accolades for her small-batch juice. Seven years on, the original white rum is now in ten states, and the company has added two other products to its award-winning lineup of non-GMO sugarcane-based, additive-free rums. Firtle has two employees and a distributor of her own. She credits her stubborn entrepreneurial streak with getting her going, but is quick to check her ego in the face of the unpredictable competitive marketplace.

"You have to have something you're really driven by that you think is a viable thing," she says. "The market needs to tell you you're doing something right, even a little."

"Rum Chose Me"

Startups are all about quick decisions, pivoting and agility. But uber-distiller Maggie Campbell, president and head distiller of Boston-based Privateer Rum, knows that aged spirits can't be rushed, even at a young company where pressure to move product the moment it's ready can weigh like an anvil.

"There are so many traps in our business around reconciling the speed of the spirits business with reality of production," Campbell says. "In those first three years, two-thirds of everything we made, we made to increase our aging stock. Everything I'm distilling today is for years in the future, Everything I'm bottling now is from years in the past. Communicating that well is something I learned to do."

It's paid off. Every spirit Privateer has produced during Campbell's tenure has earned a four-star rating from Spirit Journal. Privateer's single-cask Queen's Share, with mouth-coating dried pineapple and earthy smoke notes, collected a coveted five stars in 2016.

Campbell discovered a love for spirits as a college student in 2004, while visiting the Oban Scotch distillery in Scotland. Facing a lack of institutional support for learning distilling stateside after graduation, she instead went into the resource-rich wine industry, earning her first sommelier certification at age 22 while working for a boutique Denver wine retailer.

"There are a lot of similarities between wine and spirits," she says. "The chemistry of flavor creation, fermentation, esterification, barrel aging, yeast physiology, bottling, how to clean a tank, then on to inventory management, and how to set pricing."

Hungry for hands-on spirits experience, she landed the mentorship of Todd Leopold, of Denver's lauded Leopold Bros. distillery, who urged her to pursue a diploma in craft distilling technologies at the Siebel Institute in Chicago. Campbell's first big break came soon after, when she sent an intro email to the famously closed-door, Cognac-style brandy distillery Germain-Robin, and in return got a job offer as assistant distiller from co-founder Ansley Coale.

"They were thrilled that I had a wine background," she says. She relocated to Northern California where she dove headfirst into brandy, revelling in its crossover with the winemaking process, and the oft-painstaking details like harvest time and vineyard plot that impacted the final product.

After the founder moved on, Campbell returned to Denver to work in wine distribution for the next year and a half—until the phone rang, and she heard Germain-Robin's familiar, heavily French accented voice on the other end of the line.

"Maggie, bonjour. How do you feel about making rum?" Hang on, rum? You mean that dark spiced swill college kids guzzle with Coke?

"Hubert scolded me," she remembers. "'You don't know rum.'"

She understood why he'd called when she met with Privateer founder and CEO Andrew Cabot, who unveiled his goal to make spirits with minimal intervention, a delicate hand at production, and no heavy filtering, sweeteners, or additives.

"Within five minutes of meeting Andrew, I said, 'Hey now-husband, now we're moving across the country to make rum.'" He was her boyfriend when she'd last uprooted them, for the Germain-Robin job.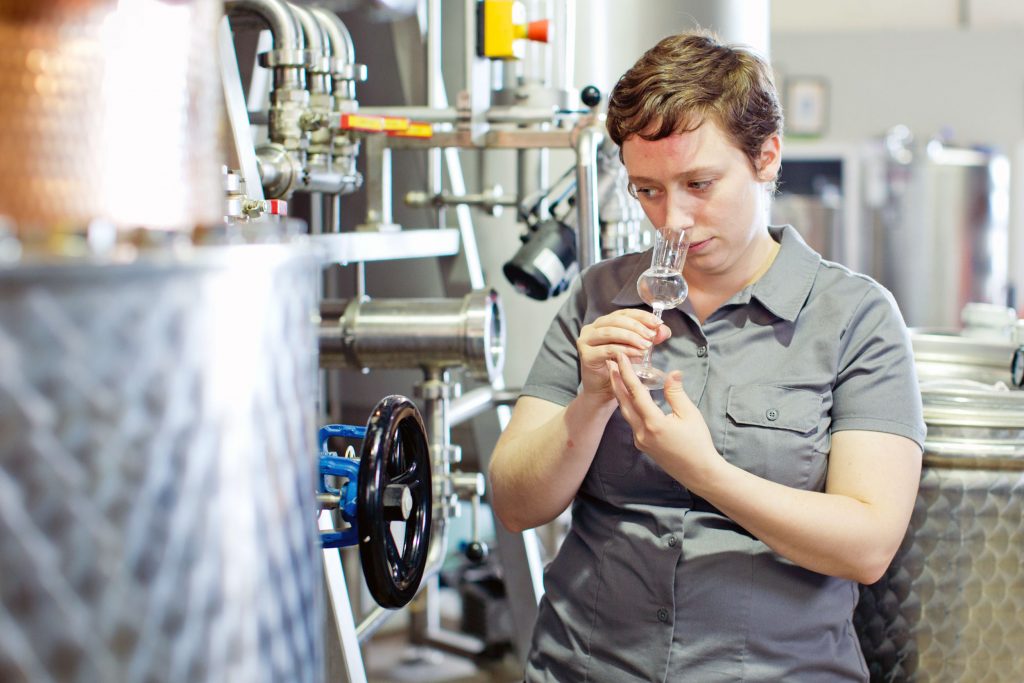 Now she can't imagine working in another category, owing largely to the diversity of rum and the people who make it. She describes a recent rum conference she attended in the Caribbean, where attendees donned ear translators to hear sessions in Spanish, Caribbean French, and Japanese—among other languages. Where she met women of color in master blender and ownership roles at some of the world's most respected distilleries. Where she discussed water preservation with a Kenyan distiller, sugar with an Australian, and the emotion rum elicits in customers with a distiller from Shanghai.

Even cooler? Everyone does what's right for them, which begets an open, authentic community.

"North American whiskey is a small, very self-referential world, where there's a lot of, 'you're doing it wrong,'" Campbell says. "Whereas rums are unique cultural expressions, unique to the people making them, and part of their culture—not something separate they read about. The respect, culture, and community is what keeps everything so unique. It's very important for me to be one small part of the rum world, to do my own thing and not copy someone else, to bring that same love and respect to this community."

A community that counts Firtle and Hoskin among its Stateside members, for whom the only solution to the rum-shaped voids in their respective lives was to roll up their sleeves and make it themselves their own way. No matter that they'd never done it before, or that they were almost always the only woman in the room, or that it felt precariously close to falling apart, maybe once or twice.

"It's so much fun to make something of your own," Hoskin says. "When you do the same thing for other people for a long time, to be able to be in charge of every decision, make something you believe in, and create your own aesthetic that you think is beautiful, it's so gratifying."

Then with time, steadfast dedication, and no shortage of grit, the "Velveteen Rabbit" moment arrives when consumers become believers, too, she says.

And just like that, the community grows a little bigger.