Benjamin Calais didn't come to the diminutive Texas Hill Country town of Hye to make rum, or even wine for that matter. The French-born winemaker and owner of Hye Rum and Calais Winery came to the U.S. in 2008 to open a stateside outpost of a software development company he was working for.
"I've always been into wine and always thought I'd end up making it; I just thought it would be in Bordeaux," says Calais, whose chin-length curly hair has the appearance of being perpetually windswept. Eleven years later, his weekend side project has grown into an enterprise with three full-time employees churning out 2,500 cases of high-elevation, Bordeaux-style wines annually.
More recently, he's turned his attention to rum, opening the Hye Rum distillery and tasting room in March 2018 just three miles down the road from the winery. He enlisted as head distiller his good friend James Davidson, who, like most hardcore spirits guys, is a whiskey nerd.
So why rum?
"Rum is one of the biggest alcohols in France—there's a huge market there," Calais says. "We started talking about rum and how it's a historical spirit in the U.S., but hasn't been treated as a serious spirit in a while in much of the country."
Glance at the back bar at most serious cocktail bars and you'll find at least a dozen artisanal whiskeys in a range of styles alongside a growing range of craft gins, mezcals, vodkas, and perhaps even a handful of vintage amari. Yet even as craft spirit interest has swelled in the Texas Hill Country, rum remains largely a market of "convenience," dominated by the flavorless styles that play nice with mixers.
"If you took the top two or three white rums off the shelf and blind tasted them, you'd be hard pushed to find any difference—it's all casual drinking rum, lighter and more vodka-like," Calais says. "It's been so dominated by one gigantic player that there hasn't been a place for different options."
Calais and Davidson decided to make a fuller, more complex line of molasses-based rums, which are double distilled using a 500-liter copper pot still. Aside from the white, they're all aged in French oak wine barrels. They use a few types of non-GMO, sugarcane-based molasses, which require a 14-hour road trip to Louisiana and back to retrieve.
The duo conducted dozens of fermentation trials before settling on the right portion of molasses and the appropriate alcohol level, plus which yeast strains and which wine barrels to use.
"When I was first learning to distill, all I did was drink single malt Scotch for two years," says Davidson, whose dad started a whiskey distillery. "If you really study single malts, you start to understand the difference in barrel and aging influences, and particularly you see Scotch finished in wine casks. We wanted to bring that to rum. There are lots of levers like that we can pull that create even small variations."
Indeed, get either Davidson (a former data analyst) or Calais talking long enough about rum, and you'll start hear their inner scientists come out. For Calais, it's most notable when he starts on fermentation—one of the areas where making wine and rum overlap.
"Probably the main difference in what we do is use wine yeast, which not many people in the spirits business are doing," Calais says. "Used properly, wine yeasts are awesome. If we want higher esters, we can go for that; or slower fermentation to maximize one thing, run a little hotter and influence flavor profiles that way, we can do all of that."
Therein lies the beauty of spirits production. "If you start with something that's fermented properly, it'll be a quality product that the still concentrates," Calais adds.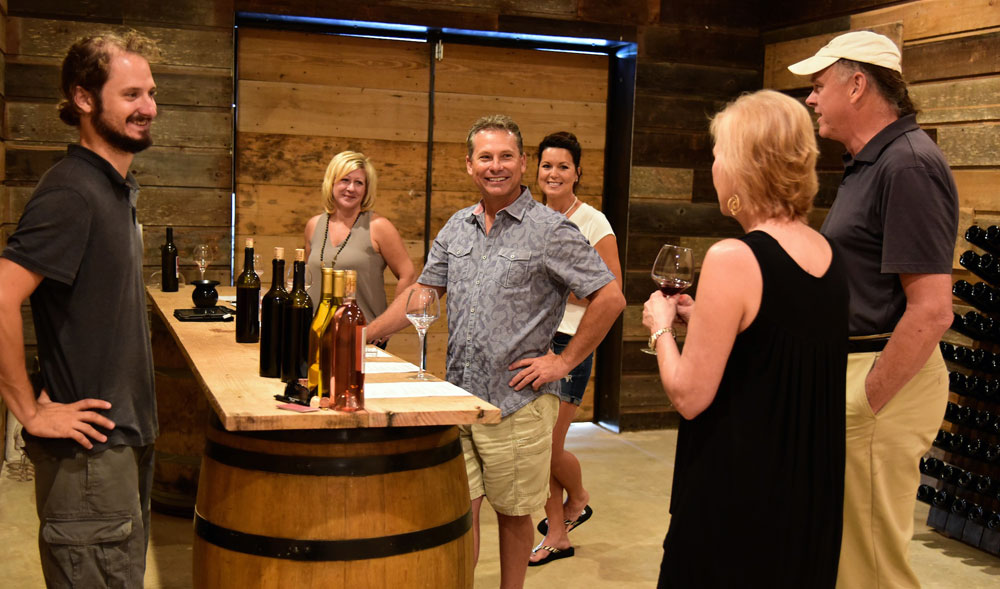 Hye White—medium-bodied with a subtle, caramel-like sweetness—is Hye's friendly bestseller, wholesaled to local liquor stores and cocktail bars, and mixed into standby Piña Coladas, Mai Tais, and Painkillers in the tasting room. It's settled for a month or two in stainless tanks after distillation. Hye White also forms the foundation of Hye Dark, which is aged for three months in French oak, and infused with molasses until it achieves flavor notes of chocolate, cherry, and allspice, with a smooth finish punctuated by vanilla.
"Many dark rums are heavy on the molasses," Davidson says. "Ours has a molasses note, but it doesn't dominate the rum."
He declined to comment about the controversy of doctoring rum through the addition of sugar, a widely practiced strategy in rum production that has drawn the ire of purists who say those who do it are hiding flaws or simply reverting to a sweeter profile because it's an easier sell.
Davidson maintains that he was simply inspired by the flavor and depth of molasses when creating the dark rum. The rum is widely used in cocktails, though he adds that a lot of customers drink it neat or with one ice cube.
In September, Hye debuted its first barrel-aged rum, which sits in white port barrels for 11 months and uses targeted filtering to allow the oils to still get through, creating a more viscous texture in the glass. The nose is very caramel, with pops of bright fruit and bitter cacao mid-palate, and a long caramel finish.
Of all four styles, the high-ester, Jamaican-style silver is by far the weirdest. It was Davidson's first release, and one he affectionately calls his "personal art piece." Made from blackstrap molasses for bigger, bolder flavors, it's distilled at a far lower alcohol level (between 6–14%) for more esters and higher acidity. The leathery nose gives way to a smoky, buttery pastry flavor that finishes with a tobacco-esque quality that Davidson likens most to cigar paper.
Since its roasty aromas and flavors are complex and possibly challenging to the rum-unititated, said skeptics visiting the tasting room can dip a toe in via a bright, bittersweet Rum Punch with grapefruit, lime, and Luxardo cherry juice, or a refreshing Marguerite with pineapple, lime, mint, and a Topo Chico mineral water topper—two of the handful of cocktails Davidson and Calais developed to complement the rum's specific profile.
"When people first try it they think it tastes like tequila; I've even had people say it tastes like mezcal," Davidson says. "When people are first learning wine, they go, 'it tastes like grape,' because they don't have that vocabulary yet. With the cocktail menu in the tasting room, we're meeting them halfway."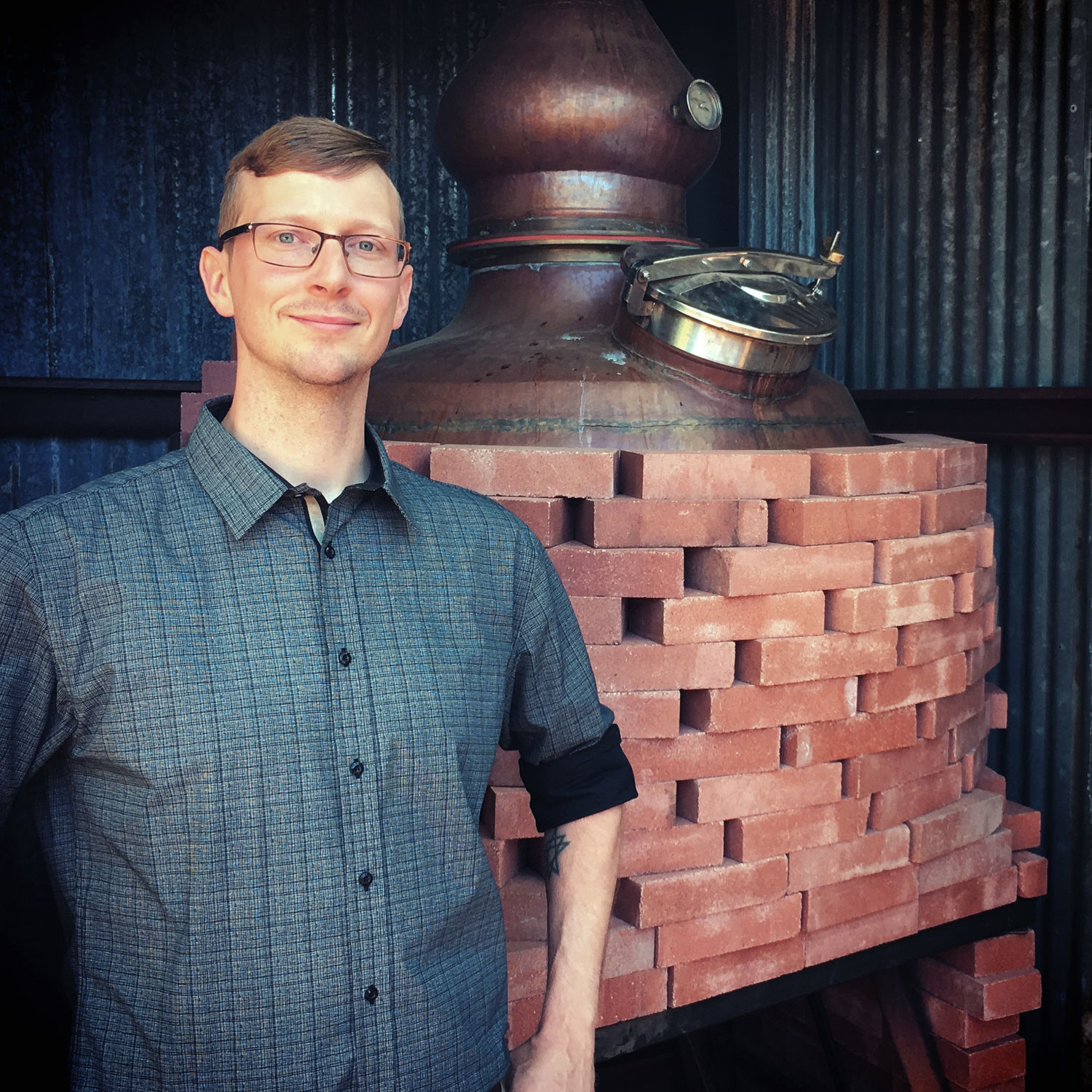 The product hasn't been in distribution long, so Hye's feedback has mainly come from customers visiting the tasting room—who like what they're tasting so far, Davidson says. Calais also considers rum's darling status among beverage pros a pretty good omen in a market that's still more focused on spirits like whiskey and tequila.
"We're not there yet, but we're on the brink," he says.
The tasting room also provides a vehicle for getting products directly into consumers' hands in a state that makes it hard for small distilleries to do so via restrictions on distribution and shipping. Laws passed in 2013 relaxed certain limitations on spirit production and sale. For one, distilleries can buy beer and other liquor used in the making of spirits from other Texas distillers and solicit and take orders from wholesalers—something only out-of-state distilleries could do previously. Texas distillers can also sell their products directly to consumers, with some restrictions on quantity.
Yet that hasn't stopped the wave of craft distillery openings that look to alter the state's drinking landscape in dramatic fashion. Texas has seen an eightfold increase in the number of permits issued to distillers over the past eight years, according to Texas Distilled Spirits Association (TDSA). In 2010, the trade group counted 17 permits statewide; halfway through this year, there are 131 permits to make liquor in the Lone Star state.
Like much of the country, Texas's artisanal beverage love affair began with beer. It's home to more than 200 craft breweries and counting. Houston ranked second only to Los Angeles County in U.S. craft beer startup activity, with 27 in the works as of the end of last year (L.A. had 29), according to data from the Brewers Association. Travis County, which includes Austin, ranked eighth with 15 breweries in development. But cracks are starting to show; the report's authors caution that saturation is becoming an issue in a number of major metropolitan areas. Calais echoes this, noting a recent uptick in startup brewery failures in nearby Austin.
Wine and spirits, on the other hand, have a ways to go. It's no secret that Texas is experiencing a surge in winery enterprises—and not just from within. California producers burdened with soaring real estate, droughts, and recent devastating wildfires have started sending out feelers in Central Texas and the High Plains—among them, a little Napa Valley winery called Robert Mondavi.
"There are probably 40 wineries going up in this area alone," Calais says. He's driving on Highway 290 en route to Austin during our chat, pointing out new winery and distillery signage along the way, as much to himself as to me.
"There are four or five vodka distilleries and a couple of gin distilleries opening near us, and a bunch in Dripping Springs," he says, then almost interrupts himself: "Wait, there's another one—Frog Pond—that's the first time I've seen that sign."
He's optimistic that more competition is a good thing, given the notoriously fierce love Texans have for homegrown product—which they've already shown this French expat through his wines.
"If you do one thing really well, you'll get rewarded here."