"There's definitely a kind of magic about Jamaica," Chris Blackwell told me as we sat in the front room of his Manhattan aerie in the gray autumn light. With rainswept taxis in the street below, we were far from Jamaica in every way, but the feeling of the island was conjured in every word he spoke.

Blackwell marveled at how much creativity, talent, and natural beauty is concentrated in Jamaica's 4,000 square miles. "It's a pretty small island, but it has so much variety in terms of fruits, vegetables—all kinds of plants which have positive medicinal effects. And the people, there's just something different about the people. How can you explain that an island with just three million people would have three of the four fastest men in the world and three of the four fastest women in the world? And, of course, the music!"

While Blackwell wasn't born in Jamaica, he spent a happy childhood on the island until the obligation of boarding school back in England. Returning as soon and as often as he could, in 1959, he founded Island Records, which would introduce Jamaican music to the world.

From the beginnings of Island Records and during the almost 60 years since, Blackwell has found his way from music and media to hotels, environmental causes, and, like any proper resident of Jamaica, rum. In a way, that was where he started.
From Rum to Reggae
"My grand-uncle bought Wray & Nephew in 1916," Blackwell noted. In fact, it was under this regime that Wray & Nephew consolidated with Appleton Estate, creating the premiere Jamaican rum producer which remains today. "I was supposed to inherit because I was the eldest male in the family, but when my grandfather died in 1945, his two sons—my two uncles—didn't get on together and messed up the business." In 1957, the company was sold.

"When I came back from England from schooling, which I was not a success at, I felt at least I had something to go into," Blackwell said. "But it was gone. So, I started to drift around, and that's how I found the record business."

The Jamaica in which Blackwell drifted was exploding with sound. It was the point of origin for mento, the sound systems, toasting, ska, rocksteady, and of course reggae. Island Records recorded Toots and the Maytals, who would coin the term with their track, "Do the Reggay." The company also signed Bob Marley, the eternal personification of Jamaican music.

"He's like Muhammad Ali was in sports. He's everywhere in the world, and greatly admired and loved," Blackwell said. "It's extraordinary, because there are places where you think, well, the people here can't have understood the language, they're totally different cultures, and yet Bob Marley is on a big poster in the bar or something."

"I went into a town in Turkey—there were a whole lot of little bars, and most of those bars were playing reggae music. And I thought, how does it reach here, how does it get here?"

Blackwell moved Island Records to London in 1962, driving around in his Mini to sell Jamaican recordings to local record shops. "Jamaicans in England were desperate to hear something from their home. They were in England, and the weather's kind of miserable—they were hungry for Jamaican music. I hit a lucky spot when I brought over a young girl, who was only 16, and produced a record with her in England, a ska record, which was a huge hit—Millie Small, 'My Boy Lollipop.' And that opened up my world. Her hit was at the same time that the Beatles emerged, the Stones emerged, the Kinks emerged. It was a time when there was that explosion of creativity in England.

"I was more than happy doing what I was doing then, because when something is happening and building, that's great, you see it building. I wasn't in any rush. But, suddenly, I was elevated to being in the same rooms and the same backstages with all the managers and producers of all those bands." Blackwell began signing English rock acts, like Steve Winwood, Fairport Convention, and Cat Stevens. "Island Records had a lot of variety of music, because I like different kinds of music. Really, I'm a jazz fan. That's my root."

With all the styles of music created in Jamaica, why has reggae become the one that everyone knows? Blackwell pondered this. "It just hit a kind of rhythm which a lot of people latched onto. It worked as a rhythm which was more flexible. Ska was all about high speed, high energy. Reggae was more laid-back. I think because a lot of different artists recorded that rhythm, reggae became the name of Jamaican music."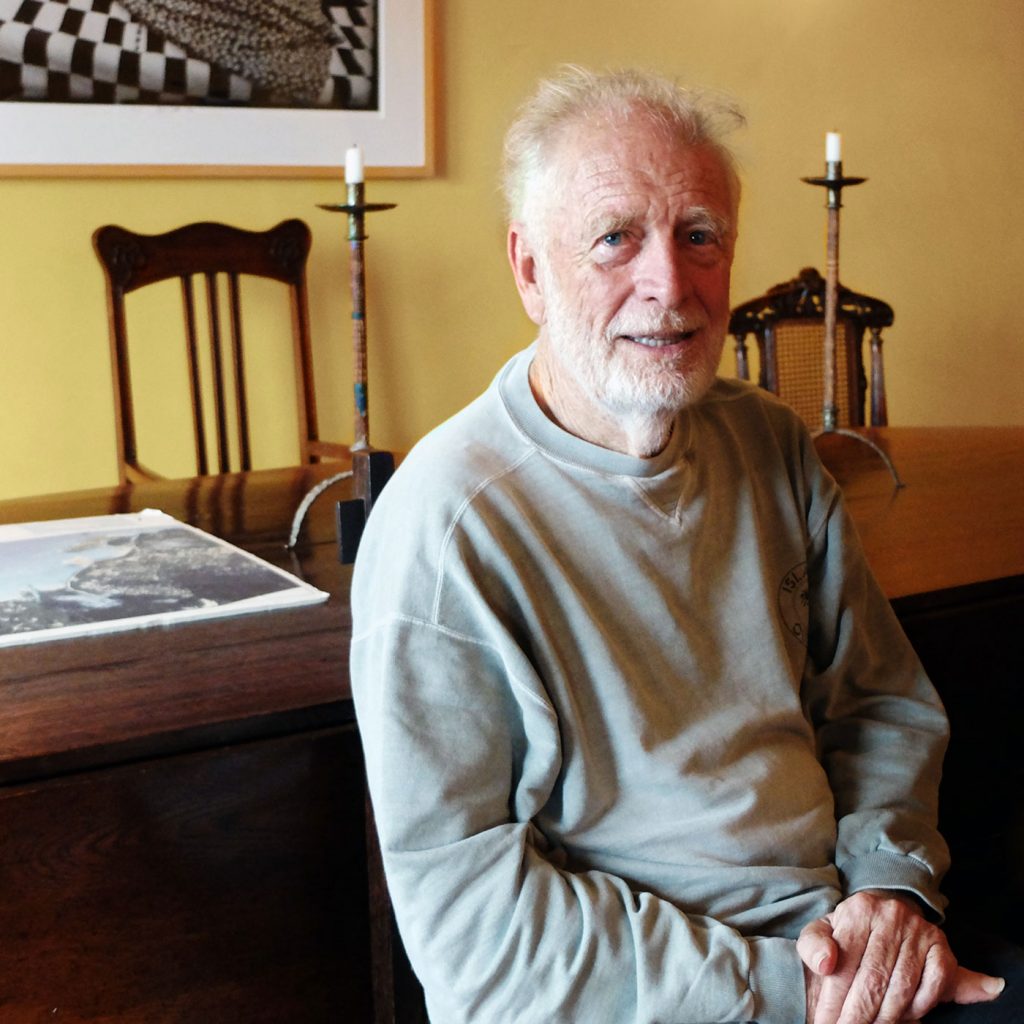 From Hitmaker to Hotelier
With his legendary deal-making acumen, Blackwell built Island into a top independent record label and expanded into film, until, with one final deal, he sold it all to PolyGram in 1989 for $300 million. "I decided I'd spend much more time in Jamaica and focus on my properties that I'd bought over the years. I was always interested in going into the hotel business," he said. "There's something similar about it—like the record business. You make a record, and you play it for somebody, and if they love it, it feels great. In a hotel, if somebody comes as a guest and they say, 'Boy, we had such a great time,' it's similar in a way."

His handful of graceful hotels and villas around Jamaica include GoldenEye, formerly the estate of author Ian Fleming, a family friend. Fleming supposedly named the property after a British Intelligence mission he had participated in, or perhaps a Carson McCullers novel, or perhaps a species of duck (after all, his literary creation James Bond was conceived at the very place, and his name came from the author of a book on birds of the West Indies). But its situation on Oracabessa Bay (from the old Spanish "oracabeza," or "golden head") may be the bond between head and eye.

"GoldenEye is not like a regular hotel at all. It has no lobby, it has no corridors. It's just individual little units, one bedroom or two bedrooms, and they sort of spread around the property. So, when it's full, it looks like it's empty. You can't see anybody," Blackwell said. "It's not something geared to be a big party place. It's geared more to be someplace just to relax."

"I have always felt that it's healthy to be grounded in nature if you can. Most people, they live in cities, they never see the moon. And they don't get a feel and a grasp, they're out of touch with nature. But when you're in Jamaica and there are the birds around, it's very rich in trees. When there's a full moon, a full moon changes everything," Blackwell said. "At GoldenEye, and all my properties, we have a big thing about it. We have lighting, but when it's a full moon, I want minimal lighting, because the moon gives us that lighting.

"My places are geared to be in touch with nature, which I think is a good thing to balance out the technology."
From Proprietor to Preservationist
Accordingly, Blackwell strives to be a good steward of the lands he controls. Oracabessa Bay, along Jamaica's north coast, was once abundant with fish and reefs until both were threatened by human practices. Starting in the 1970s, fishermen employed a new technique: Instead of spending all day trying to catch fish with nets or line, they'd throw one stick of dynamite overboard.

"Boom," Blackwell intoned. "Everything floated to the top. And they'd put them in the boat and go back home. No contest. But it killed all the fish, killed the reef, killed everything, until the reefs which were rich in fish before had no fish."

In 2010, the Oracabessa Bay Fish Sanctuary was started with Blackwell's financial support. Its strength was in involving the fishermen in the conservation, instead of making it a choice between protecting the bay and their own livelihoods. As Blackwell explained, "None of them are allowed to fish in the sanctuary, but of course the fish that grow in the sanctuary move out, so the fishing is improved. It's really fantastic." The fishermen are themselves the wardens of the sanctuary, protecting it from any rogue fishing not in accordance with the rules. "In fact, the government have charged us with opening up and helping other parts of the island to do the same model."

By 2014, fish biomass had increased 1300 percent, coral had grown 31 percent, and turtles were once again hatching unmolested on the beach.
Return to Rum
As any Caribbean traveler knows, no hotel stay is complete without a rum in hand at the bar. Soon, this part of the puzzle would come into place for Blackwell. Legendary adman Richard Kirshenbaum—"who made his name in the liquor business," Blackwell pointed out, "because he's the one who had the idea of marketing Hennessy to the rap market"—called him up with a brainstorm.

"He used his favorite saying, 'I know what I know and I know what I don't know.' He said, 'Dark rum is going to be the next big thing.' I said, 'So?' 'With your name, Blackwell, and your connection to Jamaica, you should do a rum.' Well, I'd never done anything in my own name. My company was called Island Records, and I was always very under the radar. I said, well, let me think about it. That evening, I thought, you know, this could be a good idea because, in a way, I was supposed to be in the rum business."

With the stipulation that the rum had to be made by Wray & Nephew, Blackwell agreed. A deal was struck, and Wray & Nephew's blender par excellence, Joy Spence, was soon on the job.

"She made me three samples to try," Blackwell recalled. "First one, I liked. Second, I didn't like. Third one, I liked. I couldn't make up my mind between the first one and the third one. I eventually decided on one of them. At that moment, four girls came down into my little bar. One was my assistant, another was Grace Jones." Blackwell invited them all to try the rums and opine. All four picked the one Blackwell had decided against. So, he changed his mind, and that's Blackwell Rum today.

The rum is a blend of heavier pot and lighter column distillates, with a faint vanilla and fruit aspect that's far more restrained than the average pirates-and-parrots conception of a dark rum.

"I'm not much of a drinker," Blackwell confided, cementing my biggest scoop. "When I was 11, my father took me into his study and said, 'Well, you're 11 years old, so you're a man now. Here's the drink cabinet. You can come in any time you like, and have anything you like. So, what would you like?' He drank whiskey and soda. I wasn't really that interested in it, but I said, 'I'll have a whiskey and soda.' I had a taste of it and it tasted vile, as it does to anybody who's 11. And I never went back to that liquor cabinet again. It was the cleverest way, because you know when you're a kid, what's illicit is what you want. Once it's open…" He shrugged. What might his father think of the rum merchant now?

When guests arrive at Blackwell's hotels, they promptly receive a mixed drink featuring his rum. At GoldenEye, the eponymous tipple is half rum, half pineapple juice, and a lot of ice. "I believe for that kind of drink, if you're mixing, it's got to be super simple and foolproof," Blackwell said.

But his preference is for the rum to stand on its own. "I see it as being an after-dinner drink, like you would a Cognac or digestif. Everybody said you've got to get in the bars with the mixologists," Blackwell said. But he is concerned about his rum getting lost in a sea of other flavors in a cocktail. "I think one should get people to know what the flavor of the rum is, and then if it fits in a drink, then that's fine. But when one is trying to break in, and you can't taste anything distinctive [in your drink], it could be any rum, you're not going to come back particularly to that rum."

With a multifaceted career encompassing culture, travel, and rum, Chris Blackwell has strode the paths that the Rum Reader aims to explore. Facing him across a table and absorbing his tales of adventure made me want to pour a rum, stretch out across a beach chair, and listen to many more of his stories as the sun went down over Oracabessa Bay. But we were not there—we were still in New York on a rainy afternoon. I came back to this desk and wrote this down for you, so we can all join Chris Blackwell in Oracabessa in our own way.